The story of
WWF-UK's
living planet centre
FROM ORIGINAL VISION
to award-winning eco-building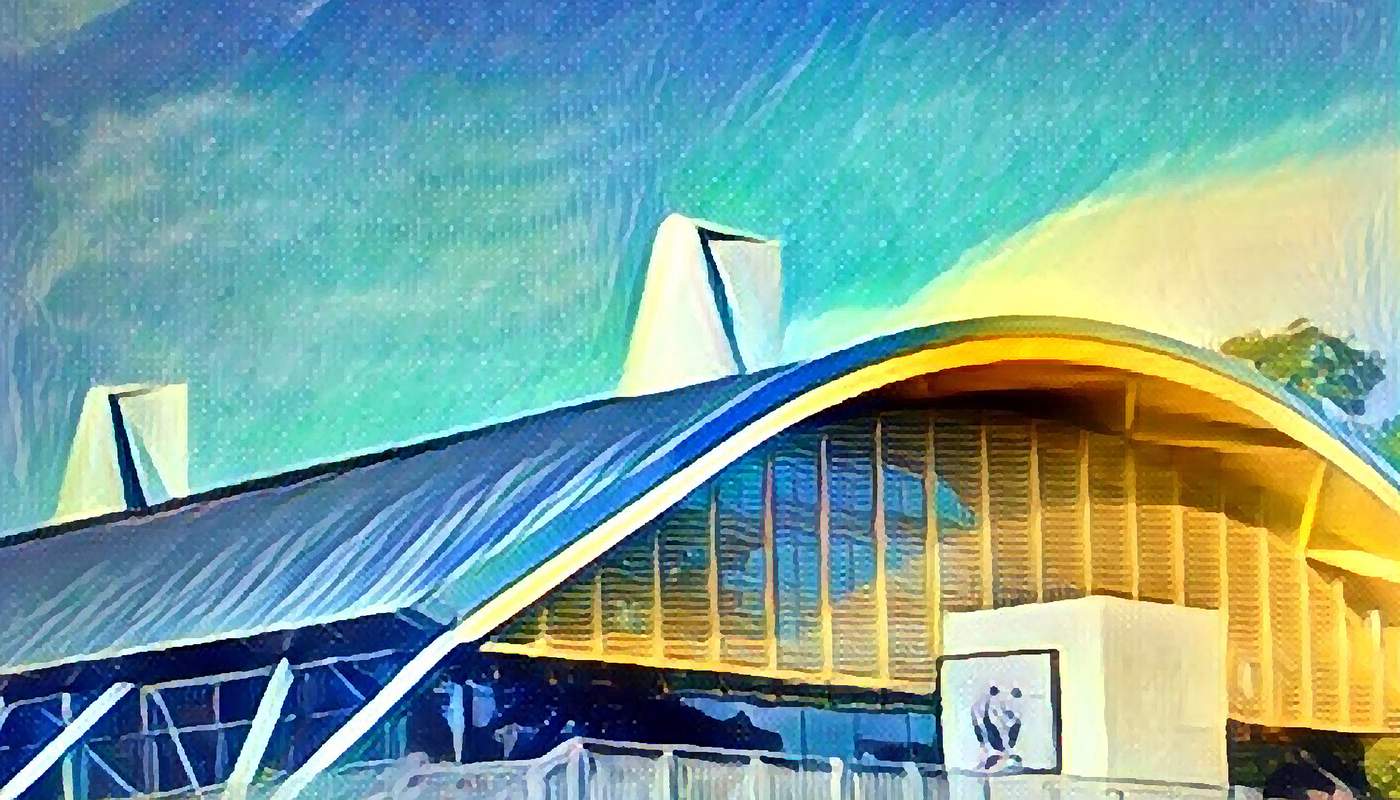 "WWF IS ONE OF THE GREAT
HOPES FOR THE WORLD,
AND THIS NEW BUILDING
NOT ONLY ENSHRINES THAT
BUT PROJECTS IT TO VISITORS.

"IT'S A WONDERFUL BUILDING."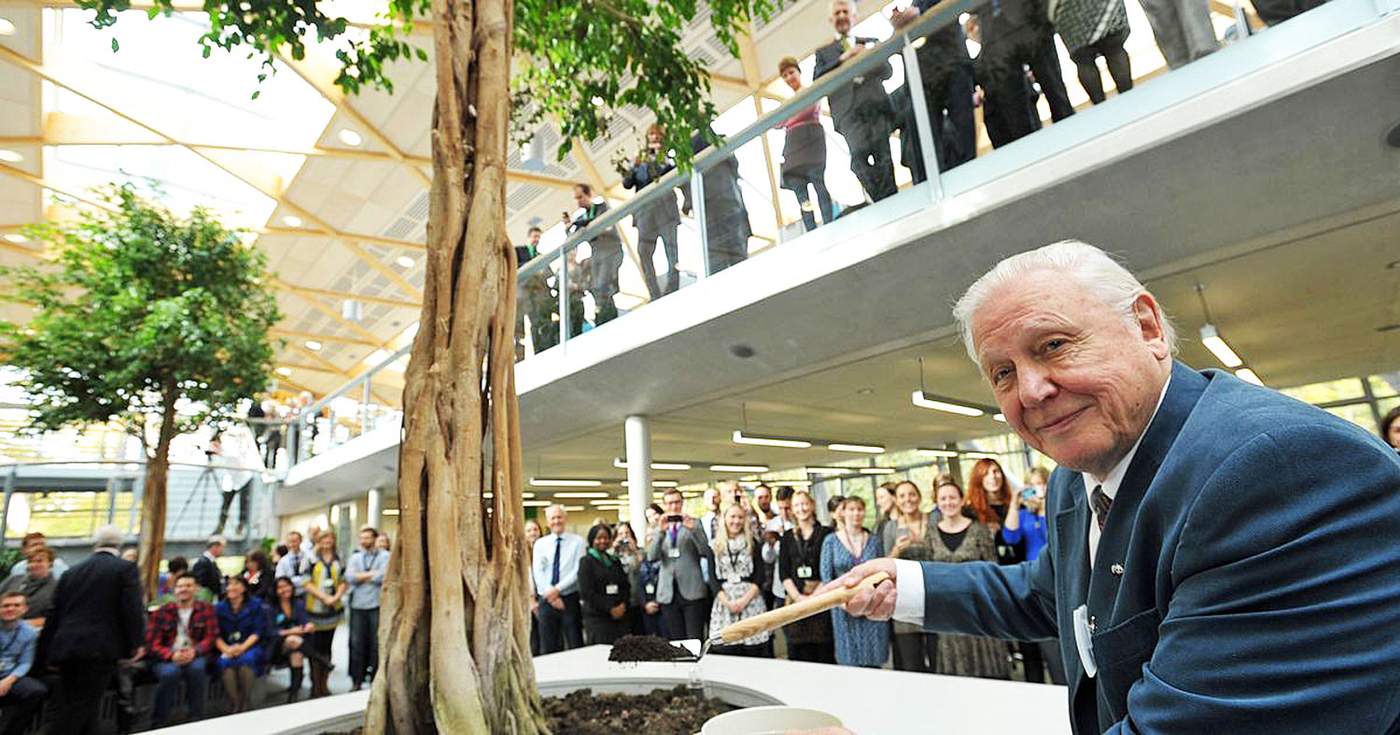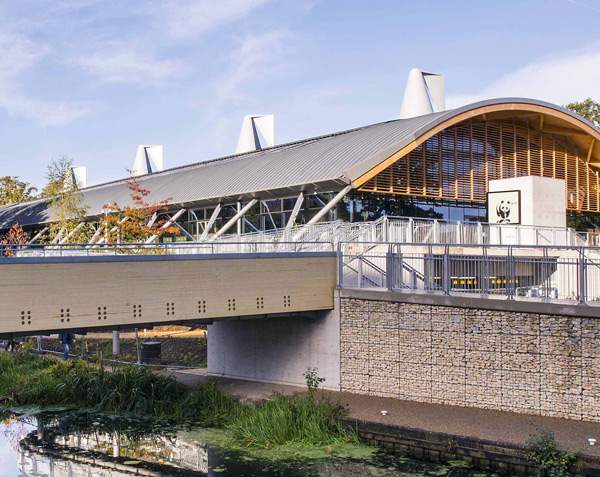 WWF-UK's Living Planet Centre, Woking
THE ORIGINS OF OUR 'LIVING PLANET CENTRE' can be traced BACK TO 2006...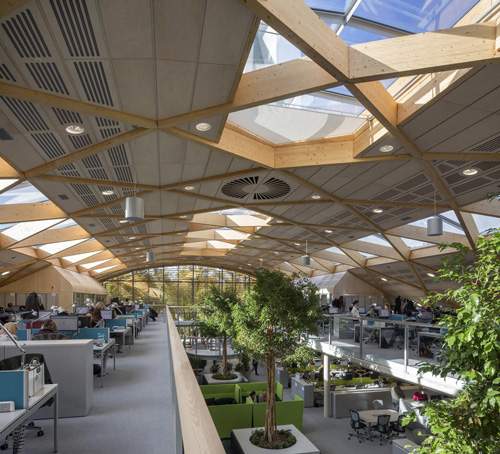 Inside the Living Planet Centre
To be exact, it was the day in 2006 when an extremely generous donor, the Rufford Foundation, offered us an extraordinary gift of £5 million – on condition that we use it to construct the greenest new building we possibly could.
They were visiting us at our old UK base – affectionately called Panda House – a well-worn 1980s office/industrial unit which we rented in a Surrey business park outside of Godalming.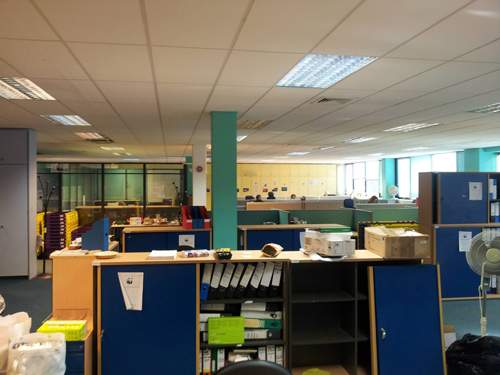 Inside WWF-UK's old Panda House office near Godalming, Surrey
To be honest, they weren't overly-impressed with Panda House. The Rufford Foundation felt (as we do) that the way WWF presents itself to the world, as well as to itself, should really reflect our ethos and our environmental credentials.
Crucially, they wanted us to have facilities that could provide our supporters and the wider public with "an interactive and educational experience of WWF's national and international work".
And all in a cost-effective way that didn't eat into our wildlife conservation funds – and would in fact enhance our work.
This wasn't really possible at Panda House. As our chief executive David Nussbaum said about our old base at the time: "It isn't well located and doesn't say anything about us or what we are about."
See quote from Terry Kenny of the Rufford Foundation.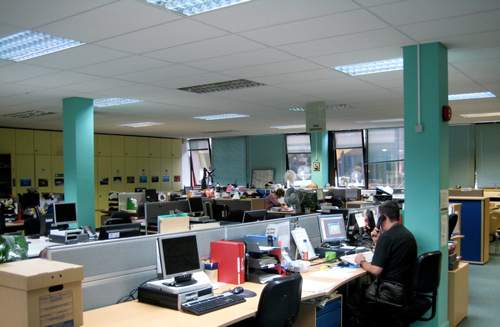 Inside WWF-UK's old Panda House office near Godalming, Surrey
We'd actually been considering some options for a while, and had come up with three choices.
1. Upgrading Panda House.
2. Moving to a different rented building somewhere else.
3. Creating our own new green building.
It soon became clear that upgrading Panda House wasn't a viable option, for both practical and business reasons.
As well as being pretty costly to rent and difficult to maintain, there were structural reasons why it was hard to make Panda House any more 'green'. The roof wouldn't support solar panels, for one thing.
The Panda House layout had never been ideal either – having four separate 'wings' split over two floors didn't help with personal interactions or working collaborations.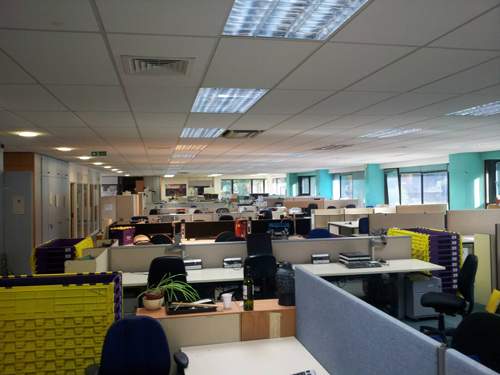 Inside WWF-UK's old Panda House office near Godalming, Surrey
One big consideration was the fact that the lease on Panda House was due to run out in 2012. Everything pointed to this being the ideal time to make a move.
(Things didn't quite work out exactly to schedule, but we'll come to that later.)
We carefully assessed the business and financial case for leasing a different building, but actually finding one with the right green credentials, or one that could be refurbished cost-effectively to high-enough eco standards, proved unfeasible.
In the end we concluded that the build-your-own option made most sense from every angle. And the amazing donation from the Rufford Foundation helped make it possible.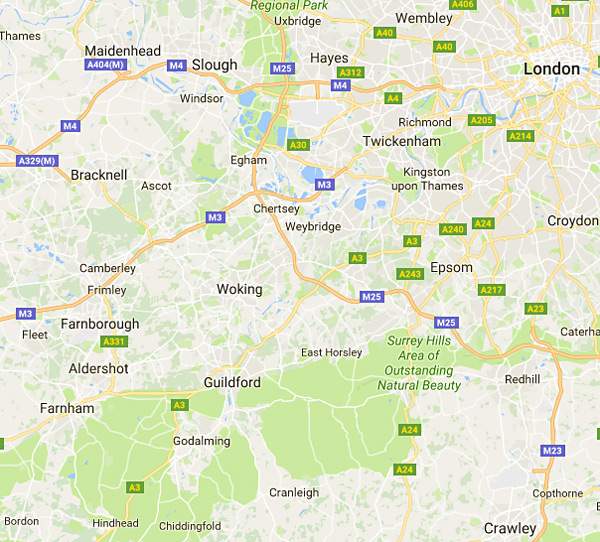 We explored several site options around Surrey, to the south-west of London Image©GoogleMaps
WHERE...?
The next question was: where should our new green building be?
We spent a couple of years thoroughly investigating a number of sites in the same local area as Panda House, as well as some attractive options on London's South Bank and further afield.
After careful consideration we decided to stay in Surrey to create our new, specially-built, long-term base for WWF-UK.
Many discussions and negotiations later, we chose what we felt was the best option, for financial, social and environmental reasons. A brownfield site near the centre of Woking – on a space being used as a car park by Woking Borough Council at the time.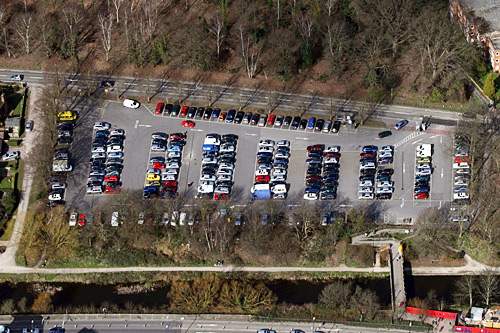 The old council-run car park site on Brewery Road, Woking – including original footbridge across the canal, bottom right
The Woking car park site was identified early on as an 'exceptional' location for our new green building, for several reasons.
1. As a brownfield as opposed to greenfield site it was already earmarked for development, and our design would cause minimal disruption to the natural environment.
2. Straddling urban and rural locations, between the Basingstoke Canal and the ancient protected woodland of Horsell Common, there would be great opportunities to develop local wildlife habitats and biodiversity.
3. It's near other cultural and visitor attractions, including a museum and art gallery (The Lightbox), and in a good place to forge links with the community.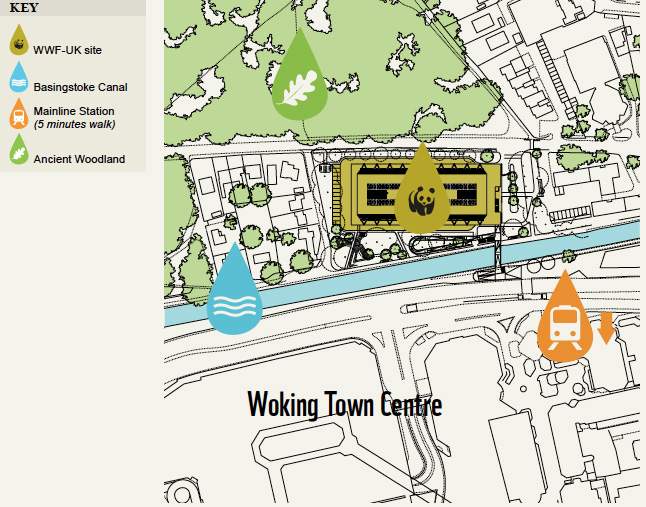 Original location map for WWF-UK's new, as-yet unnamed building, on Woking's Brewery Rd car park site
4. The town's transport links are very good, including fast train connections to and from London.
5. Woking had the benefit of a particularly environmentally-aware council.
We decided this was an ideal place to create a visitor-focused eco-centre where people could easily come to see and understand our work.
WHO...
We also had to select a suitably qualified and experienced architect and design team to plan our as-yet-unnamed state-of-the-art green building.
We asked several firms to tender for the architecture contract. We looked at their own company standards and environmental ethos and well as their specific plans and drawings. In the end we opted for highly-respected London-based Hopkins Architects, who came onboard in summer 2008.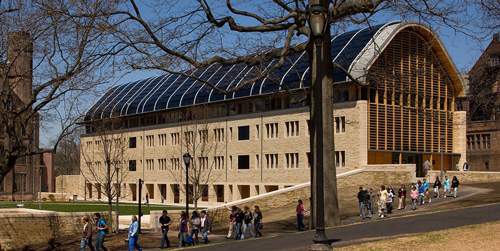 Kroon Hall, Yale University - designed by Hopkins Architects
Find out more about why we chose Hopkins Architects.
Hopkins have been at the forefront of British architecture since 1976, with a track record for award-winning, sustainable buildings. They designed the first building in the UK to achieve a BREEAM 'Excellent' rating (BREEAM is the Building Research Establishment Environmental Assessment Method – more about BREEAM later).
Hopkins' other pioneering work has included the University of Nottingham's Jubilee Campus, Yale's Kroon Hall for the School of Forestry and Environmental Studies and, more recently, the London 2012 Velodrome for the Olympic Games.
As WWF-UK's chief executive David Nussbaum said at the time, we chose Hopkins because: "they're strong-minded and know how to build sustainable facilities".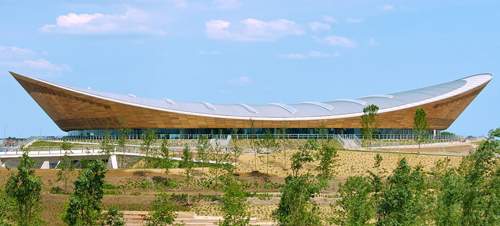 London 2012 Olympic Velodrome - designed by Hopkins Architects
An early part of Hopkins' preparation work was to carry out a workplace audit at our existing Panda House offices, to analyse how we were using the building. They did this in conjunction with specialist workplace consultants AMA Alexi Marmot Associates.
One of the aims was to find out what people at WWF-UK felt about where and how they worked at the time – and what their aspirations for a new, greener, better building might be.
That workplace survey in autumn 2008 confirmed a lot of what we'd suspected. It showed a very low level of overall satisfaction with our office environment at our old Panda House HQ. Only 27% satisfaction, in fact – which is less than half what you might expect from average industry figures.
We were also aware that our relatively remote location may have been a limiting factor in attracting some London-based talent to work for us.
It was clear from all this that we needed a more efficient, appealing and productive working environment, as well as somewhere that people would want to come – to work, to visit and to learn.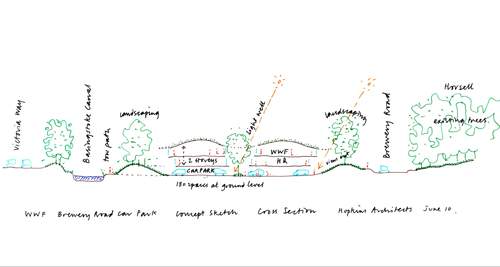 Hopkins Architects' original concept sketch for our new green building, sited between the Basingstoke canal and Horsell Common - June 2010
HOW MUCH...
The other big consideration, of course, was cost. How much would this ideal green building cost us to construct? We already had a £5m gift from the Rufford Foundation, but we also knew we may need to raise more.
We believed from the beginning that there was a strong business case for this new building, as well as the advantages it would bring in terms of energy-efficiency and its other green credentials. We knew it would add value to our work and our organisation – and ultimately help us achieve our environmental aims.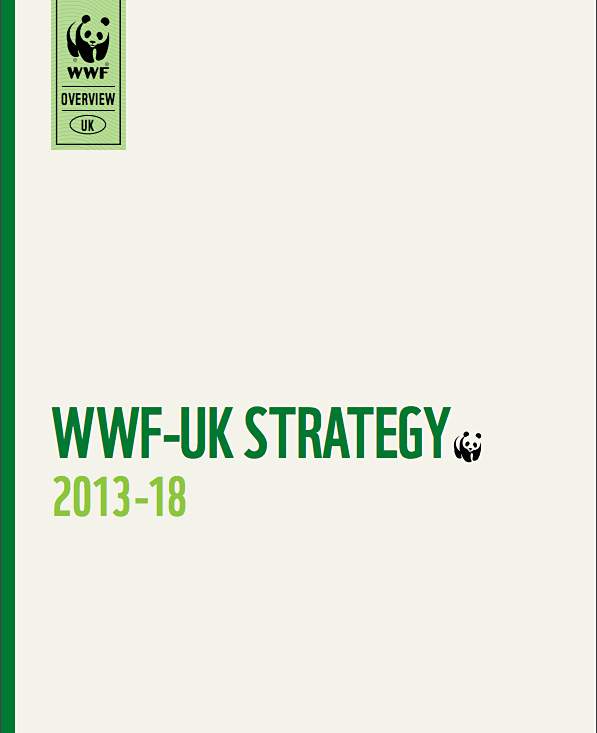 As a charity we have to justify every pound we spend. And WWF-UK's donors rightly expect their money to be spent on protecting vulnerable species and environments around the world.
So we needed to be sure that:
a) we wouldn't be diverting funds from our vital conservation projects – which are, after all, the whole reason WWF was set up and people donate to us. We knew the costs of any new building would have to be covered from separately-sourced funds. And…
b) we could demonstrate the value in both environmental and financial terms.
Balancing costs against ideals is always a challenge, especially for an environmentally-focused charity like WWF.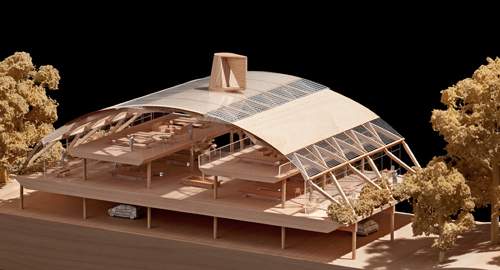 The choice of the brownfield car park site in Woking was partly cost-driven. The contract we agreed with Woking Borough Council was for a 999-year lease on the site, on which they're charging no rent for 20 years and then a 'peppercorn' rent of just £1,000 per year.
The council retains the ownership of and income from the public car park underneath our building.
The timing of the construction, which coincided with an economic downturn, was also a factor in helping to keep costs to a minimum.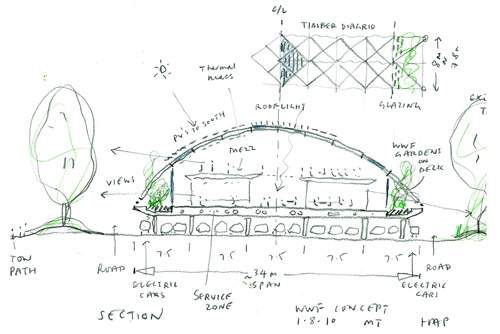 Another early decision was about the size of our new building (which we'd decided to call the Living Planet Centre). We thought carefully about balancing how much space we'd need to accommodate 300 WWF colleagues and a large number of visitors, alongside minimising environmental impact and costs.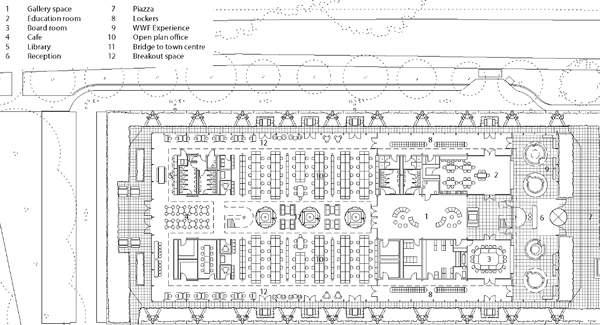 By having our own in-house facilities, including an auditorium and education suite, we could invite people to come to us, rather than paying for travel or external venue hire.
Keeping the costs as low as possible was going to be a challenge given our environmental requirements. We can always try to improve on things like our ongoing energy consumption, but we knew we had one chance to make this the greenest building possible right from the construction stage – and that's what we were determined to do.
We wanted this to be a showcase – an 'exemplar' green building for the UK and the world. We wanted to make a statement that sometimes it is worth spending a bit more than the bare minimum to create something that's not only sustainable and environmentally sound, but also inspirational.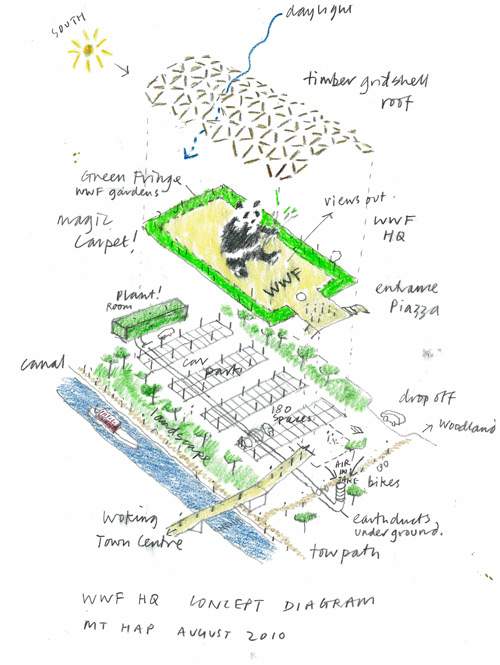 We were demanding and single-minded with our designers and builders: we wanted them to deliver the most sustainable, green building that was technically possibly within our budget. And, despite some challenges and unavoidable minor changes, that's what we achieved.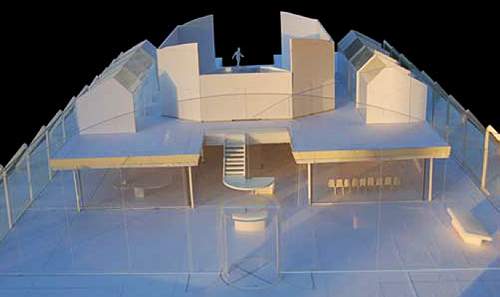 In terms of predicting total costs, we calculated that creating our new green building from scratch could be as much as £20 million (including relocation costs and other expenses). Not as much as some other, less efficiently-built offices, perhaps, but obviously a lot of money.
See the breakdown of total building costs.
Breakdown of Living Planet Centre costs:
Construction £14.3m
Fees £2.5m
Fixtures and fittings £1.3m
Interest and VAT £2.1m
Total £20.2m
So we had to build on the pledged £5 million from the Rufford Foundation by launching a targeted 'capital appeal' with the aim of raising at least £10 million.
In the end, after a huge amount of work and some wonderful acts of generosity, we managed to raise over £16.5 million from donors, charitable trusts and specific legacies – as well as gifts in kind and discounts on various materials and services.
The balance came from our own reserves. Crucially, we didn't divert any money from WWF-UK's core conservation work to fund the building.
At the end of 2011 we selected contractors Willmott Dixon as our main construction partner to bring the architects' plans to life.
It was all systems go for our new Living Planet Centre!
SUSTAINABLE
DESIGN & BUILD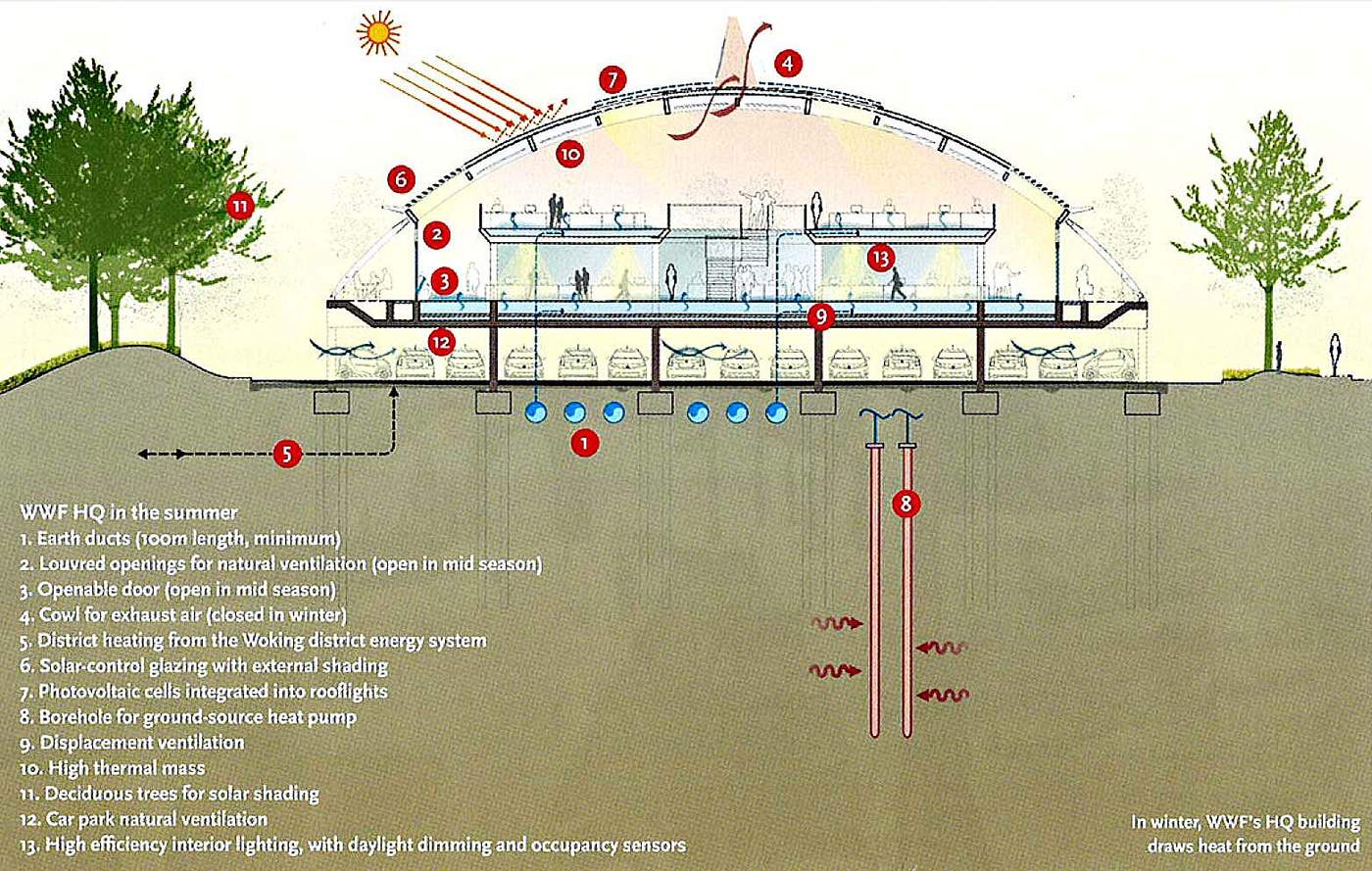 GREEN Architecture...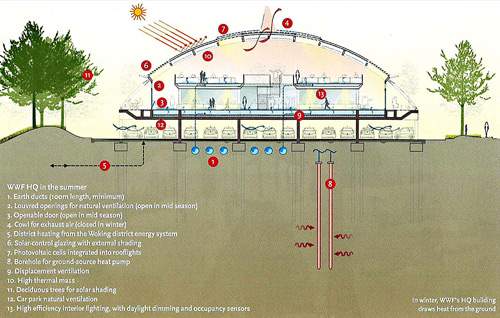 Our plans were built around using as much natural light, heat and ventilation as possible
We had a clear aim for the Living Planet Centre from the start: to create an environmentally-sensitive building using responsibly-sourced materials.
As well as meeting the general specifications and guidelines from bodies like the British Council for Offices – including adequate space for people to work, health and safety guidelines, etc – our building also had to meet our own high standards for low-carbon sustainability.
A guiding principle from the start was passive design – incorporating elements like natural ventilation, effective insulation and low energy consumption. So the building itself would contribute to its own energy-efficiency and low-emissions operation.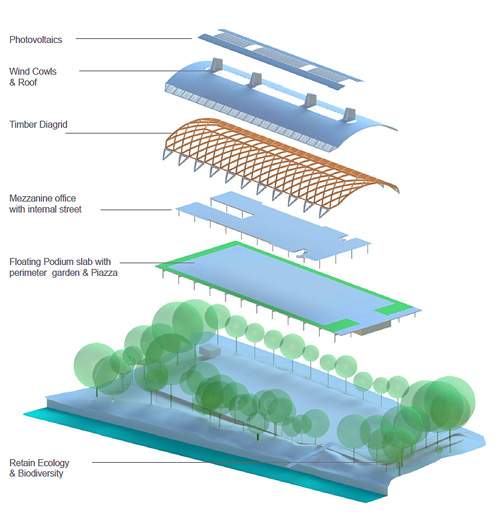 Expanded graphic of Living Planet Centre design by Hopkins Architects
An enormous amount of preparation work and research went into this whole project at every stage – including landscape and ecology surveys and detailed materials analysis. We wanted to make sure we'd create a building to be proud of – one that would meet the highest environmental and sustainability standards we could possibly achieve.
We set our sights on achieving an 'Outstanding' rating under the BREEAM environmental assessment scheme – which not many buildings in the UK had ever managed before.
Find out more about BREEAM
BREEAM, the Building Research Establishment Environmental Assessment Method, is an assessment scheme for measuring impacts and sustainability of buildings, both in their construction and their day-to-day use.
They take into consideration various scientifically-based environmental and social criteria – eg the building's use of energy, water, land and materials, pollution and waste management, health and wellbeing, transport etc. An overall percentage score is calculated, which gives a BREEAM rating of either 'Fail', 'Pass', 'Good', 'Very Good', 'Excellent', or the notoriously hard-to-get 'Outstanding', which requires a score of 85% or more. Our Living Planet Centre went on to achieve a score of over 90%.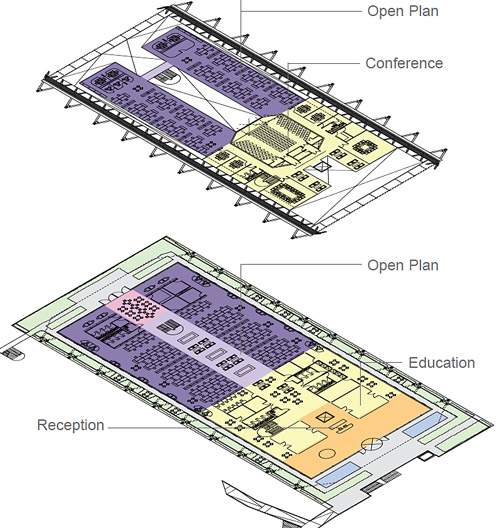 Plan of how the building's two main levels would be used
We knew it wouldn't be easy, but we were confident, enthusiastic and determined. And in the end, thanks to the great work of our partners on the project –particularly our architects Hopkins Architects, environmental designers Atelier Ten and builders Willmott Dixon – we achieved our aims and more.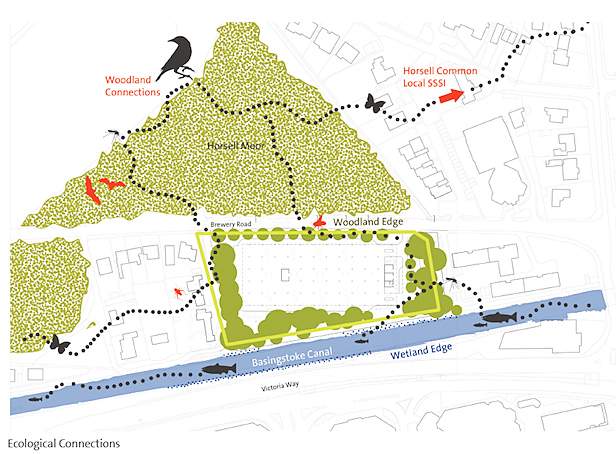 Our plans also took into account the local ecology of the area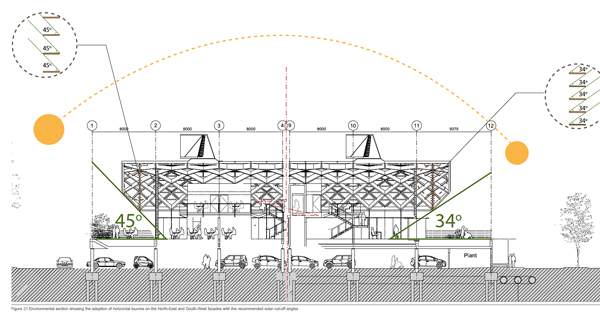 One of Atelier Ten's many contributions was working out how to shade the building from the sun at different times and seasons
MEET THE TEAM...
The main people working most closely with us as partners on the design, planning and construction were:
• The architects – Hopkins Architects: planned the whole original concept, look and layout, exterior and interior design, and so much more.
• The environmental design consultants/engineers – Atelier Ten: provided indispensable insights on sustainable design aspects of the building, including energy and thermal modelling, daylight/artificial light analysis and more.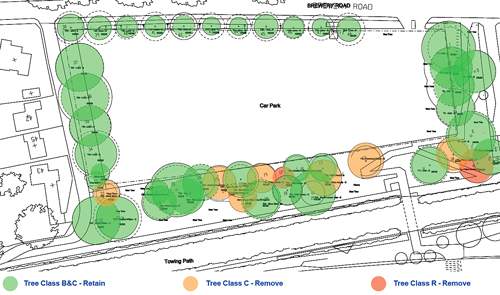 The landscaping plans included incorporating as many of the existing trees as possible, and replanting others
• The main contractor/builder – Willmott Dixon: led the project from the construction stage (more of which in a minute). They were hired on a 'design and build' contract, which meant they'd oversee all elements of the planning and construction, working alongside Hopkins, Atelier Ten and the many subcontractors involved. Together they made sure we achieved the required BREEAM Outstanding rating for the Living Planet Centre.
• The structural design/civil engineers – Expedition Engineering: advised on and checked the strength, stability and sustainability of the various elements of the design and construction, and much more.
• The carbon emissions consultants – Sturgis Carbon Profiling: looked at every process and material proposed by the architects, designers and builders and suggested ways of reducing carbon emissions without going over-budget.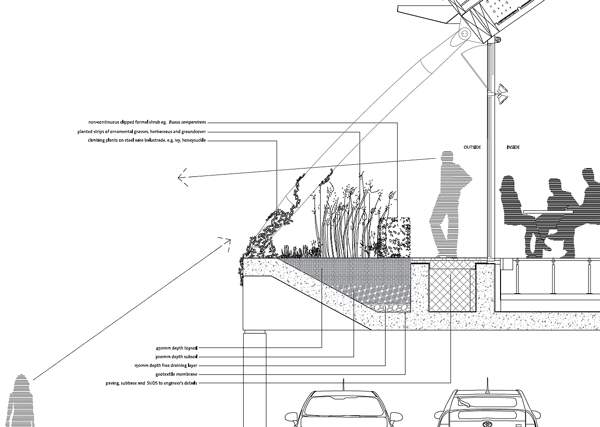 Grant Associates, the landscape architects, also helped us consider what would be seen from inside and outside the building
• The landscape architects – Grant Associates: helped make sure the building blended into its environment in an ecologically sensitive, integrated and sustainable way.
• The office space planners – AMA Alexi Marmot Associates: their analysis helped us work out the best way to make use of our working space.
• The project managers/property consultants – King Sturge and Doherty Baines: helped coordinate everyone and helped keep the project on schedule and on budget.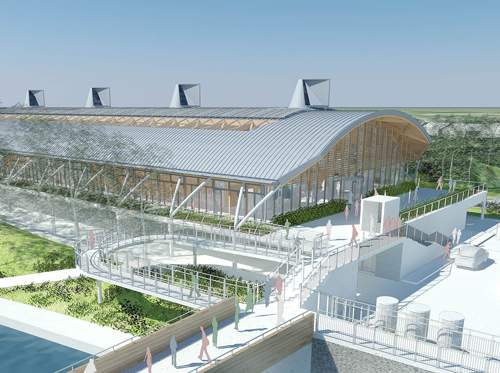 Computer graphic impression of how the building would look from the front
PLANNING...
Having identified the ideal site, one of the first challenges for the project team was the fact that Woking Borough Council's planning consent said we had to keep the existing public car park.
If you're thinking that a large car park sounds at odds with a 'green' building – we'd agree. We deliberated over that too. But we also knew this was too good a location to lose.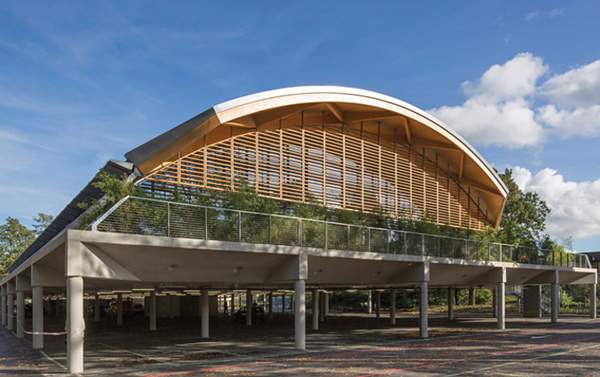 We're often asked about this, and have to point out that the car park below the building is owned and operated by Woking council, and isn't for WWF use (except for access to four disabled bays if needed by visitors to the building).
It was quite tempting to try and put the car park underground, completely out of sight, but the extra excavation work, materials and waste disposal involved made that option unacceptable for us.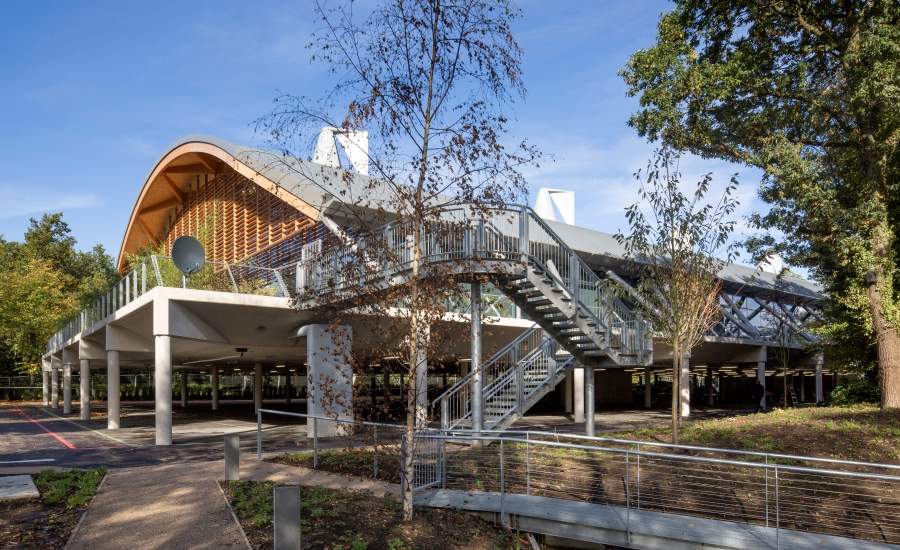 So the architects embraced the challenge and designed a spectacular building elevated on stilts (but with the roof still below the tree line), and the car park neatly tucked away underneath – technically still at ground level, but the careful design makes it seem lower.
Hopkins presented us with a few different design concepts for the building, inside and out, taking onboard some of our own suggestions. For instance we were keen on the idea of being able to see the whole workspace from the stairway (something we also noticed in Hopkins' own office!).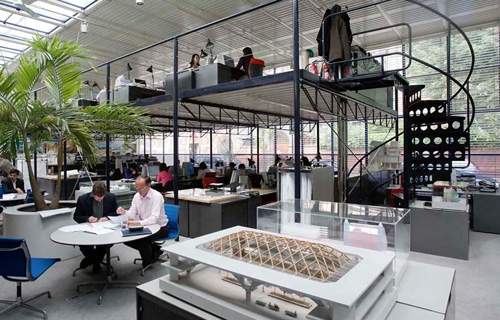 The plan we eventually agreed on was for a long, low, two-storey building, roughly 90m x 40m in area (about the groundspace of a football pitch). A large curved roof, sitting on a raised concrete podium, surrounded by trees, shrubs and grasses, complete with a small wetland/pond area.
Inside there would be a public-focused 'Visitor Experience' exhibition space, an education facility and a 150-seat auditorium, as well as open-plan working spaces for up to 300 people, with quiet rooms and meeting areas.
DESIGN FEATURES...
So let's look more closely at some design elements of the Living Planet Centre.
A) Exterior design
B) Interior design
C) Ventilation and temperature control
D) Lighting
E) Sound and acoustics
F) Water systems
G) WWF Experience (visitor zones)
A) EXTERIOR DESIGN
The Living Planet Centre was designed to sit comfortably between the Basingstoke Canal on one side and Horsell Common (a site of special scientific interest) on the other, nestling among the mature local trees.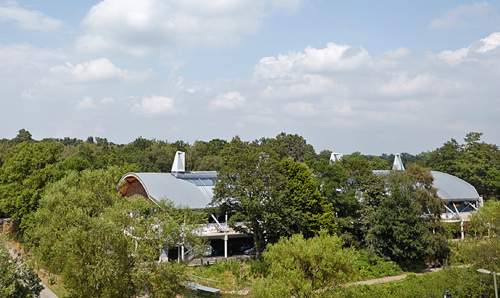 The Living Planet Centre nestles neatly between the local trees
Despite the solidity of the timber, concrete and steel structure, there's a gentle, quite 'natural' look about the Living Planet Centre – one reviewer described it as "soft and organic" – which owes a lot to that curvaceous roofline.
But the dramatic sweep of the zinc-surfaced roof – 80m long with a 37.5m side-to-side span – also gives a fantastic sense of life and energy to the design. It has the look of a hi-tech stretched fabric, hooked down at the sides by giant steel cable ties.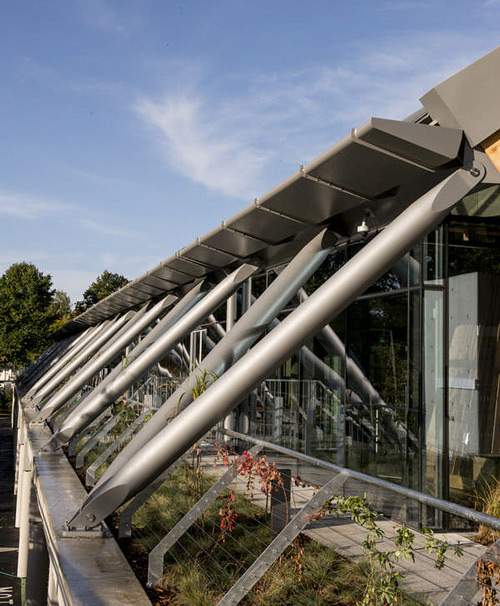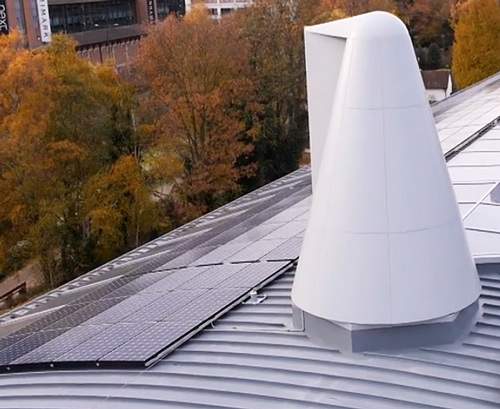 One of our four wind cowls, with some of the solar panels, on the roof
Among the most striking external features of the Living Planet Centre are the four rooftop wind cowls – those funnel-like protrusions on top that some people feel give the building a bit of a ship-like appearance.
Wind cowls were also a prominent design feature of the pioneering BedZED 'ecovillage' designed back in 2000 by Bill Dunster (who used to work at Hopkins Architects).
The wind cowls were an integral element in the design from the start – not just because they look great, but because they're a key part of the building's efficient 'passive' ventilation system.
> Find out more about how our wind cowls and ventilation system work in the Technology section.
Up beside them on the roof there's also our substantial array of solar PV panels – covering more than 500 square metres of the roof area.
As you probably know, you don't just put solar panels up anywhere and hope for the best. There are careful calculations to be done first – not just about the angle of the roof and the changing direction of the sun, but also about possible shadows cast by neighbouring trees – and in our case even by the wind cowls on our roof.
> Find out more about our solar panels in the Technology section.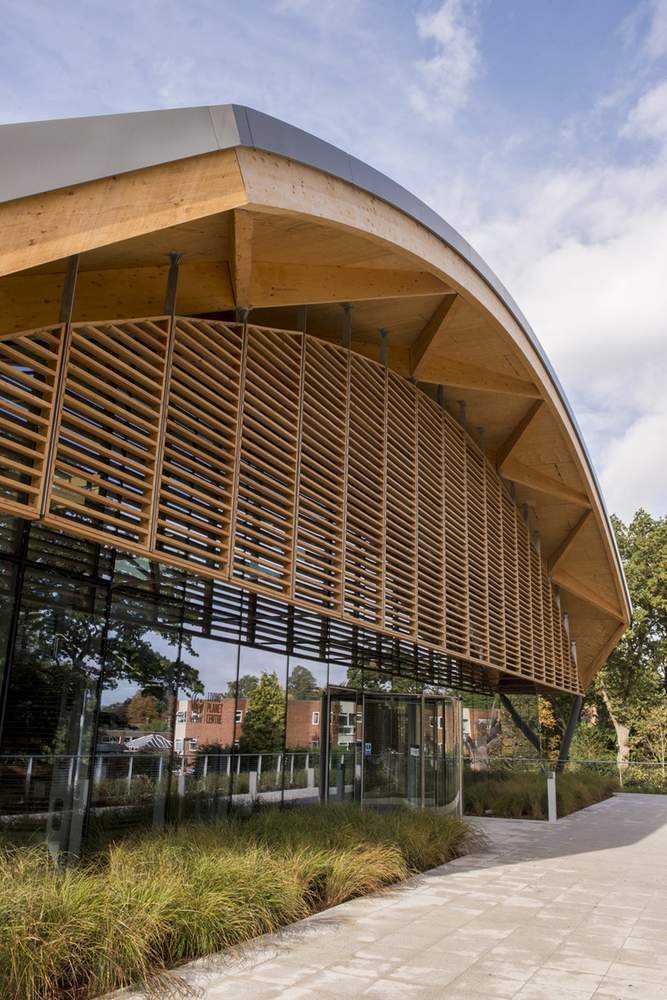 Front of the Living Planet Centre, showing the louvred 'brise soleil' shading system
There's a lot of glass in the Living Planet Centre too, because we wanted as much natural light inside as possible. But that can also cause problems with glare and overheating indoors on very sunny days.
One of the solutions was to introduce subtle shading around the façade that also doubles as a stylish design feature. The distinctive louvered slats across the front and rear of the building – which create a striking, slightly wood-cabin look – are technically known as a 'brise soleil' (sun-break).
> Find out more about the wood used in the Living Planet Centre in the Materials section.
Computer modelling was used to work out the best ways to shade various parts of the Living Planet Centre, taking account of the position of the sun at different times of the year, and including the size and spacing of those wooden slats.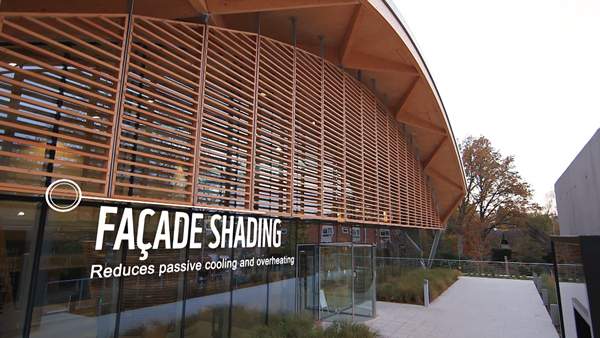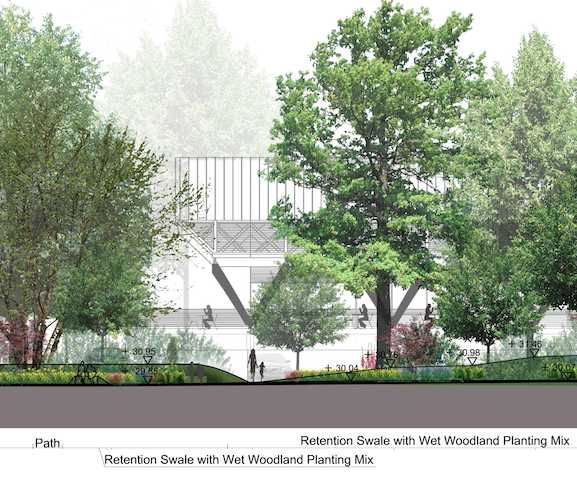 PODIUM AND PIAZZA
The whole site covers about 8,300 square metres – more than twice the area of the building itself – so there was a fair amount of landscaping to be done outside the Living Planet Centre.
Landscape architects Grant Associates produced a comprehensive landscape management and nature conservation plan for us, with the overall aim of helping bring the 'spirit of woodland' into the site. They've cleverly combined beauty with practicality.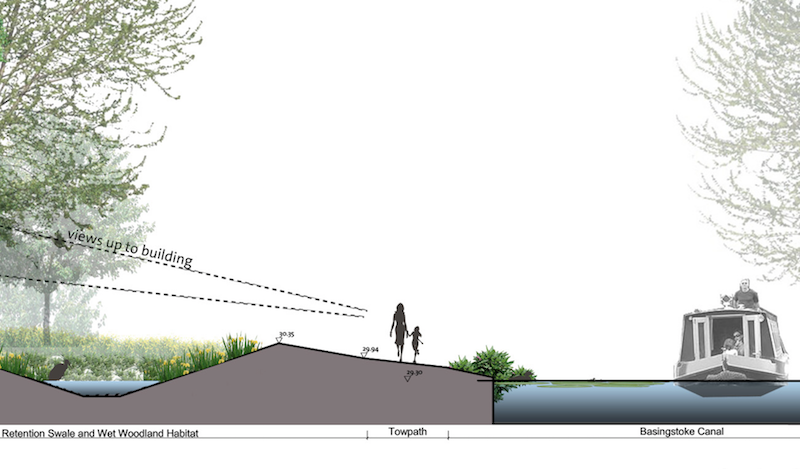 One of the practical elements is an 'attenuation swale' next to the building. A swale is just a wide-bottomed shallow ditch – which in this case is used as a filtration pond to clean and temporarily store excess rainwater running off the building, and then release it gradually into the nearby Basingstoke canal. It helps to reduce (attenuate) flood impacts on local drains and sewers.
It's all part of our sustainable urban drainage system (SUDS) – which has helped us create a small wetland and wild garden area next to the Living Planet Centre. In turn this attracts a variety of aquatic invertebrates (dragonflies, beetles etc), not to mention school parties and other welcome human visitors.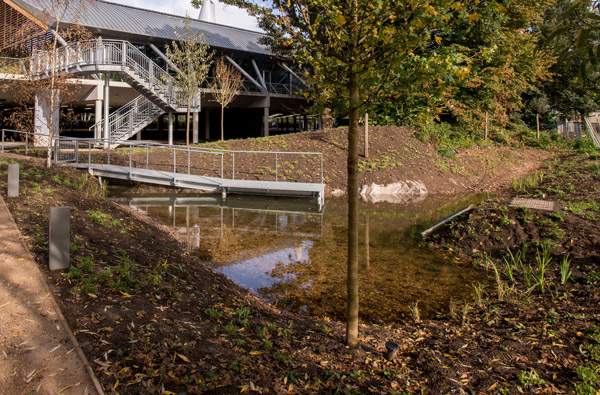 The small 'wetland' area near the back of the building
> Find out more about our sustainable water systems.
Grant Associates have also cultivated the podium area around the building with an eclectic mix of plant species, to help realise the designers' vision of a 'magic carpet' of native shrubs, herbaceous plants and grasses, plus non-native ornamental species to extend the growing season and add visual variety.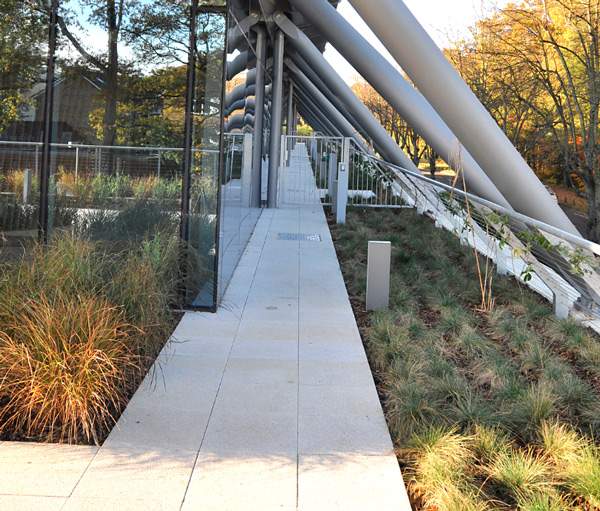 We're very pleased we managed to keep most of the existing mature trees around the site – mainly limes and oaks. And the new trees we've planted include other native varieties like birch and rowan, with shrubs of holly, elder, hawthorn, hazel and privet. And we've planted a line of yew trees that will eventually mask the ground-floor car park from the nearby road.
Other woodland ground flora we've added include snowdrops, bluebells, wild garlic, primroses, and climbing plants like ivy and honeysuckle.
And yes, the bamboo plants around the back of the building are a deliberate nod to our beloved panda logo – bamboo is the panda's favourite, after all.
Before we started work on the site we commissioned a very detailed ecological analysis and report on the location.
The area nearby where Horsell Common meets the Basingstoke Canal is a Site of Special Scientific Interest (SSSI), with as many as 21 species of dragonfly, for example.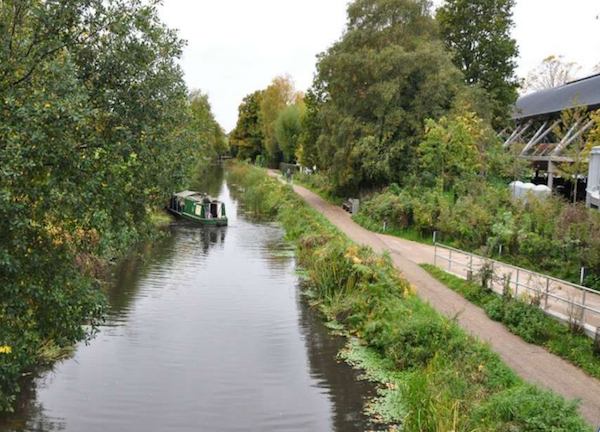 The Basingstoke canal runs along one side of the Living Planet Centre ©woking.gov.uk
The Basingstoke canal itself was only reopened in 1991, after some long and determined restoration work. You can now find lots of wildlife in and around it – including herons, kingfishers, ducks and fish.
We thought the canal might be home to water voles too – a rare and protected species in the UK – but the ecology report concluded this wasn't the case.
We did however find some bats using the canal area as a feeding corridor, so we've put up three bat boxes to encourage them to nest, along with five bird boxes (including swift boxes) and two bug boxes.
(Birds spotted within the first few months of moving here included peregrine falcons, pied wagtails and even a red kite.)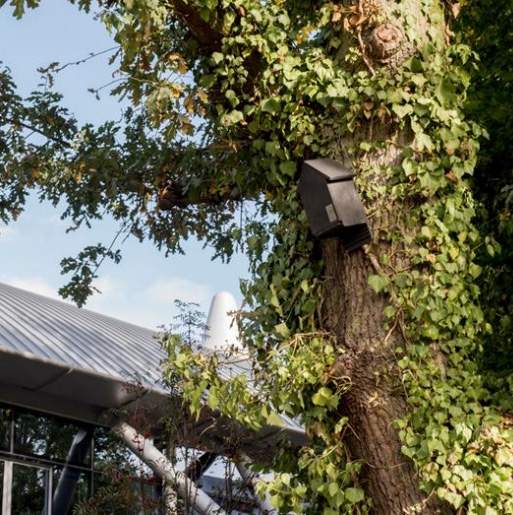 Woking Borough Council took the opportunity to replace the pedestrian/cycle bridge across the canal. The new one is made from accoya, a long-lasting 'hardened' softwood product made from sustainably sourced timber.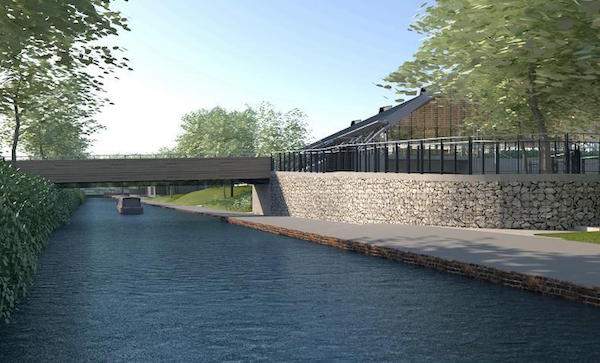 The bridge helps link the town centre to our new public piazza, and guides people towards the exhibition space – our WWF Experience – at the front of the building.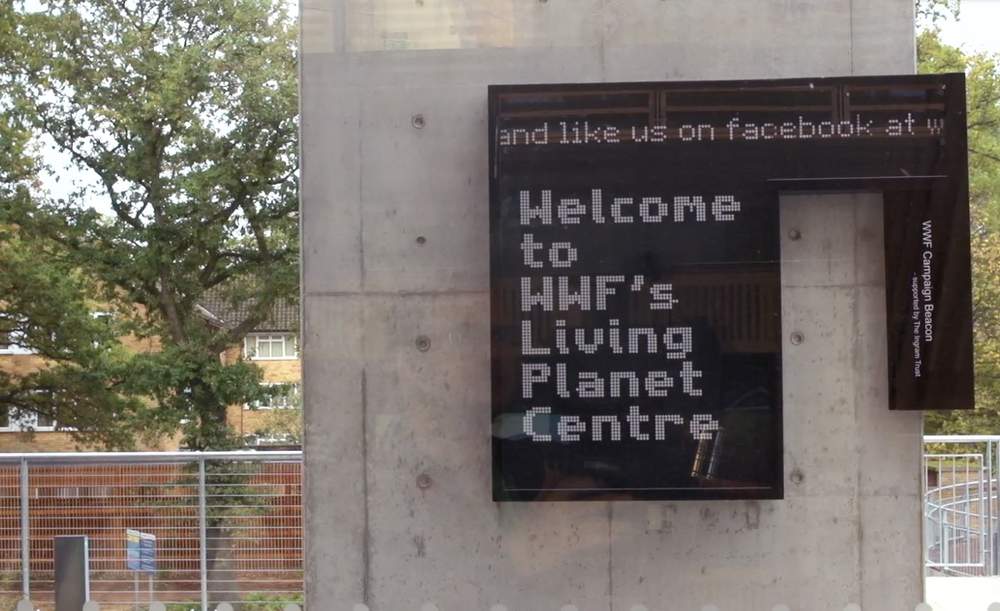 The information beacon outside the front of the building
Just outside the front doors on the piazza we've installed what we call our 'beacon', a large message board that displays updates on our work.
We've put in a couple of lifts too, one outside and one inside the building. (The building is completely accessible for people with disabilities – another big improvement from older premises like Panda House.) The lifts are particularly energy-efficient, as you might expect – they even generate electricity as they operate.
> Find out more about our energy use in the Living Planet Centre.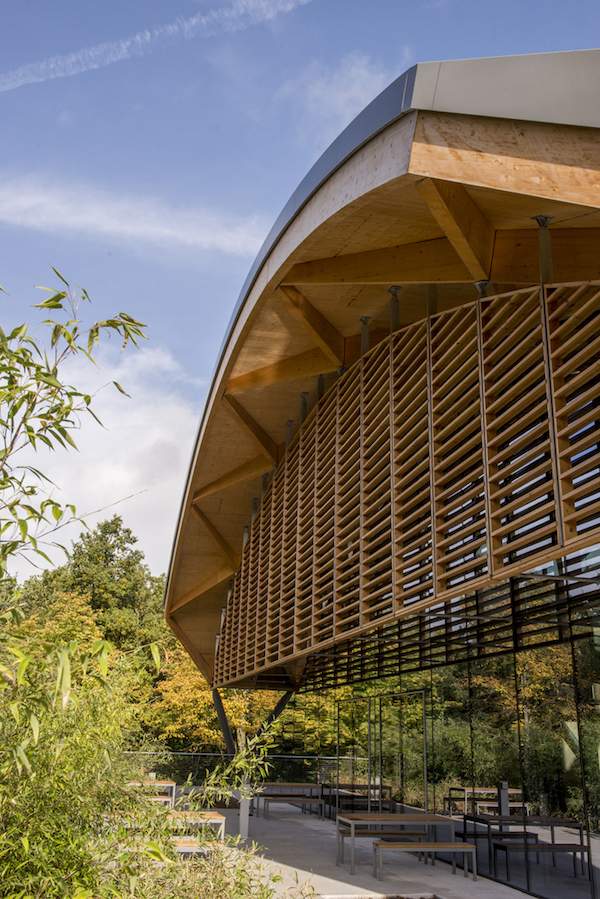 At the back of the Living Planet Centre there's an outdoor space which, thanks to our wireless internet connection, offers an alternative place for WWF folks to work, or to go and relax during breaks. There are also areas where we can grow our own plants, flowers and even fruit and veg. These can be irrigated using rainwater harvested from the roof.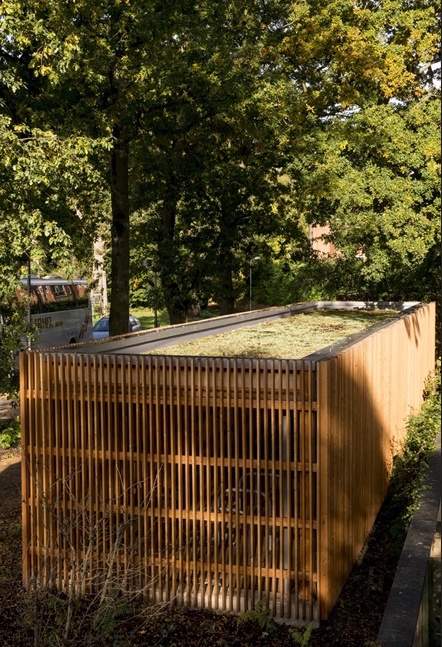 Our two bike sheds (one for the public) and our bin store have 'green roofs'. They're covered with a living mat of sedum and saxifrage, low-growing perennial plants that are drought-tolerant and low-maintenance. They also act like a sponge to help soak up excess rainwater, as well as encouraging local biodiversity.
All of this landscaping and planting isn't just nice to look at. The plants and flowers play a valuable role in attracting all kinds of insects, as well as birds and bats, and generally enhancing wildlife diversity and the natural environment. It's also part of achieving our high BREEAM eco-rating.
B) INterior DESIGN...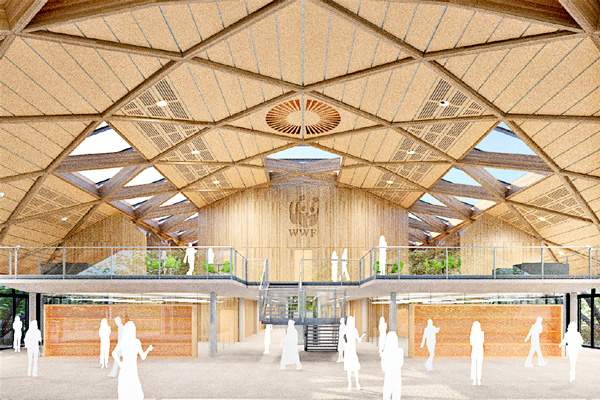 The first things most people notice when they go inside the Living Planet Centre (especially if they knew the slightly gloomy restrictiveness of the old Panda House office) are the space, the light and the natural wood.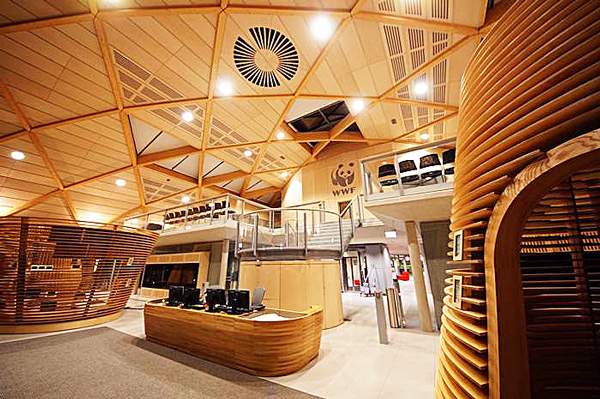 The wood emphasis is even more noticeable inside than outside the building. A reviewer from the Architects Journal said walking into the "light-filled arched interior" of the Living Planet Centre was like "stepping into a gigantic treehouse".
The actual floor area of the building – which is 3,675 square metres, spread over the two storeys – is only about 25% bigger than our previous offices in Godalming. The new public areas account for most of that increase.
But the high ceiling, open-atrium layout, large windows and general airy brightness make it feel so much more spacious than the old Panda House.
The upper 'mezzanine' floor is divided across two concrete platforms separated by the central atrium, each side supported on a few slender concrete pillars. The designers referred to the central walkway downstairs as 'the street'.
THE CEILING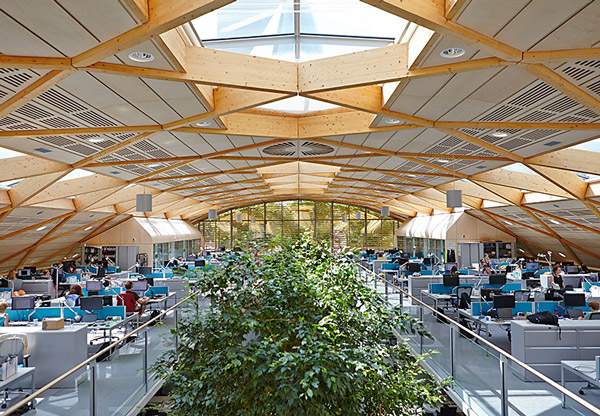 You can't help gazing up at the stunning barrel-vaulted roof – known as a 'gridshell' design because it's made from a grid of timber beams. In our case it's dissected by rows of skylights that run the length of the building, letting natural light flood in.
This criss-crossing 'diagrid' design (short for diagonal grid) is a concept based on the inherent strength of triangular structures. (Architect magazine confirms that this technique is influenced by the geodesic domes developed by Richard Buckminster Fuller from the 1940s onwards, and has recently become a "hallmark of 21st-century modernism".)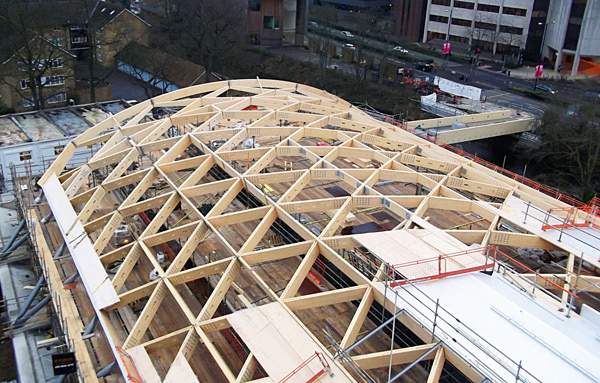 > Find out more about the diagrid roof in the Materials section.
The four round, dial-like grills in the ceiling are part of the Living Planet Centre's natural ventilation system – on hotter days they help unwanted warm or stale air escape from the building when necessary, drawn out through the roof by opening the external wind cowls.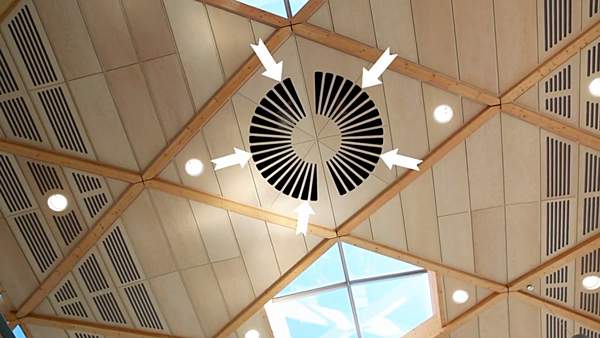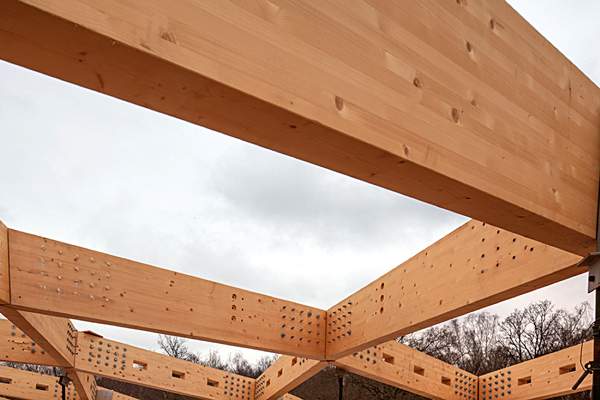 The combination of the barrel-vault design and the interconnecting glulam beams creates an incredibly strong but lightweight roof structure.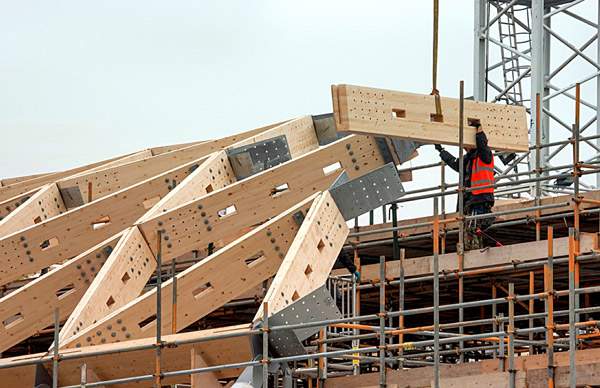 We did originally consider using curved glulam beams, but the design team calculated that the arching effect could just as easily be achieved by joining together straight beams, and at a lower cost. So that's what we did.
> Find out more about the wood used in the Living Planet Centre.
Another early concern we had with the diagrid idea was that it requires a larger number of joints, or 'nodal connections', using steel joining plates. And that adds a considerable amount to the overall cost of the roof. So we swapped from a smaller to a larger-scale grid, with longer beams and fewer joining nodes – just one more example of how we saved materials and money.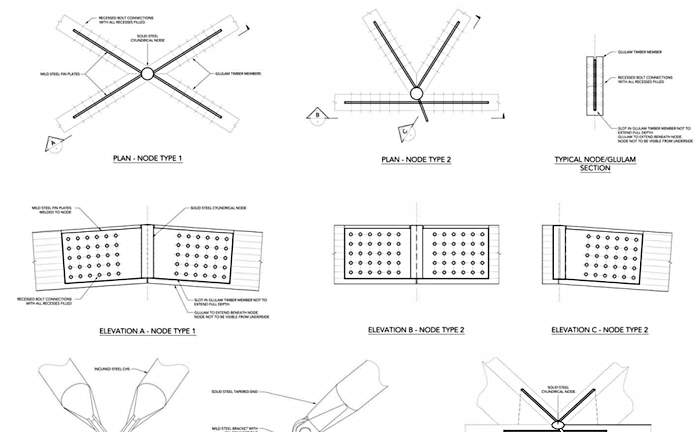 There's also a lot more going on between and behind that timber grid than you might think.
It was always intended that the Living Planet Centre roof would be a structurally-efficient and column-free arch, but this presented some challenges for the design team.
In a building with a relatively thin shell (known as 'low-inertia' in the trade), the structure doesn't have the same thermal or acoustic properties as solid concrete, stone or brick might have. Which means it's not as good at holding in heat (or sound) – and that has implications for the building's energy efficiency, and acoustics.
We needed to add some thin but effective 'thermal mass' to absorb and retain heat when required, and help stop the indoor temperature dropping too much on cold days or at night.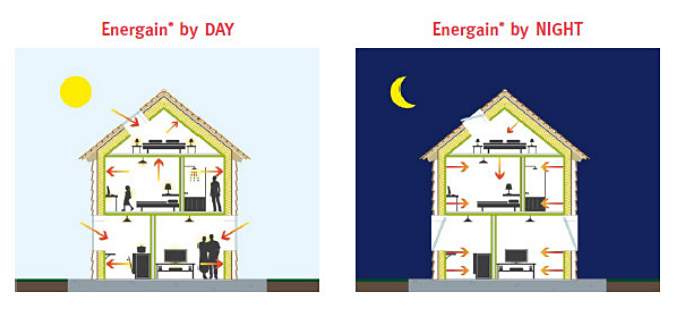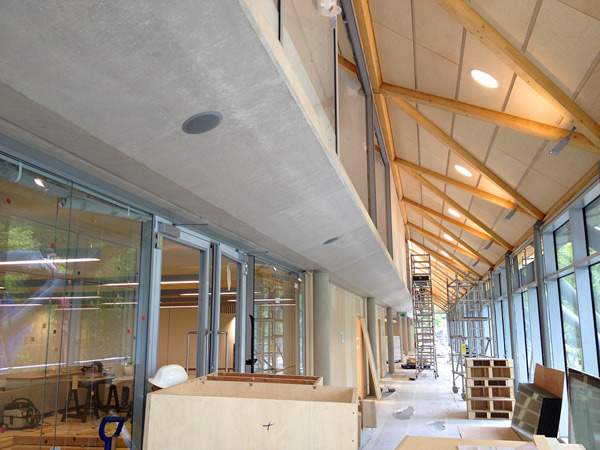 We deliberately left some concrete exposed inside the building too – for instance the 'soffits' (underside) of the mezzanine balcony – which saved on paint and other decorating materials.
We happen to like the look of this crisp, smooth-finished concrete ('fair-faced' concrete, as it's called), and it's also very useful as additional thermal mass, helping regulate the room temperature.
> Find out more about the concrete used in the Living Planet Centre.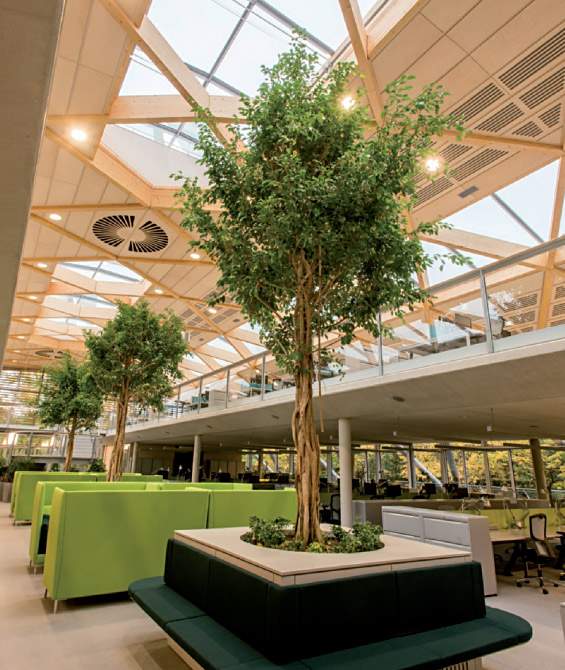 The other things you can't help but notice in the middle of the building are the trees! Three extra-large 'weeping figs' – which are suitably slow-growing, indoor-thriving trees from European sources – stretch all the way from their large ground-floor containers up to well above the height of the mezzanine.
(Sir David Attenborough helped with the planting of these trees at our opening ceremony.)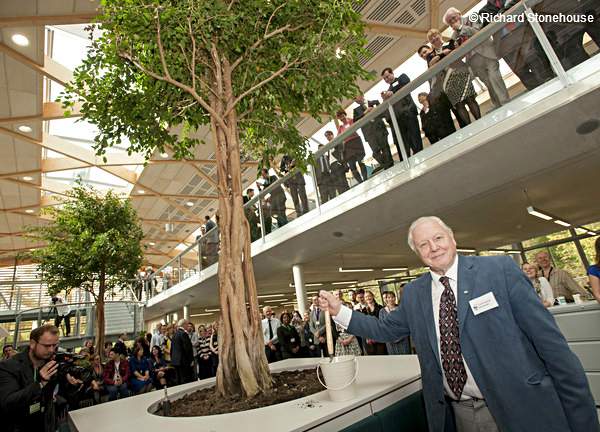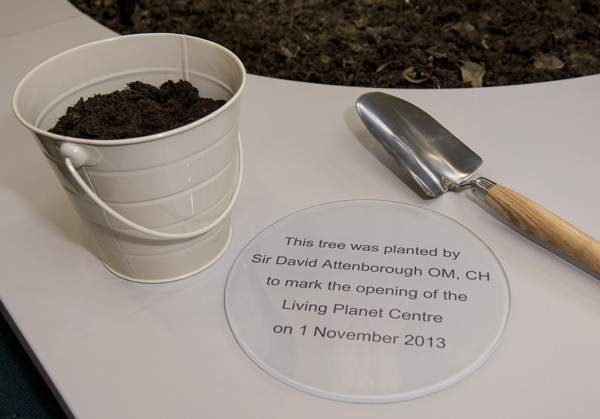 As well as being great for removing air pollutants and improving our everyday working experience, this very visible foliage also strongly reinforces the idea that this truly is a Living Planet Centre.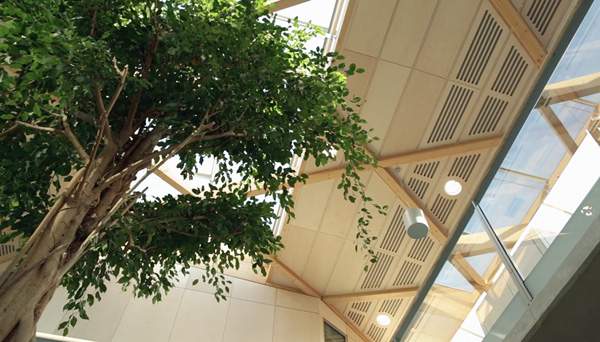 PUBLIC SPACES
There are three main public and semi-public areas inside the Living Planet Centre.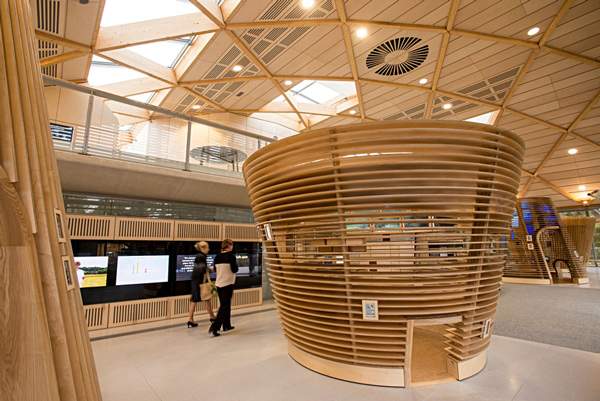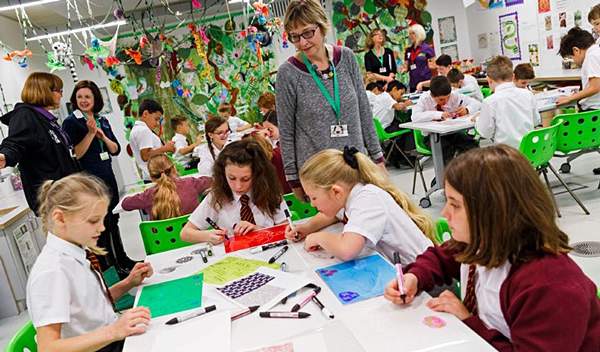 3) Our well-equipped, state-of-the-art 152-seat auditorium has been designed so that it's adaptable for all kinds of public and private uses.
> Find out more in the Life at the Living Planet Centre section.
WORKING SPACE
The rest of the building is given over to an open-plan workspace for more than 300 people – planning for which began way before the Living Planet Centre was constructed.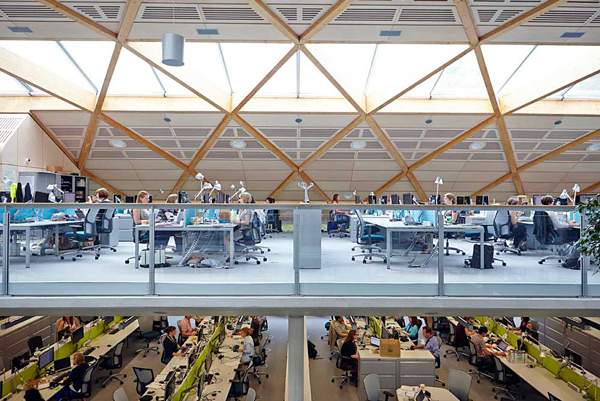 We started working with AMA Alexi Marmot Associates back in our old Panda House office, to examine the way we worked and how it could be improved in our new building.
AMA's surveys revealed, for one thing, that only between 40-60% of the desk space in Panda House was being used at any one time.
So they came up with three possible working scenarios for the new office, based on varying degrees of 'hot-desking'.
Hot-desking is the idea that people don't automatically have dedicated areas or desks, or even a desk at all, and all possible workspaces should be used more effectively.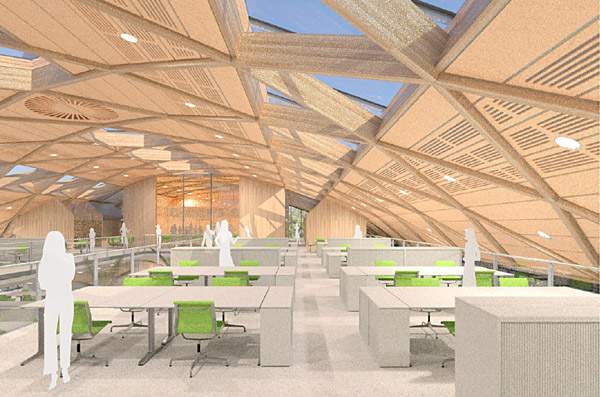 One scenario was that the directors would still have their own offices, but everyone else would hot-desk. But in the end we opted for the more egalitarian 'deep-green' plan: absolutely everyone would hot desk (even our chief executive).
We did allocate teams to certain 'zones' so they could work nearer together and have a home for their relevant storage.
To avoid a situation where lots of desks weren't being used, we agreed there should be fewer workstations than employees. This also allows (and encourages) flexible and collaborative working, in and away from the office space.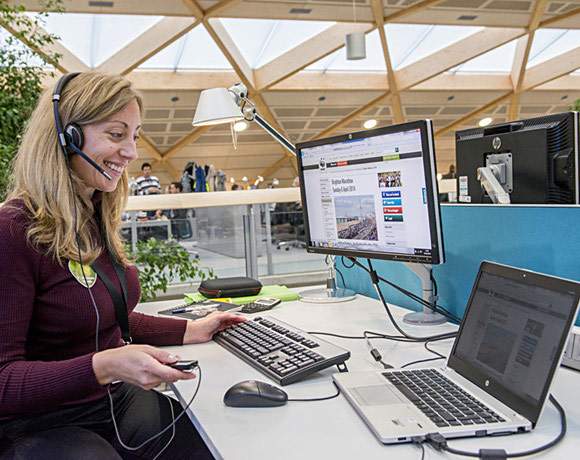 Our new IT system and communications tools have made this possible. Laptop computers and headset phones have replaced desktop PCs and plug-in landlines.
There's also minimal cabling to be seen around the workspace, largely thanks to the wireless network, which allows WWF colleagues and guests to log in using any mobile device.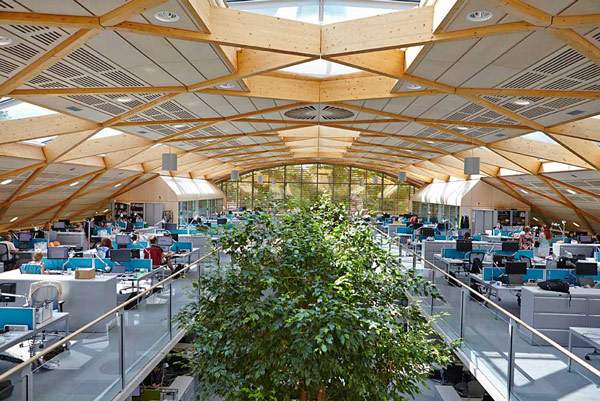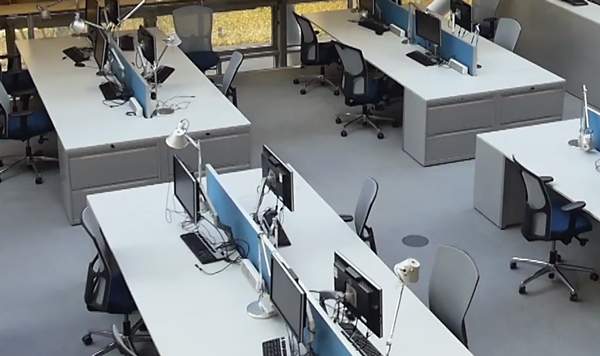 The idea is that you only bring in what you need for that day's work and take everything away when you leave. Everyone's given a 'smart box' to transport their essential items and there are lockers for overnight storage.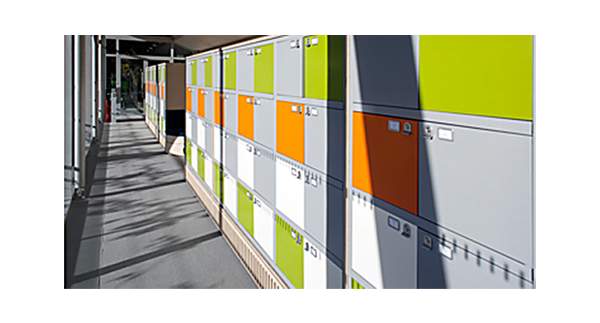 Although it's very different from the way we worked at our old offices, we've found that the building lends itself to clear desk working and it happens naturally – with just an occasional need for reminders.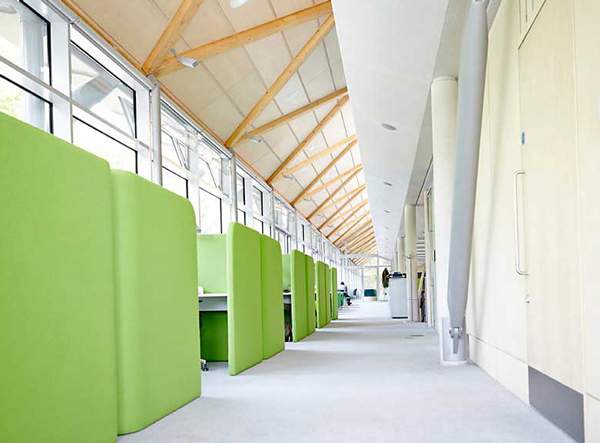 There are spaces for private working too ('quiet booths' or 'concentration zones') and a few small rooms that can be booked.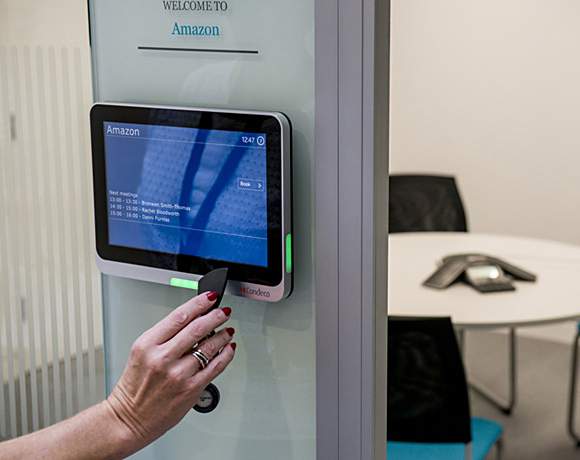 There are 17 meeting rooms of various sizes, as well as the boardroom, and we use our online room-booking system to help us get the most out of these spaces. If the booked host doesn't log into a room then it's made available for others to use.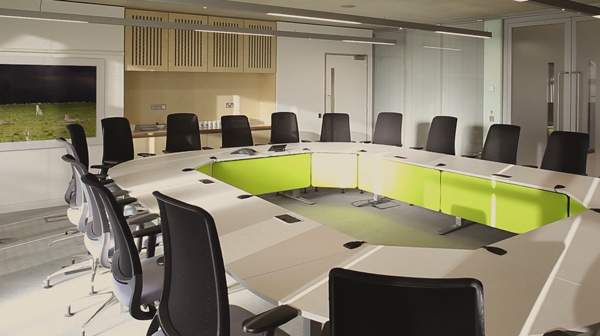 There are various 'breakout' areas for impromptu meetings, and comfy sofas for smaller groups or one-to-one discussions.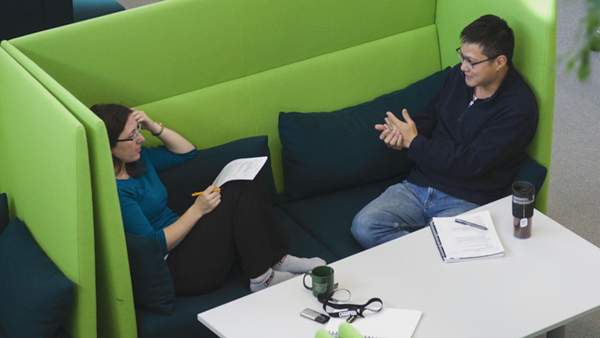 For more social interactions there's what we call the 'meet-and-eat' area at the far end downstairs – a particularly bright, airy space, with a small kitchen, hot-drink facilities and places to chat informally.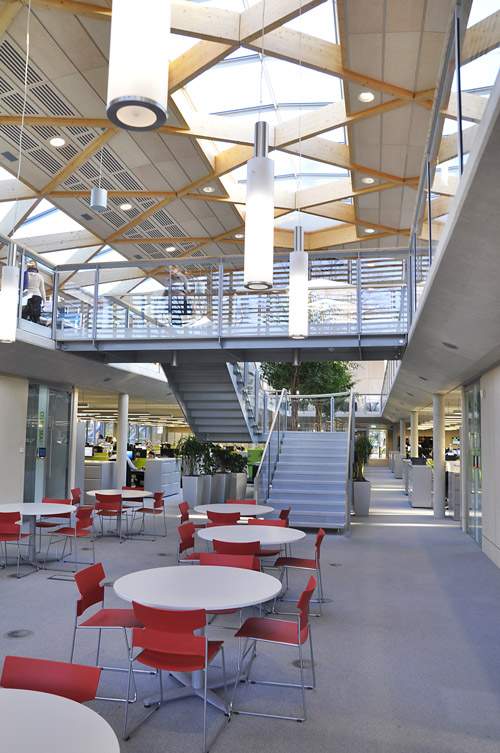 People are encouraged to eat their lunch together here, rather than alone at their desks, as often used to be the case. We think it's healthier, as well as more sociable and better for team-building.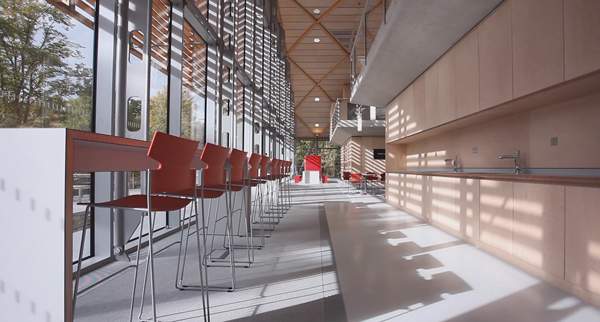 And when the weather's good we can step outside onto the paved terrace area at the back – and feel even closer to nature.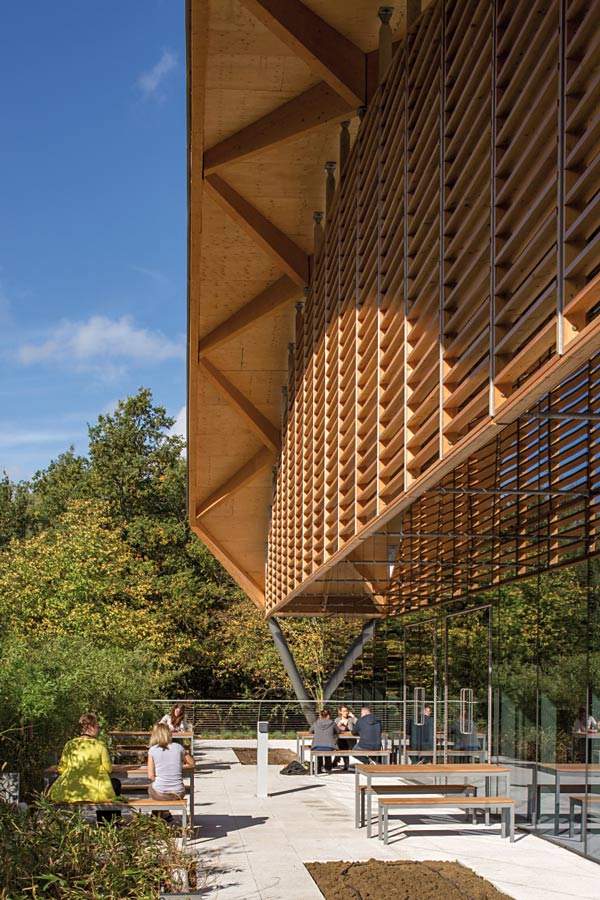 One advantage of the office being up on stilts above the car park is that the views are that much better! In places, the tree canopy outside is at eye-level. Our thoughtful architects also carefully located the windows to give us the best views out over the local woods and canal.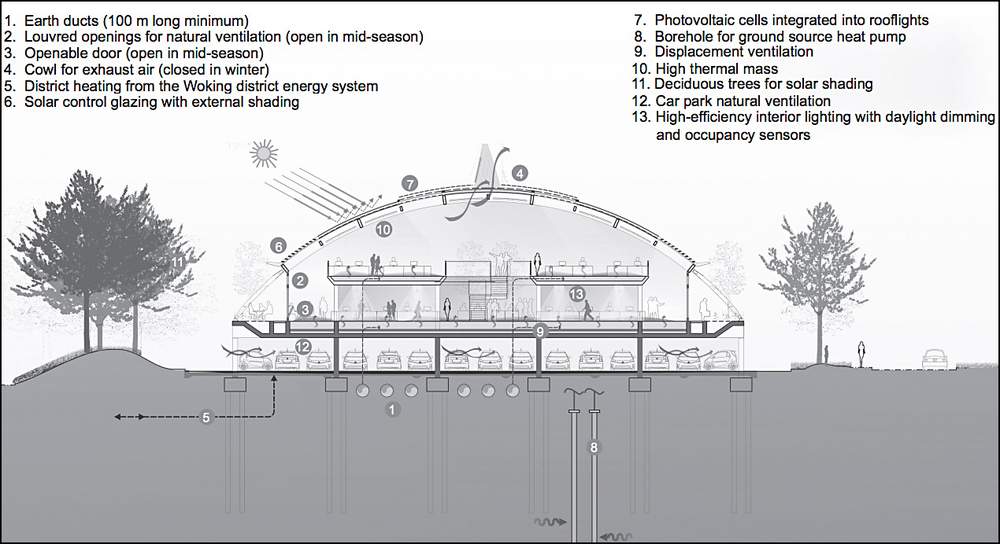 Diagram indicating elements of the building's natural heating and ventilation systems
We have 'mixed-mode' ventilation in the Living Planet Centre. That basically means we can open the windows when necessary but we can also control the airflow and temperature electronically - although without using conventional, energy-heavy air conditioning.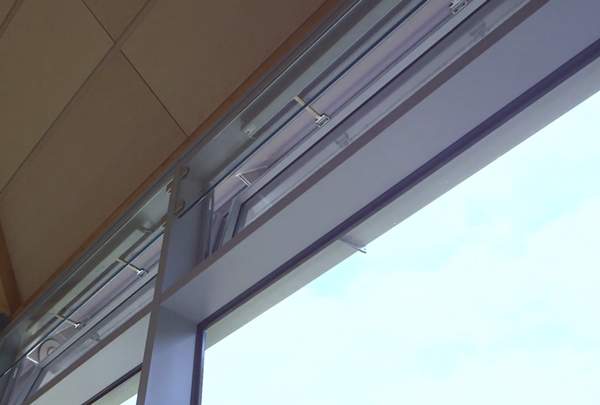 Windows can be opened to let in cool, fresh air when wanted
Natural ventilation is a cost-efficient way to improve indoor air quality and to reduce our carbon dioxide (CO2) emissions (to help address global warming and climate change). So it's a crucial aspect of the Living Planet Centre design.
A mini 'traffic light' system of green and red LED lights next to the windows shows us whether they should be opened for natural ventilation or kept closed to let the 'building management system' regulate the heating and cooling.
The Living Planet Centre is also fitted with internal CO2 sensors for health reasons – if CO2 concentrations increase inside the building, fresh air flow is increased.
Instead of the usual kind of air-conditioning we use a combination of earth ducts, wind cowls and ground source heat pumps to regulate the temperature all around the building – including to cool the electrical and IT equipment in the Data Centre.
EARTH DUCTS
Also called 'earth tubes', we have six of these large-diameter pipes (they're almost big enough to walk through), with a combined length of 400m, buried about a metre under the building.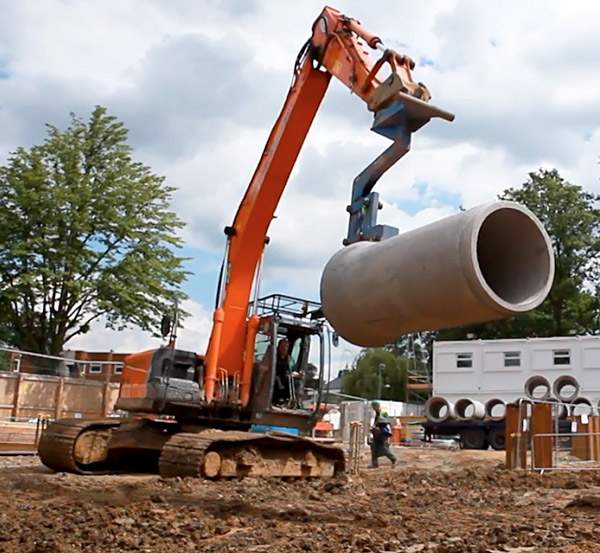 Part of the concrete earth duct tubing being lowered into position onsite
Air is drawn into these pipes at the surface and circulated underground. Because the ambient temperature below ground is a fairly constant 12°C, it means colder air entering these underground ducts will be warmed up to 12°C, whereas warmer air will be cooled to that level.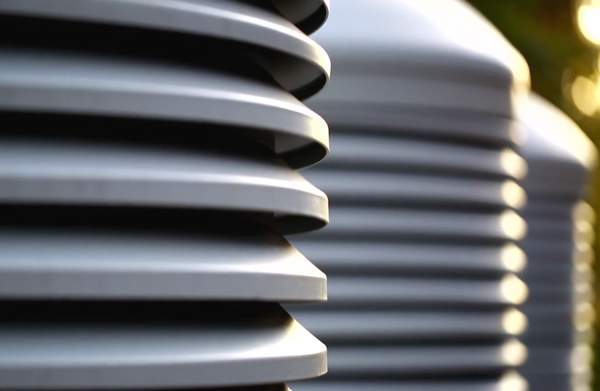 This air is then fed into our air-handling units for further heating or cooling as needed (assisted by our ground source heat pumps, more about which later) and then distributed around the building.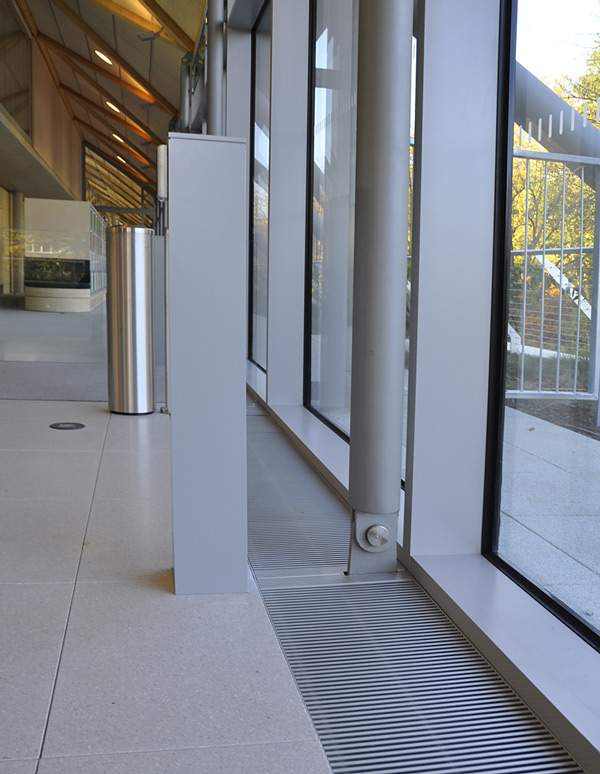 Floor vents are used to enhance air flow around the building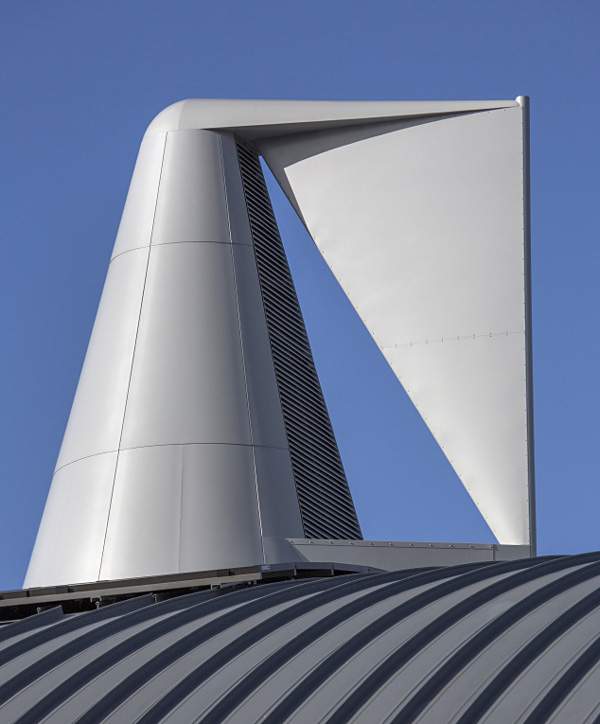 The four, 4m-high funnel-like cowls on the roof are another low-energy way to improve airflow in the building. Basically they're wind-driven ventilators that can be opened and closed when needed.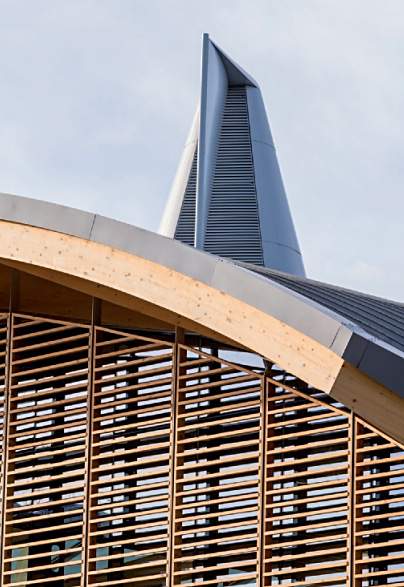 One of our four wind cowls on the roof
Each cowl rotates on specially designed bearings, aligning itself so its back faces into the wind. As the wind blows over the cowl, low pressure created inside it produces a vacuum, sucking out the warm, stale air from inside the building.
Air also circulates through a specially designed gap (a 'plenum') in the flooring system. The floor panels themselves are carefully sealed to be airtight, to avoid unwanted air leaks or draughts.
Sitting above an open-sided car park can raise design concerns over cold air leaking into the Living Planet Centre. The builders, and flooring installers in particular, had to be vigilant about 'cold-bridging' (or 'thermal bridging') – avoiding potential weakspots in a building's insulation, often at a junction between floors, walls, roofs or windows, where heat can escape or draughts come in.
LIGHTING
Natural daylight was always central to the design and layout of the Living Planet Centre – not only to cut down on electricity use but for health and wellbeing reasons too.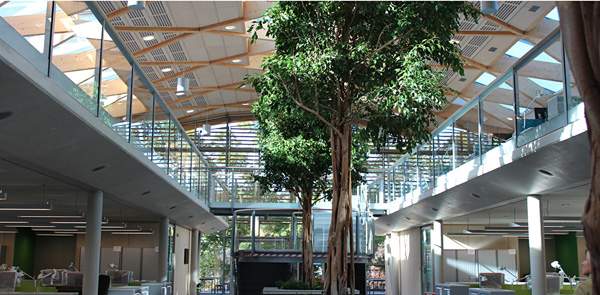 Natural light is at the heart of our building's design
Our careful design and planning stages took into consideration factors like seasonal variations – in both heating and lighting – as the sun's position changes in relation to the building.
The large amount of glass (we have more than 100 glazed units), especially in the roof, means the inside of the building gets twice as much natural light as the average office.
In case the sunlight gets too glaring, we have a combination of fixed and automated shading panels of all shapes and sizes.
An intelligent control system (designed by Levolux) takes into account the position of the sun and daylight levels at any given time and automatically adjusts the position of the fabric roller blinds to partially or completely shade windows and rooflights.
Our daylighting target for people's desks was 300 lux (1 'lux' is equivalent to the light of one candle per square metre). Low-energy desk lamps can increase that to 500 lux.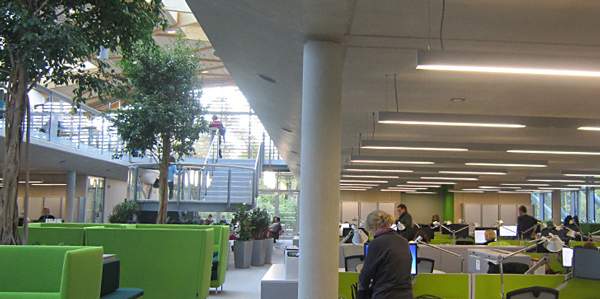 The natural daylight can be augmented by low-energy strip or spot-lighting when required
On less bright days we can turn on general overhead office lighting – a mix of energy-efficient fluorescent and LED lamps.
Our total electrical lighting load is only 5.5 watts per square metre, considerably below the average for office space – but clever design makes it seem much brighter.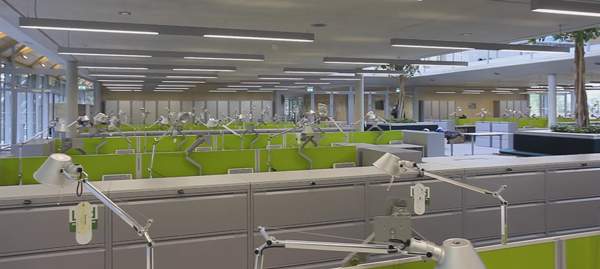 Working positions have low-energy anglepoise desk lamps
Light sensors inside and outside the building detect when natural light levels fall and rise, and adjust the electric lighting appropriately.
Occupancy (movement) sensors in meeting rooms and toilets, and a 'last-out' function, help to make sure no unnecessary lights are left on.
Movement sensors mean that the lights can sometimes go out in certain areas if everyone stays still for too long, but the system has a manual override. Besides, it's a useful reminder that it's not healthy to be sitting still in one place for too long!
SOUND / ACOUSTICS
The Living Planet Centre design and planning process included careful consideration of the acoustics and sonic effects of the building.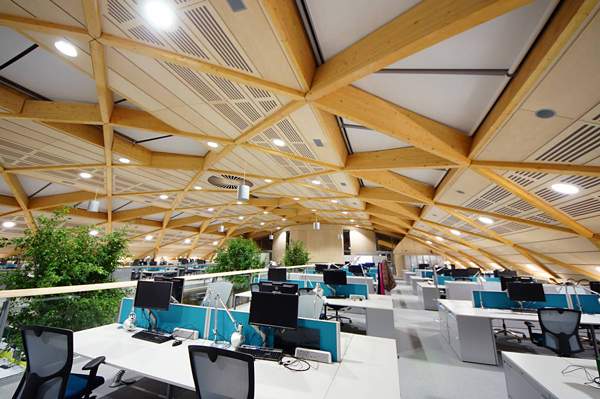 There's acoustic damping fabric behind the slats in the ceiling panels
It's not just an issue of how noise (from outside and inside the building) would impact on the people working there, but also the environmental effects of noise on neighbours and local wildlife. We considered this right from the construction stage.
Internally, a curved ceiling like the Living Planet Centre's can cause acoustic problems in a building – with sound reflections becoming focused in certain areas, causing 'loud spots' and echoes.
Acoustic specialists Cole Jarman helped come up with a clever solution that would make 30% of the ceiling (as well as more than half the wall areas) acoustically absorptive, by hiding special panels of mineral fibre behind the roof and wall panels.
We've also installed a sound-masking system which generates subtle 'white noise' at sound frequencies that mask background chatter and office noise – adding soothing hints of birdsong to enhance the feeling of calm.
The flooring had to be specially designed to counteract vibrations from footsteps and avoid transmitting any unwanted sounds around the building.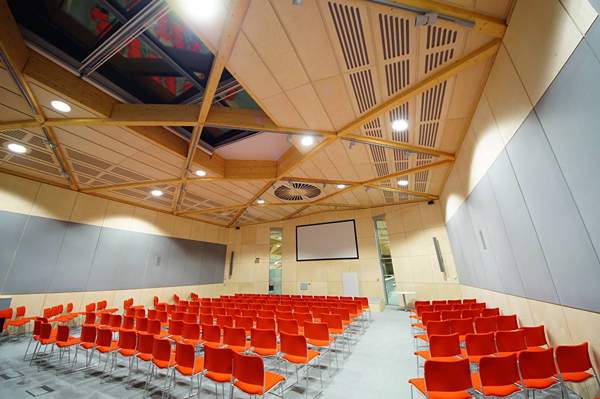 After testing with a 3D model, extra fabric-covered acoustic panels were added to the side walls of the auditorium to improve sound quality
After we moved in and tried out the various spaces, we added some more acoustic panels in the smaller meeting rooms, to make them better for teleconferencing, as well as reducing noise reverberations in the Learning Zone and boardroom.
WATER SYSTEMS
To reduce the amount of fresh water we use from the mains supply for things like watering our plants and flushing our toilets, we harvest rainwater.
Rain falling on the roof, paved walkways, ramps and terrace is caught in gutters and gullies and diverted via attenuation tanks within the entrance level structure to a huge 35,000-litre holding tank underground.
We also recycle 'greywater' from hand basins and showers inside the building, and pass it through a filter and UV treatment unit for disinfection, before it's reused in the toilets.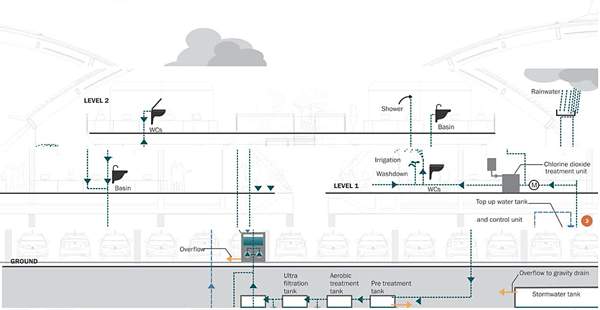 Water recycling systems around the building
If there's not enough rain, mains water will be used. If there's too much rain, the excess goes into the wetland area as part of our sustainable urban drainage system. Once that's full, the water there will overflow into the nearby Basingstoke Canal.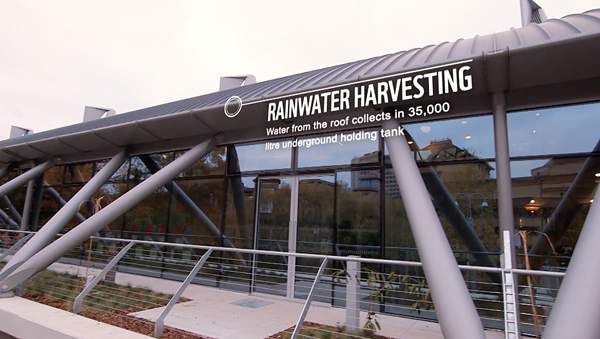 The below-ground drainage system has been coordinated with the tree protection plan, and porous paving has been specified for surfacing the access paths and cycle racks area, to minimise the impact on tree roots.
Sink taps in the building are fitted with 'passive infrared' motion sensors to save water. Showers have timer switches and the WC cisterns are dual-flush to reduce water use. We also use energy-efficient zip taps for instant hot water for drinks.
WWF experience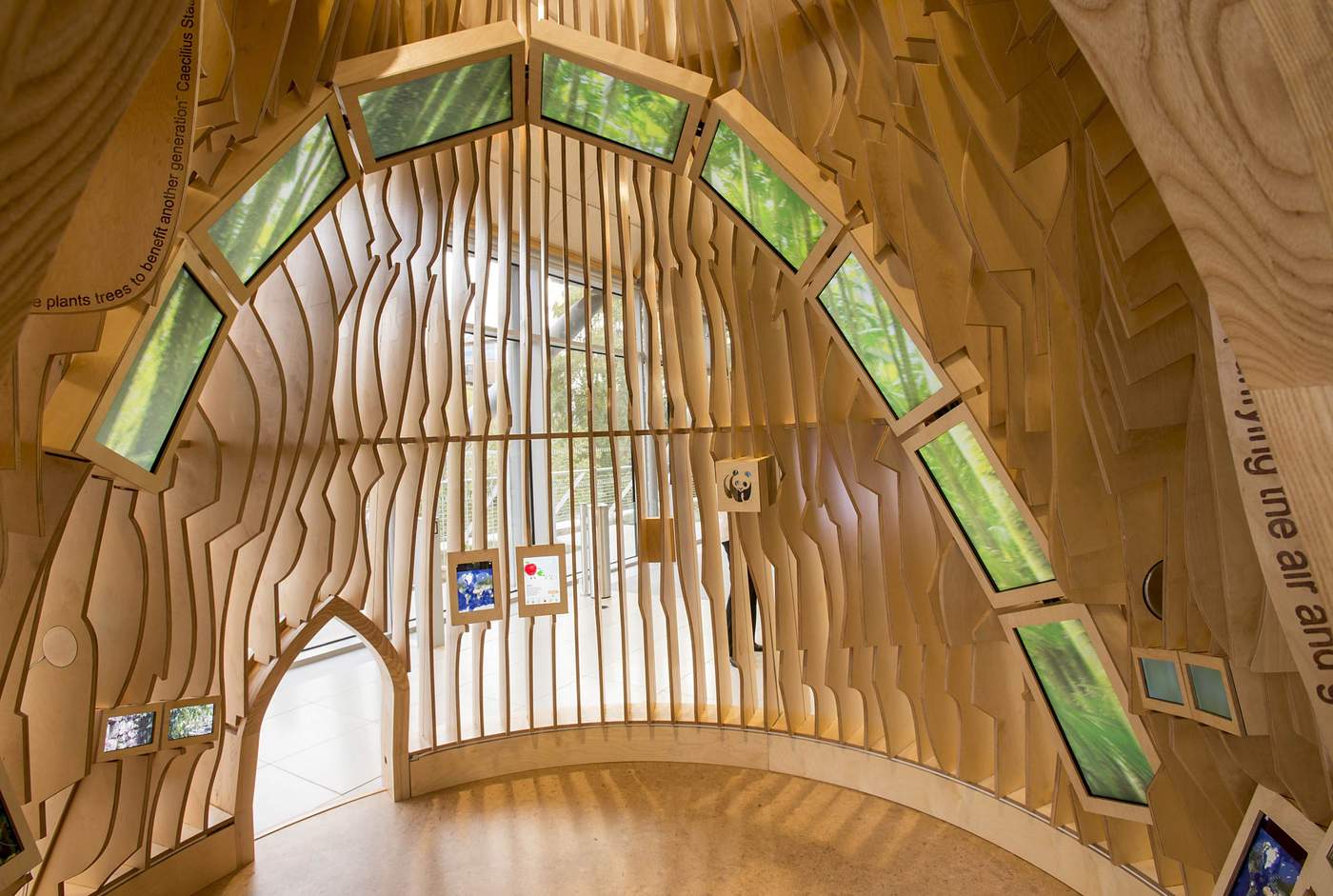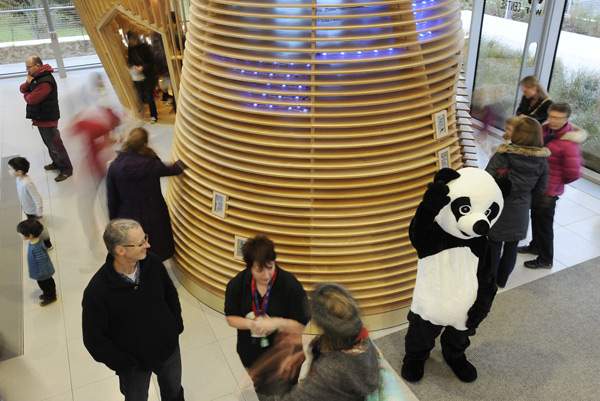 We always knew we'd have some kind of 'visitor facility' or public exhibition area in the Living Planet Centre – it was a key requirement of the original Rufford Foundation funding. But we just weren't sure at first what form it should take.
It's not something we'd ever done before. Our old Panda House building was particularly ill-equipped (and not especially appealing) for visitors.
So there were lots of differing opinions about what our new visitor experience should be like, and the logistics of how we'd run it.
For instance, who should the target audience be, should it be open every day, should we charge for admission, and so on.
In the end we opted for a free public exhibition, ambitiously covering all the main strands of our global work and aimed at a wide audience – primarily with families and schoolchildren in mind.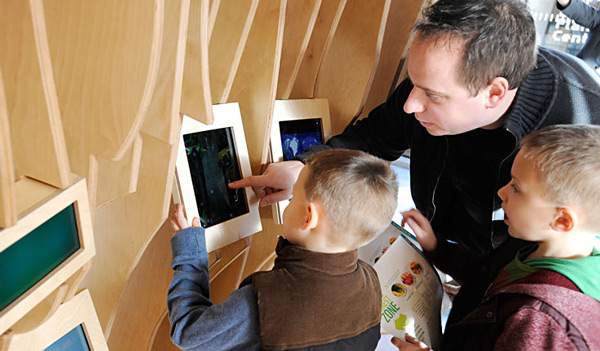 We have lots of fascinating information to offer – wild facts, stories and images – but we needed an eye-catching and memorable showcase to present our work.
That's where Jason Bruges Studio came in...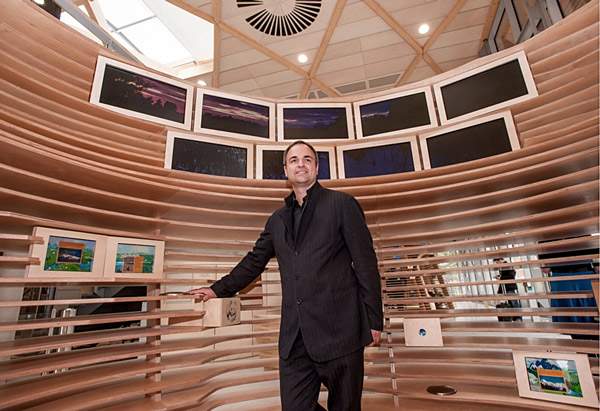 'Jason Bruges Studio had already been involved with WWF when they contributed to our Pandamonium' fundraising art exhibition in 2009, restyling old panda coin-collecting boxes in an unexpected and creative way.
Jason Bruges Studio's 'Panda Eyes' exhibit – with 100 mini pandas revolving to follow visitor movements – now takes pride of place in our gallery space on the entrance level, having been kindly donated to us by our former chairman Ed Smith.
We commissioned Jason Bruges Studio to design and build four 'zone' structures for the WWF Experience in the entrance area of the Living Planet Centre.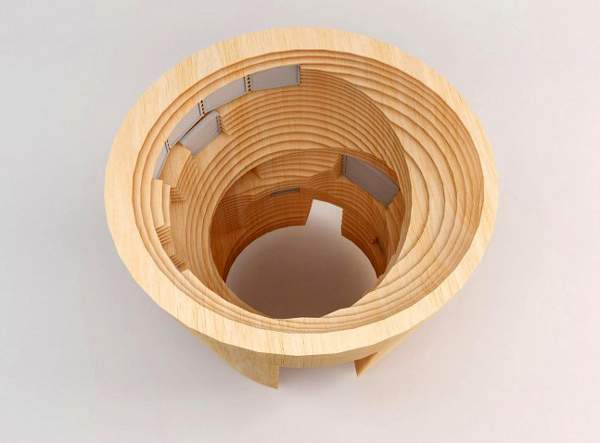 Each of the four zones reflects a different environmental theme, and key area of WWF's work – namely:
WILDLIFE zone – catch glimpses and fascinating facts about rare species...
FORESTS zone – experience the sights and sounds of a day in a rainforest...
RIVERS zone – follow the flow of a river from source to estuary...
OCEANS zone – see the amazing variety of creatures and plants at sea...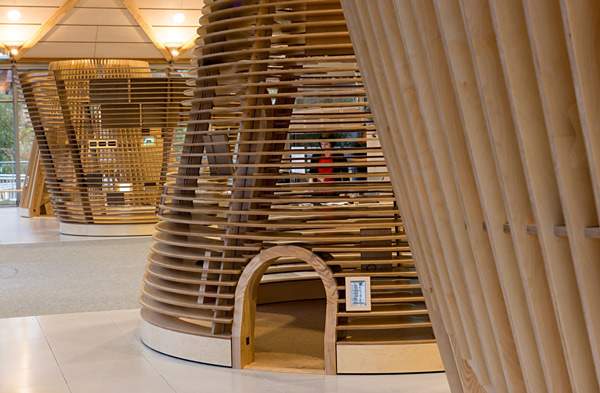 The four cone-shaped constructions, with their slatted timber 'fins' neatly echoing the louvred facade outside the building, were designed to be immersive, interactive 'sensory feasts' for visitors of all ages.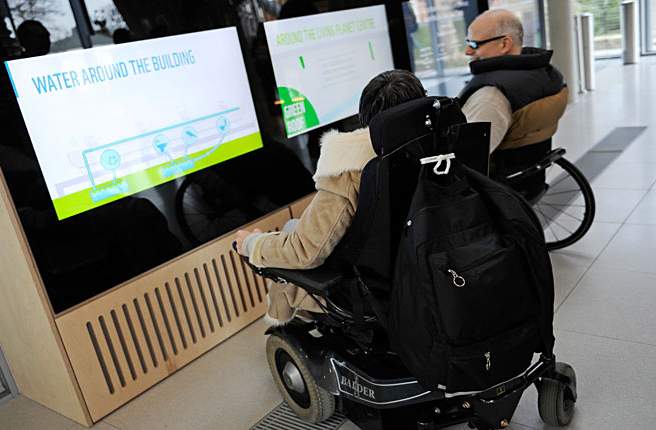 All four zones are accesible for wheelchair-users. Low-height entrances are also included to encourage children to crawl through and explore. The timber frames, all sustainably sourced, are designed to be touched.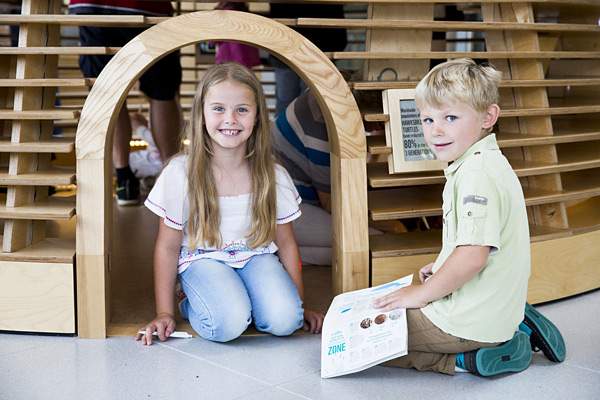 The zones reflect the sights, sounds and ambience of the particular environments.
As visitors enter each zone, low-energy video screens begin running footage of the natural world, which was developed in conjunction with the BBC and other partners.
Bronze casts, based on real natural features, also help people interact with each environment.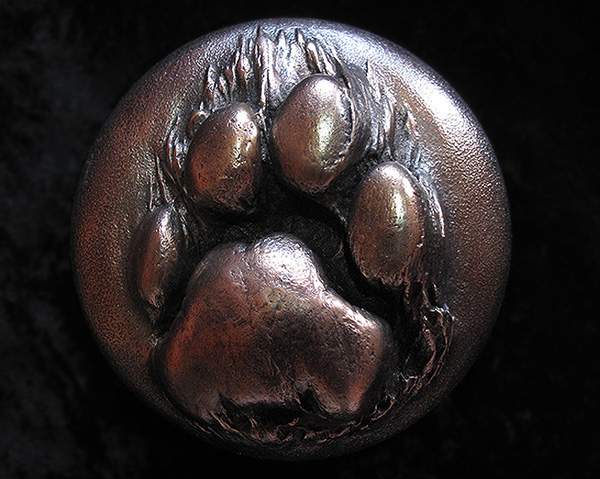 We commissioned sculptor André Masters to create seven unique bronze casts based on rare or endangered species – including lion, tiger and monkey paws, a sea turtle flipper and a conch shell.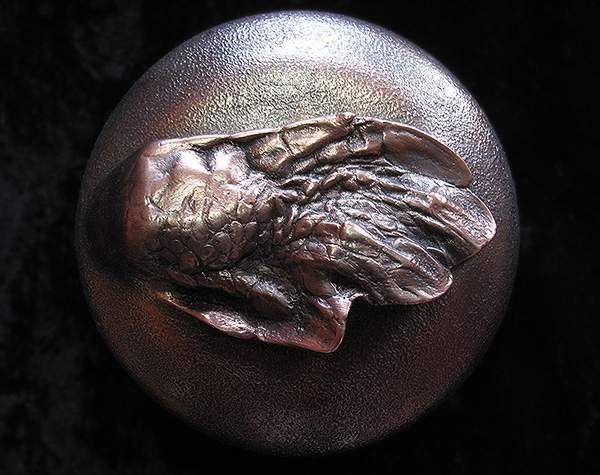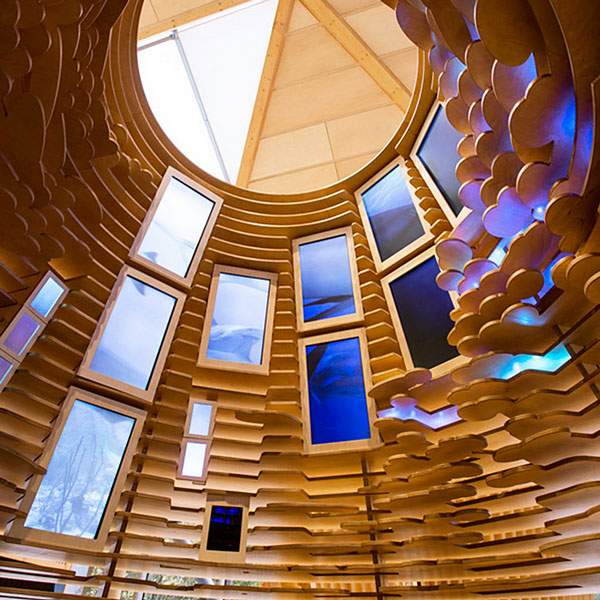 Each zone also has its own specially-written soundtrack created by acclaimed composer William Goodchild. They're all distinctive but subtly complement each other.
The soundtracks and background noises are also triggered when visitors enter the zone, and are played through hidden 'feonic' speakers.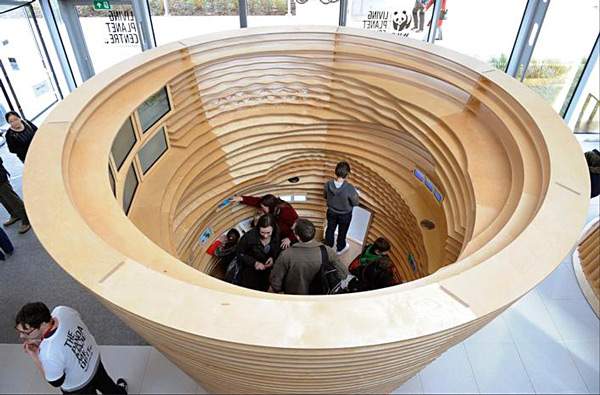 This efficient audio technology effectively turns the whole wooden structure of the zone into a giant speaker, producing an enveloping but focused sound that doesn't travel too far into the rest of the building.
Concealed low-energy LEDs provide mood-lighting effects to accompany the video and audio.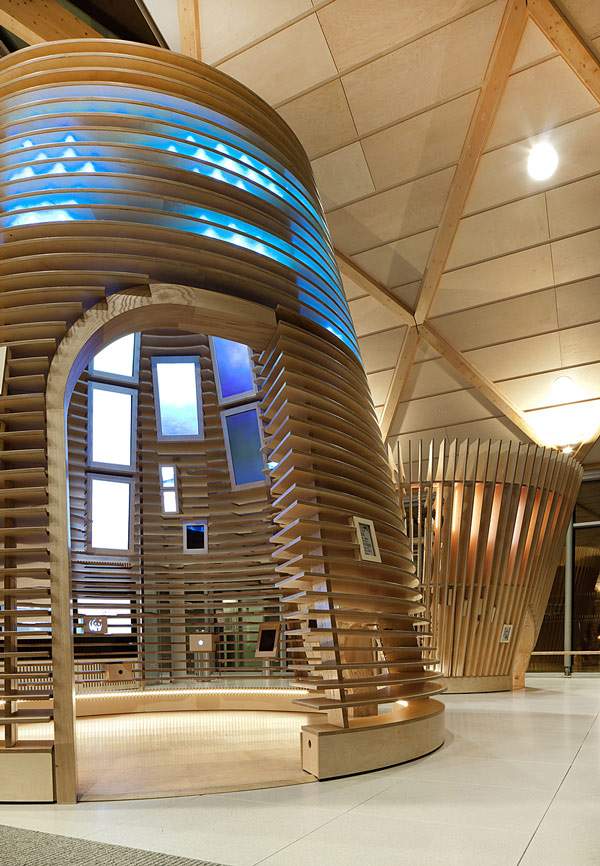 Relevant and thought-provoking quotes inspired by the themes of each zone are etched into the wooden fins inside the structures.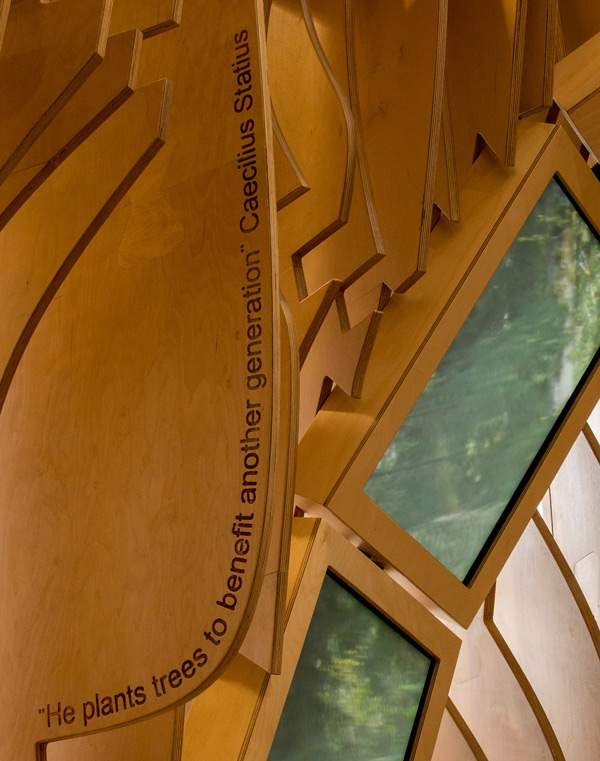 All visitors to the WWF Experience, adults and children alike, are also encouraged to take part in quizzes, 'treasure hunts' and other interactive games designed to educate and inspire.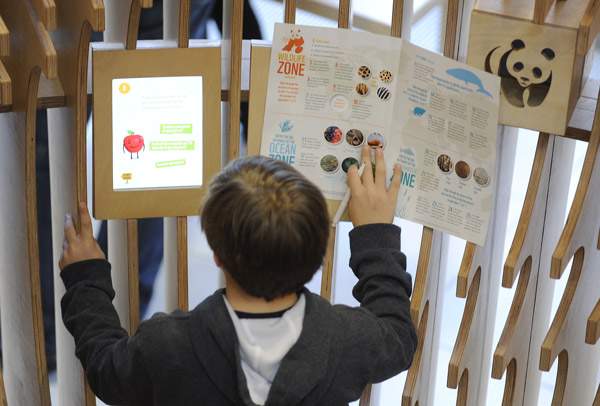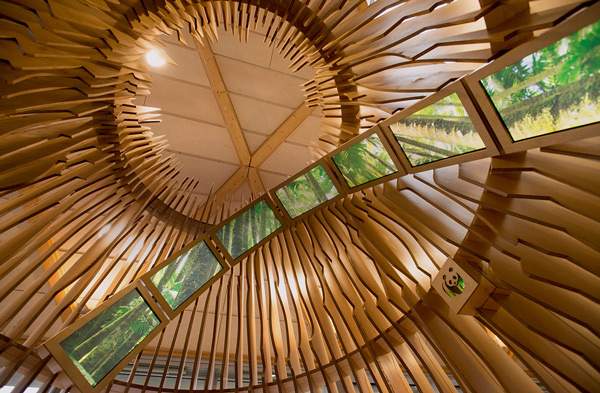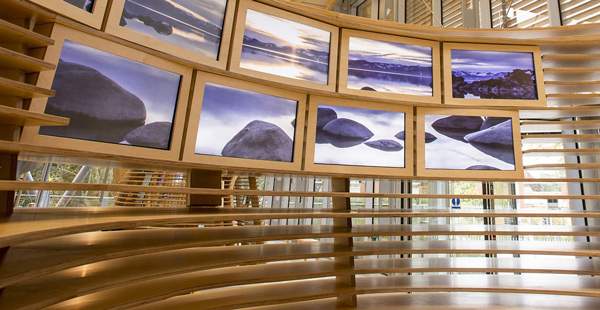 GREEN CONSTRUCTION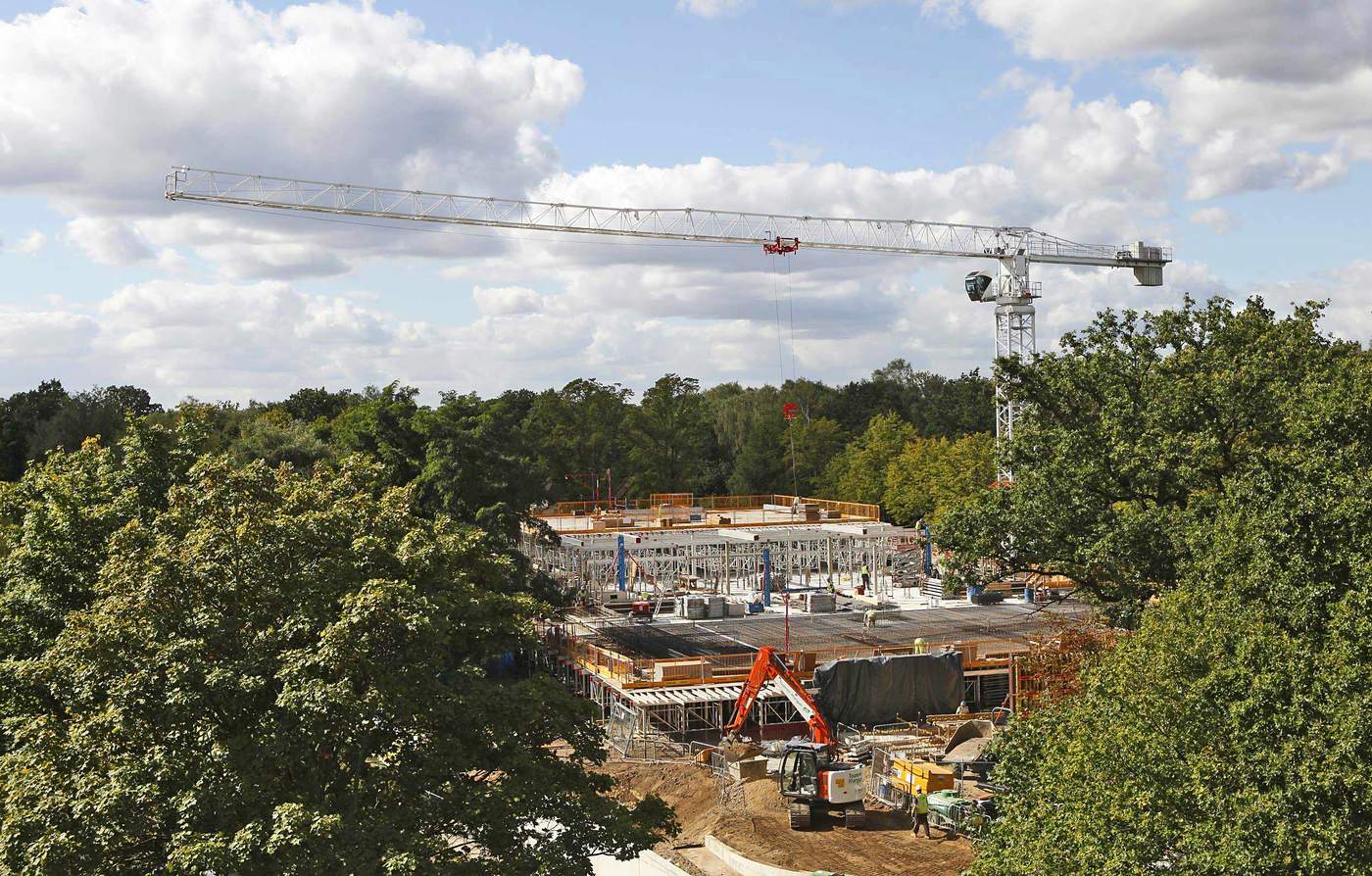 On-site construction of the Living Planet Centre began at Woking's Brewery Road council car park location in March 2012, and took just under 18 months to complete.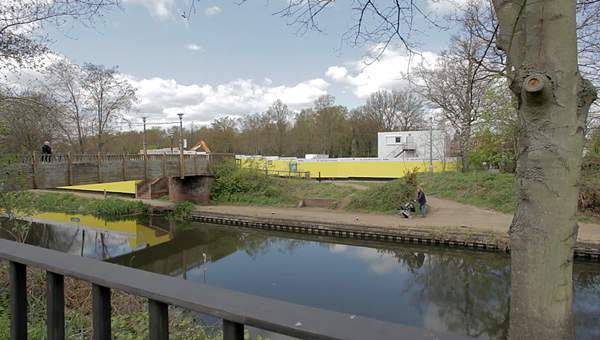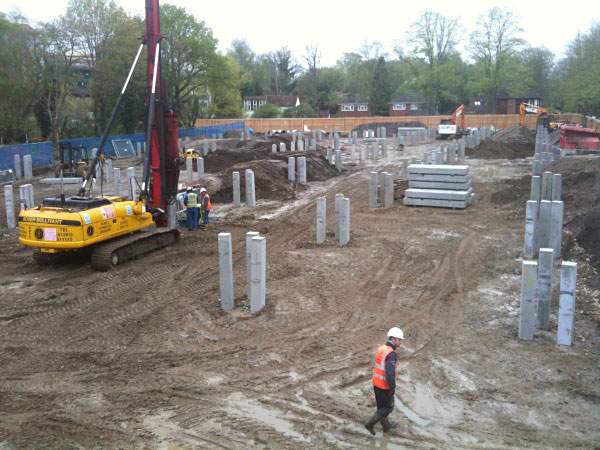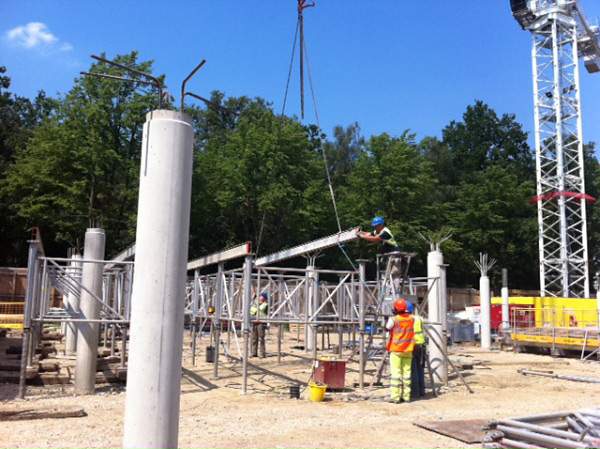 We selected Willmott Dixon to be our main building contractor, from a list of 14 companies. They are widely known as one of the first construction companies to put sustainability at the heart of their building work.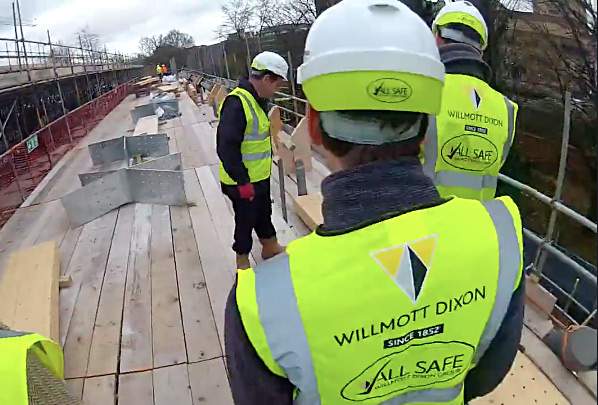 They weren't simply going to be 'the builder' on this job – it was much more than that.
We engaged them on a 'design and build' contract, which means they were in overall charge of making sure this was going to be the greenest, lowest-carbon, most sustainable building they could possibly construct – meeting BREEAM 'Outstanding' standards – without going over our budget.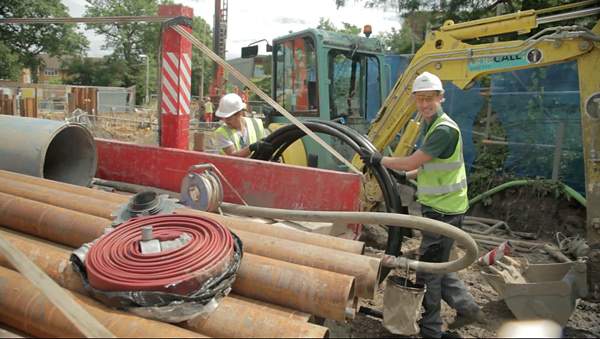 They were helped in this ambitious endeavour by the skilled planning of Atelier Ten, and together they made an impressively successful team.
They were also assisted by Sturgis Carbon Profiling, who came to be affectionately nicknamed 'the carbon police'.
CARBON MEASURING
One of the first tasks was to analyse the 'embodied carbon' emissions (or carbon dioxide equivalent) for every material and component used in the building.
The carbon profiling calculations were largely based on what's known as the CEN/TC 350 standards for sustainable construction.
These standards cover four separate stages in the life of a building:
1. PRODUCT MANUFACTURE – including extracting raw materials and processing them into usable components.
2. CONSTRUCTION – including transport of the components to the site and assembly on-site.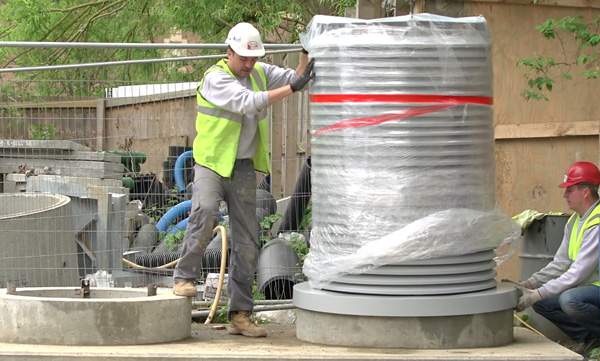 3. IN-USE – this complex stage covers ongoing maintenance, repair and replacement of products, as well as their long-term energy and water use.
4. END-OF-LIFE – when the building is eventually dismantled and the component parts are taken away and recycled or disposed of.
In other words it doesn't just involve calculating how much carbon each component would emit in its working lifetime – a lightbulb's use of electricity, for instance. It also includes the carbon emitted when that component was originally produced, then transported, and whenever it's replaced, and ultimately how it's disposed of.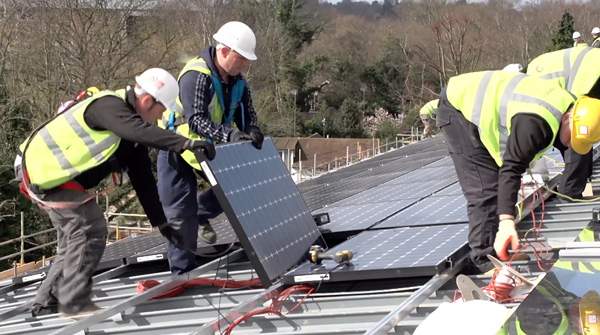 The total figure, for all the component parts, would be the 'whole-life' emissions of the Living Planet Centre (based on the building's life being 60 years, though it's built to last longer than that).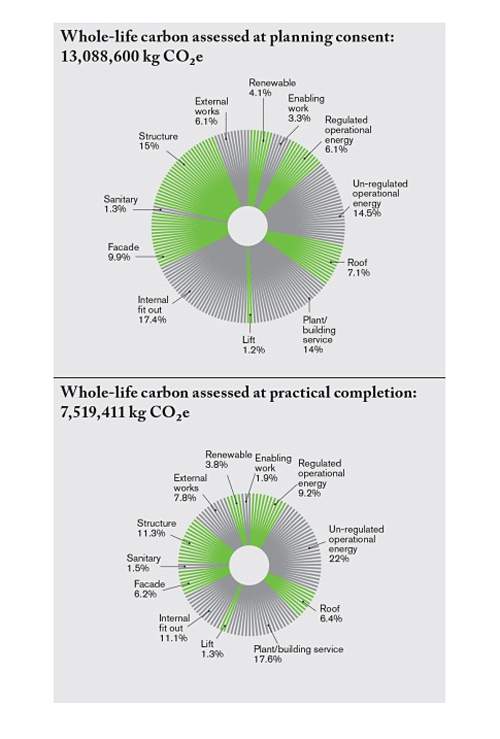 The Living Planet Centre is, in fact, the first building in the UK to have undergone this kind of full, whole-life carbon assessment.
The Living Planet Centre is also unique in that it's been 'designed for deconstruction'. It means at the end of its life the Living Planet Centre can be dismantled (not just demolished) and the component parts reused or recycled.
Even before construction began, Sturgis's research and recommendations had managed to reduce the predicted whole-life carbon impact of the Living Planet Centre by 30% compared with the original design.
But now it was up to Willmott Dixon to push that down even further during the build, if we were to achieve that hard-to-get BREEAM Outstanding rating.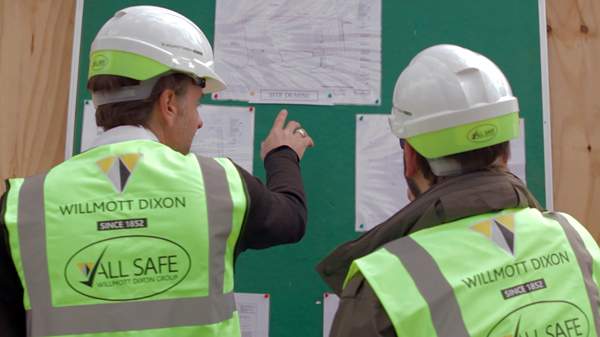 As Willmott Dixon's sustainability manager Richard Bartlett said to Building magazine, stringent standards had to be met: "With any job there are aspirations that fall by the wayside. But here, these were contractual obligations."
GREEN BUILDING SITE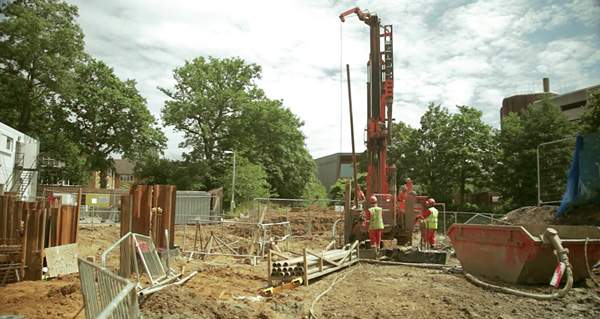 We even monitored the building site itself, making sure it was as low-carbon, low-waste and sustainable as possible.
For instance...
• 99% of construction waste didn't end up in landfill. We made sure 'take-back' schemes were used, so that excess or unused materials could be returned to suppliers/manufacturers, and we did a lot of recycling.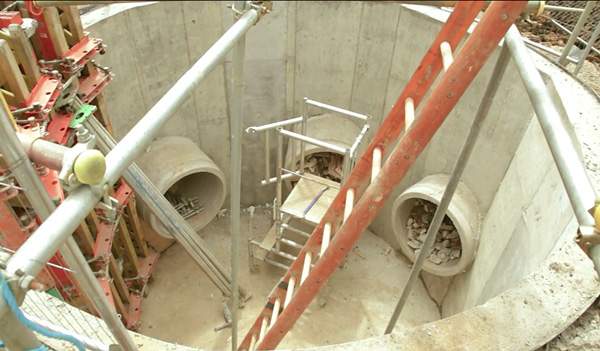 Some spare building materials went to the local Lighthouse project in Woking, helping turn a derelict building into a community centre. The remaining 1% of the site waste was classified as 'hazardous' and was subject to the CL:AIRE process for contaminated land.
• Waste was minimised on site using agreed incentives with subcontractors. For instance, there were skip targets and economic rewards if fewer skips were filled. In the end we filled 72 skips, generating 70% less waste than we'd planned for.
• We encouraged off-site construction of various components – including the roof – to maximise efficiency and minimise waste.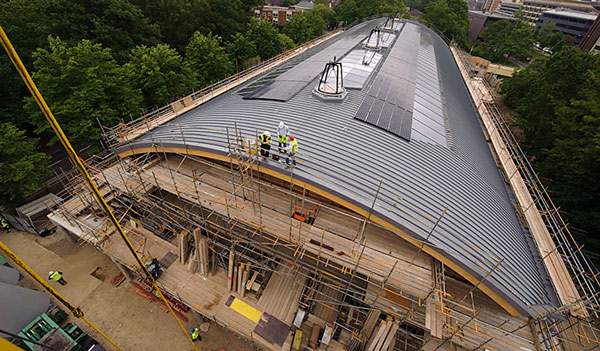 • Willmott Dixon secured an early connection to the electricity grid, which helped minimise the use of diesel generators on site.
• The temporary on-site buildings were well-insulated 'eco-cabins', fitted with low-energy lights, and the drying rooms had dehumidifiers, drastically reducing energy load during a very wet year. They even harvested rainwater from their roofs on the site.
• Site and security lights were low-energy LEDs, and non-essential lights were on timer switches. Non-essential areas of the site were automatically switched off out of hours.
All on-site energy and water consumption were closely monitored. During the construction process we managed to reduce water to around half our initial target.
ONGOING IMPROVEMENTS
The team were constantly on the lookout for ways to lower the Living Planet Centre's carbon profile – without increasing costs or reducing quality.
One example was the glue to be used in the wooden glulam beams. Originally this was going to be a synthetic adhesive with a high carbon footprint, which would have meant the wood beams wouldn't have been any lower-carbon than a steel structure. Sturgis suggested swapping to a natural polymer glue and the carbon count dropped significantly.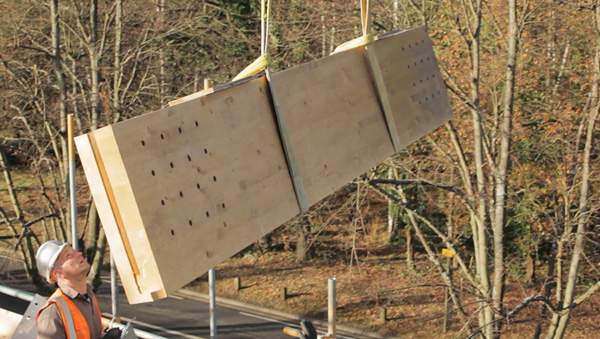 The original design spec also said the aluminium in the window frames should have 30% recycled content. But Willmott Dixon found an alternative supplier that could provide frames with 80% recycled aluminium.
The carbon analysis didn't always reveal predictable or intuitive results. Sometimes it turned out the carbon embodied in the manufacturing of an otherwise 'eco' product (an insulating material, say) could cancel out or even outweigh the long-term benefits of using that product.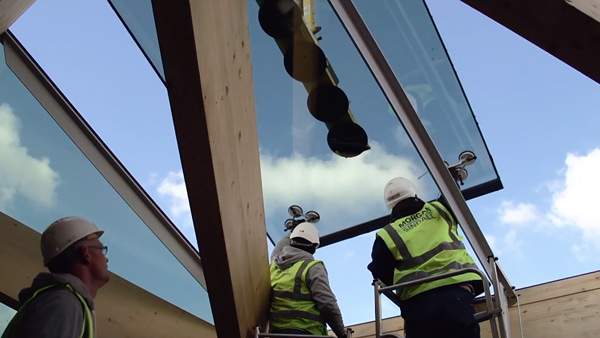 Take the windows again. 'Whole-life' analysis showed that triple-glazed windows were actually less carbon-efficient than simpler double-glazed units, even though they provided better insulation. The extra embedded carbon in the product itself outweighed the long-term energy savings. Not what you might expect.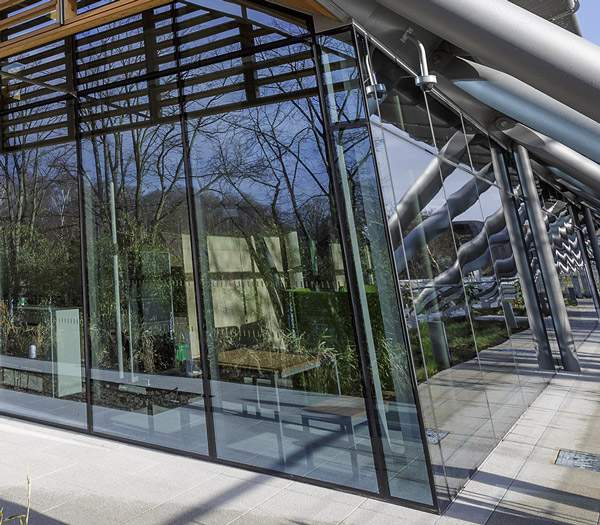 END RESULTS: LOW CARBON, HIGH SUSTAINABILITY
During the construction process, Willmott Dixon, Atelier Ten and the team managed to deliver a remarkable 42% reduction in the whole-life embodied carbon of the building, compared to a standard high-performance building.
That means we're saving the equivalent of more than 5,400 tonnes of carbon over the building's life. Without increasing the building's costs.
Those kind of dramatic savings at the construction stage show that even good, sustainably-minded design can be improved by careful use of materials and building techniques.
The Living Planet Centre set new standards in carbon-efficient design and construction. In total it has a whole-life carbon footprint that's just 35% of the average modern office building.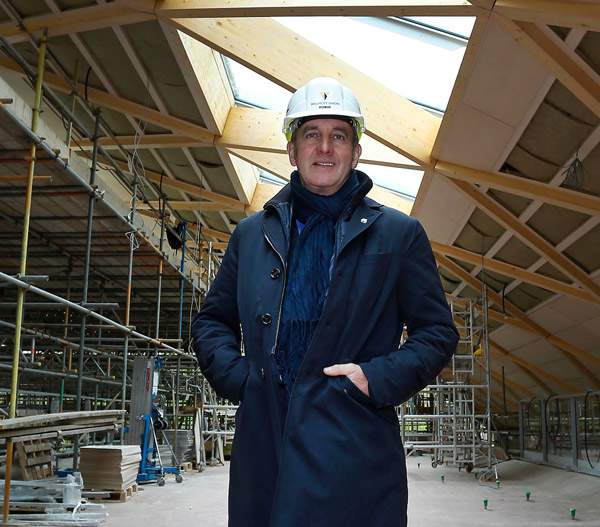 MATERIALS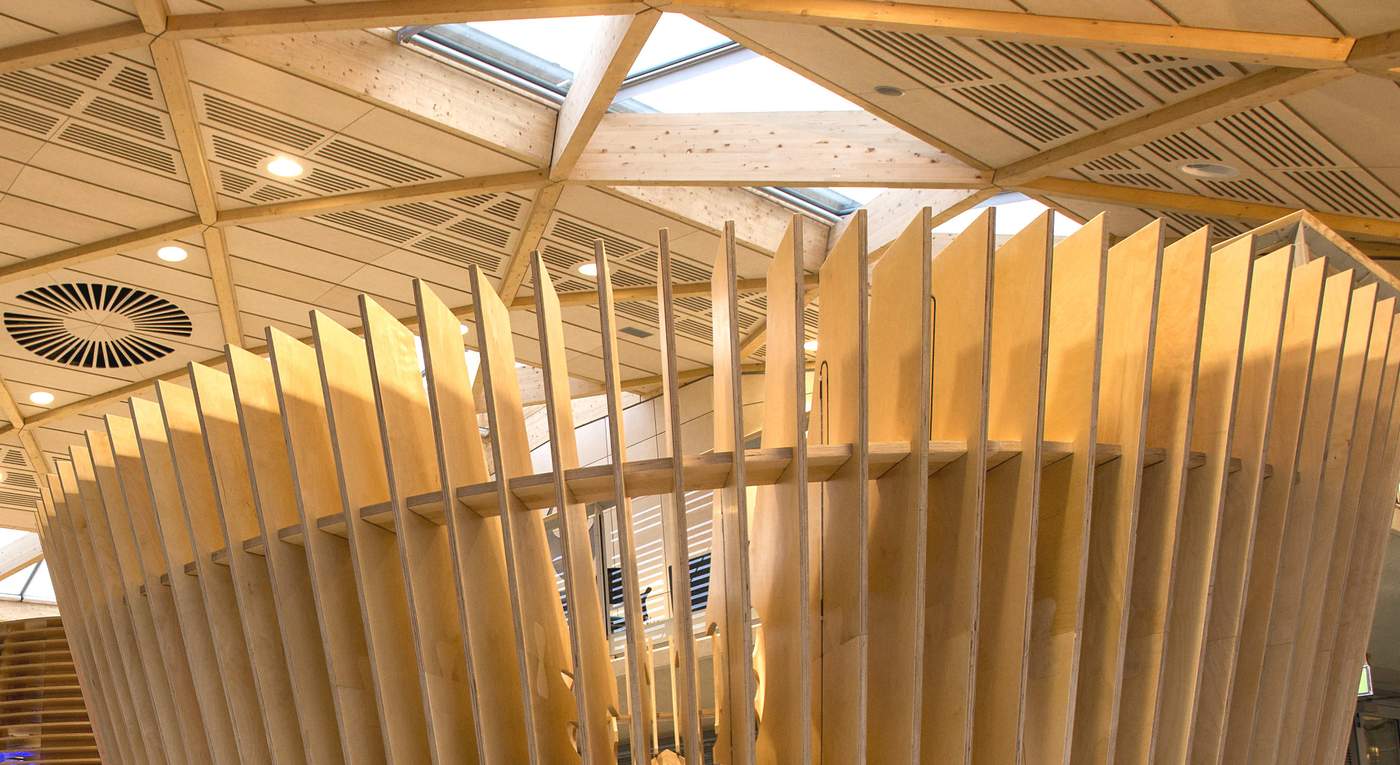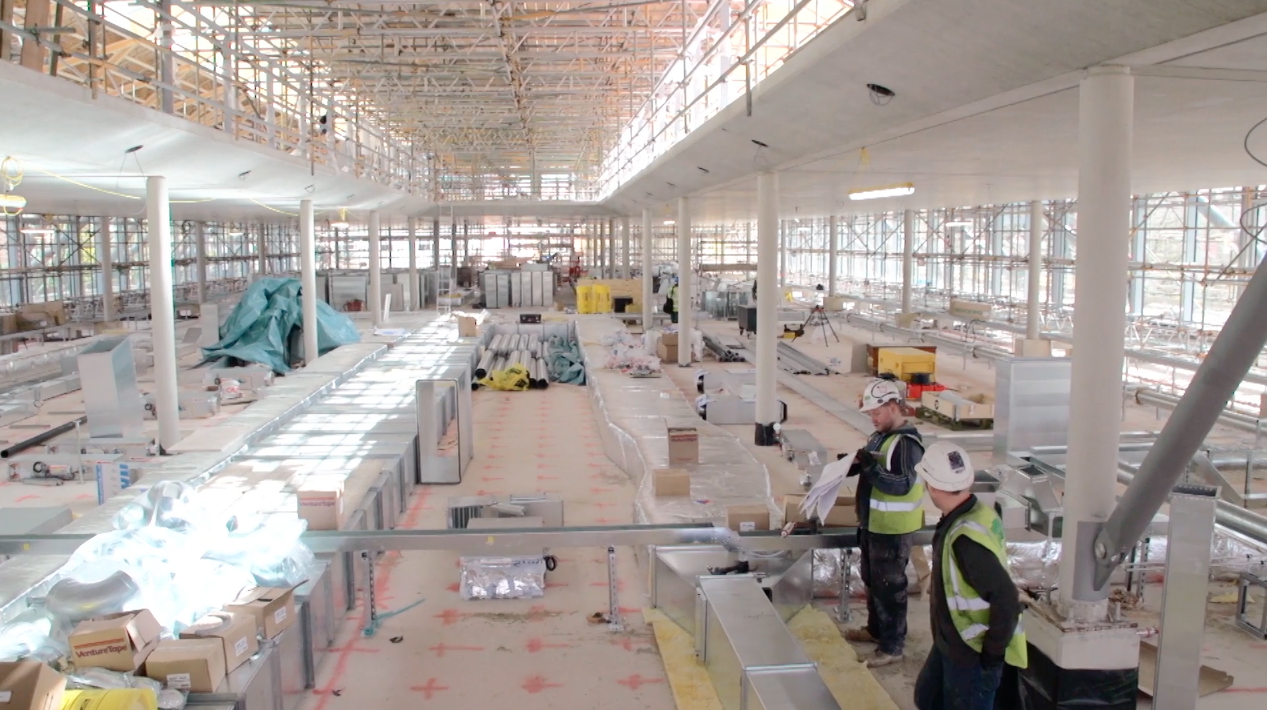 In any kind of building, the production, use and disposal of materials can have big environmental and social impacts.
Working on the design and build of the Living Planet Centre it was absolutely key for us that we didn't simply know how the materials were sourced and manufactured, but how efficiently they would operate, how long they'd last and how easily they could be disposed of (broken down or recycled) at the end of their use in the building.
We worked closely with our architects (Hopkins), environmental design consultants (Atelier Ten), structural engineers (Expedition Engineering), main contractors (Willmott Dixon) and specialist carbon-analysers (Sturgis Carbon Profiling) to examine the 'whole life' carbon footprints of all the materials to be used in the Living Planet Centre.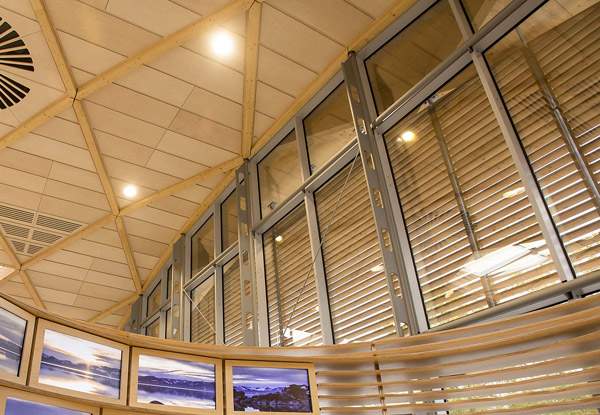 The team also worked with organisations like WRAP (Waste Resources Action Programme) from early in the project, to help reduce waste through good design.
There were a number of questions we constantly had to ask ourselves at every stage, such as:
• How can we reduce our use of materials?
• Are all the products from sustainable sources?
• Can we use more recycled materials?
• How can we minimise waste?
• Can we avoid/reduce hazardous products?
• Can we use more locally-sourced materials?
The challenges we had to overcome included technical feasibility, cost and the performance required from a modern office building.
We're very pleased to report that 98.5% of the materials used in the Living Planet Centre were certified as responsibly sourced (and the few that weren't were mainly small ancillary components that couldn't be certified).
Read on for a breakdown of some of the main materials we used…
TIMBER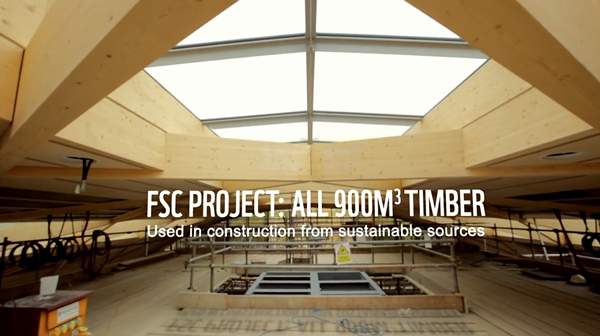 All timber used in the construction of the Living Planet centre is FSC-certified or from recycled sources. We have achieved full FSC project certification for the building. (See more about FSC Project certification.)
The Forest Stewardship Council certifies sustainably sourced wood and other forest products
We believe that Forest Stewardship Council certification (FSC) is the only credible system that ensures environmentally and socially responsible management of forests. FSC covers the whole 'Chain of Custody' journey of the timber, from forest to final user.
The wood we used for the building included:
Spruce (European whitewood) – used in the 'glulam' roof beams and 'Ultralam LVL' external soffits.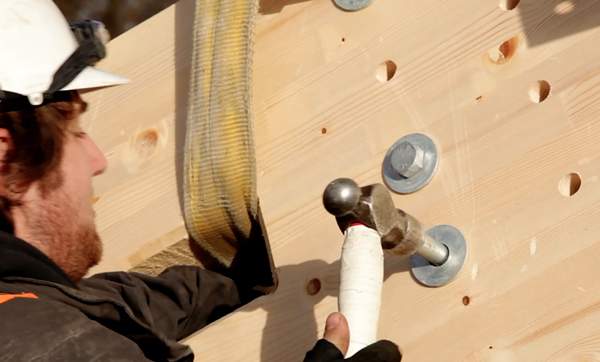 • Glulam ('glued laminated timber') – an eco-friendly product where smaller pieces of wood are glued together to create larger, extra-strong beams – using a natural polymer glue in our case. Our spruce glulam beams (all 828 of them) were premade off-site and assembled on-site, joined together using more than 7,200 bolts.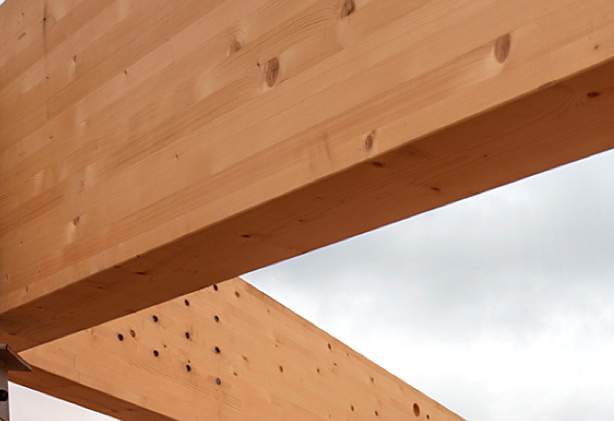 • LVL (laminated veneer lumber) – a no-waste, economical construction-strength timber, like chunkier plywood.
Birch – used for the plywood panelling in the ceiling and walls, cabinets and other joinery. And of course the sculpted plywood constructions of the four WWF Experience zones. The internal timber doors (made and fitted by Vicaima) were also finished in FSC birch to match the wall panelling.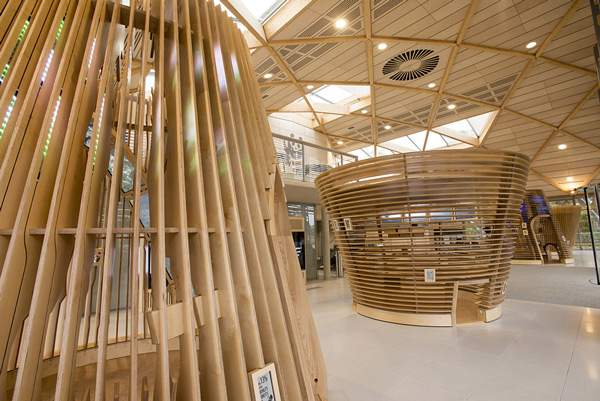 Ash – for the curved-edge reception desk and indoor balustrade railings.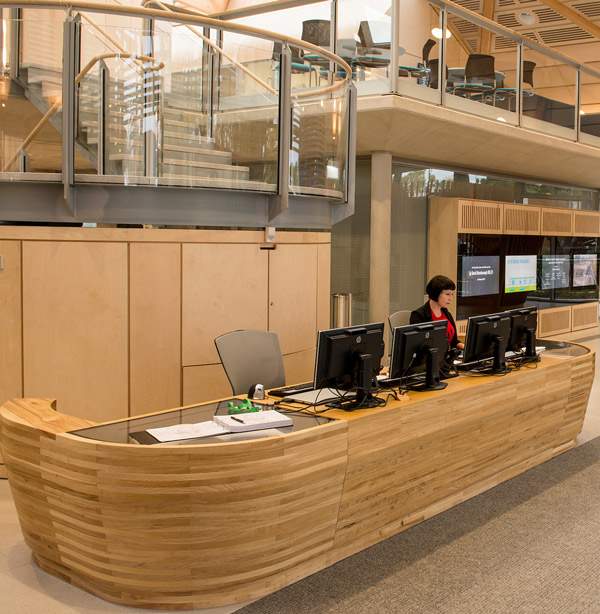 Larch – external louvres/brise soleil, bike and bin stores.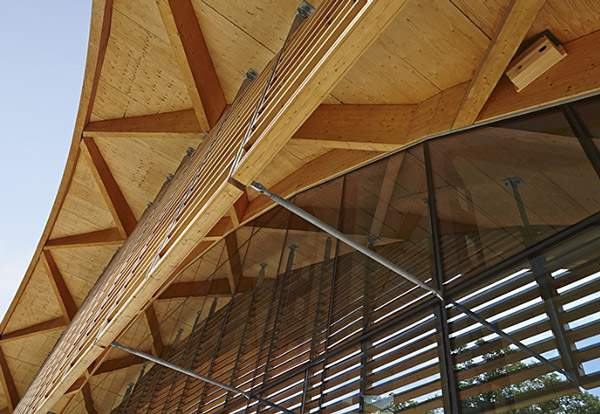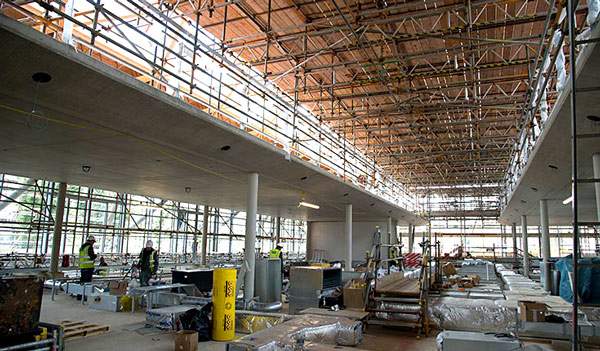 Although there's a lot of wood on show at the Living Planet Centre, we still had to use a fair amount of concrete in the structure – for the foundations, basic frame, balconies and supports, etc. About 2,500 tonnes of concrete in all.
Concrete is the most widely used material in the world (if you don't count water). But it's not one of the greenest.
The cement component of concrete is a particularly energy-intensive material – it involves heating limestone, clay and other components to more than 1,000 °C. Cement alone is estimated to produce about 5% of the world's CO2 emissions.
Concrete is clearly a very useful building material, but can be problematic if you're trying to stay low-carbon. So we had to be very particular about our concrete.
After a considered selection process, Willmott Dixon opted to source the concrete from Cemex – they had a local depot too, which helped cut transport impacts.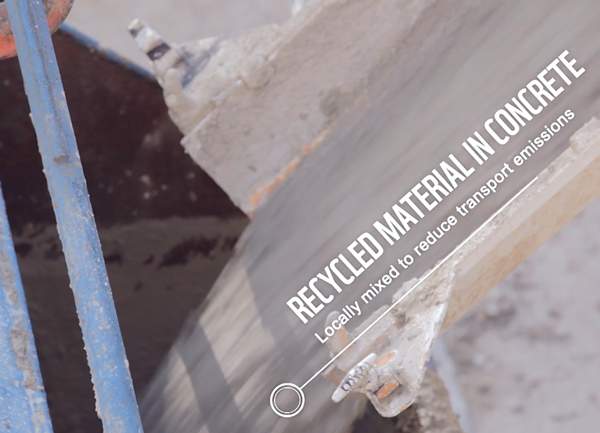 Cemex provided the high-quality, smooth ('fair-faced') finish we wanted, despite our demanding a high proportion of 'recycled aggregate' (at least 40% GGBS, or ground granulated blast-furnace slag – a byproduct from iron and steel-making).
'Reinforced' concrete, as you'll probably know, has steel rods inside it for added strength, and that would normally increase the carbon count considerably. But by sourcing 98% recycled steel (thanks to Eco-Reinforcement) we saved at least another 250 tonnes of carbon.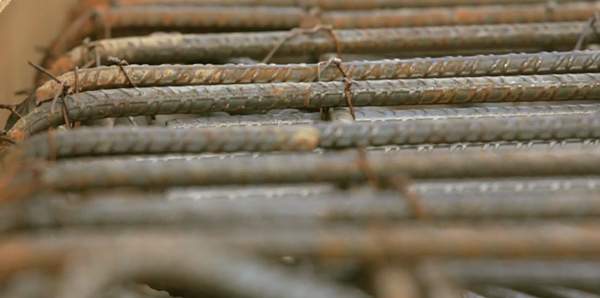 We also made cost and carbon savings by opting not to use pre-cast concrete units for the mezzanine structure. Instead we went for pouring and setting the concrete 'in situ'.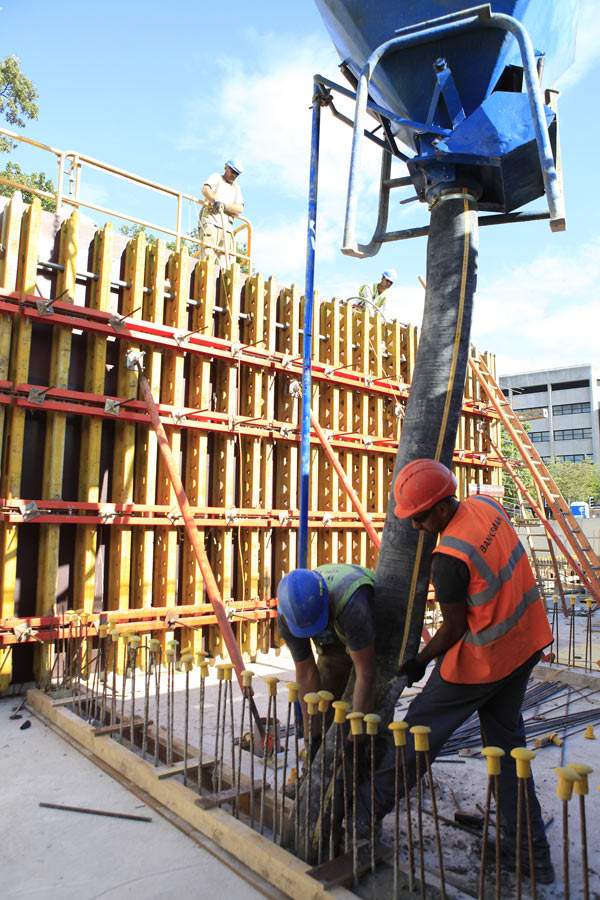 Pouring concrete on-site during construction
ENERGAIN (thermal mass panels)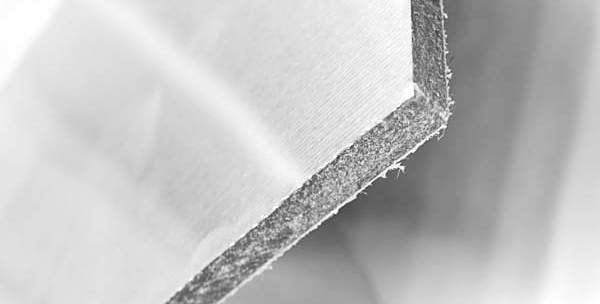 'Thermal mass' refers to the ability of any material to store and release heat. Heavyweight materials like concrete are generally good at storing heat – hence the use of concrete bricks in storage heaters.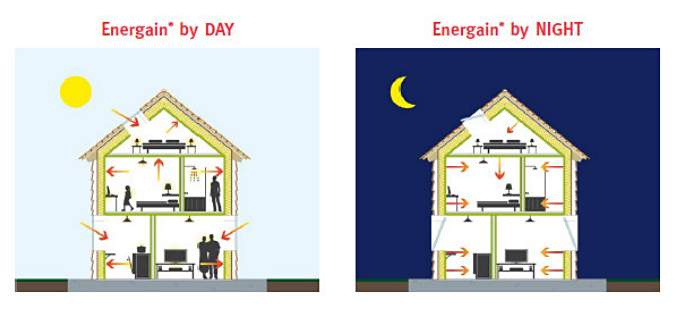 On a warm day, as indoor temperatures climb, heat is absorbed by the thermal mass inside a building, which helps limit air temperature increase.
Windows (or in our case wind cowls on the roof) can be opened overnight to let that stored heat escape. In the winter, of course, that stored heat is very useful for warming the building.
But because we weren't using concrete in the main ceiling at the Living Planet Centre, we needed something else to provide thermal mass. We opted for an innovative product called Energain.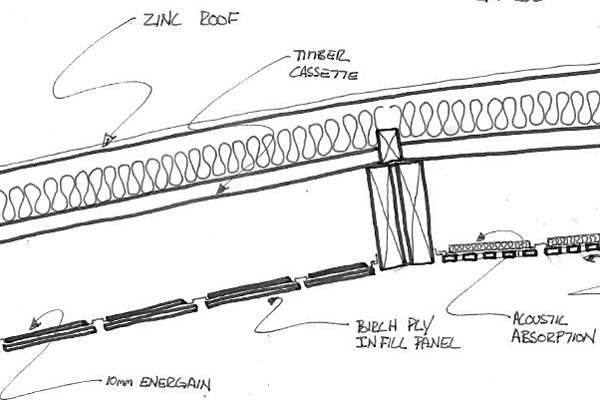 Hopkins Architects' sketch of roof section showing Energain thermal mass panels
Energain boards are around a centimetre thick, and very much lighter than concrete, but they have hidden depths. Behind the thin layer of aluminium they contain what's known as a 'phase change material' – in this case basically a kind of wax – which melts as it warms up. It's mixed with a special polymer so it doesn't leak out of the panels.
Here's the super-smart part: whenever the wax compound melts (at around 22°C/71°F) it absorbs heat from the room and stores it. Then when the temperature drops back (to 18°C/64°F or below), the wax in the panels re-solidifies and the stored heat is released back into the room.
The main role of the aluminium lining, by the way, is to help stop the wax drastically overheating, say in the unlikely event of a fire (the flash point of the wax is 148°C/298°F).
GLASS AND ALUMINIUM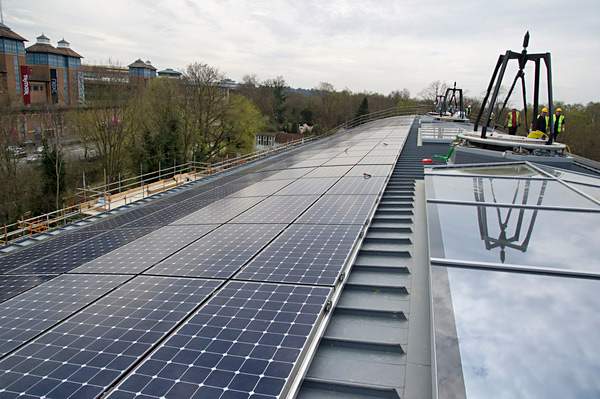 Most of our glass and aluminium can be found in the roof, windows and doors.
The fantastic curving roof is a 2,000 square metre Ziplok standing seam system, supplied by RigiSystems. It's made from aluminium panels with an anti-corrosion MicroZinc coating that replicates the look of a traditional zinc roof.
And it's specially 'rolled', as they put it, without 'microribs', in order to match the sleek, clean aesthetics of the building.
Our wind cowls are also made with recycled aluminium.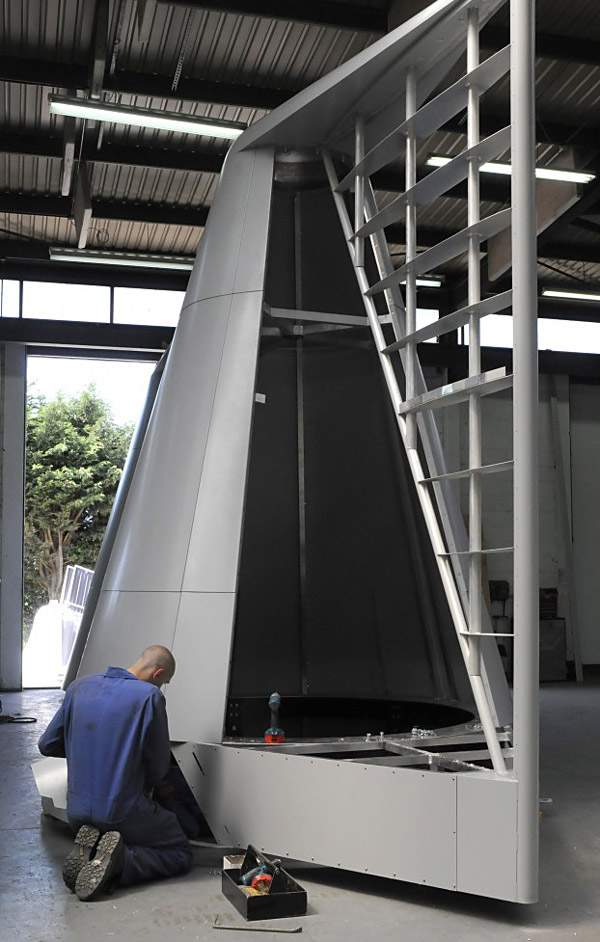 One of our aluminium wind cowls, designed by Fläkt Wood, being assembled by specialist engineers at ASGB
The huge amount of glazing in the roof and the walls is mainly thin-framed 'glass curtain walling'. We chose Kawneer's AA100 units, largely because their frames contain 80% recycled aluminium (well above the target of 30%). Kawneer also provided glass doors around the building.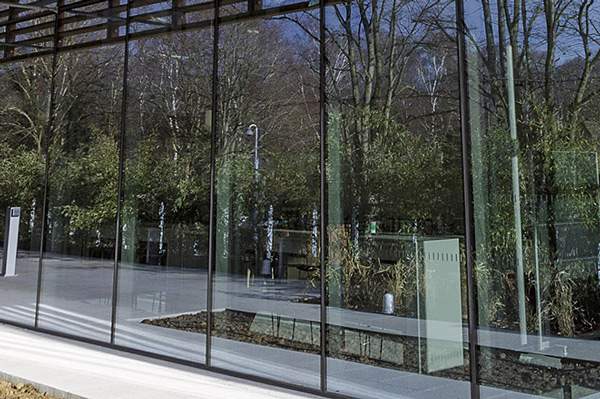 The glass itself is mostly from the Pilkington Suncool range, which cuts solar radiation by more than 75% – taking some more of the strain off our internal cooling systems on the sunniest, warmest days.
FLOORING, FURNITURE AND FITTINGS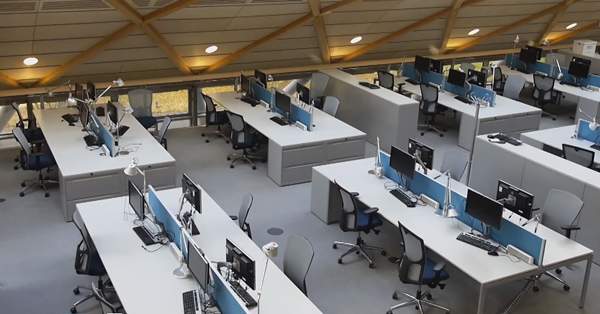 We were equally fussy about sourcing materials for the flooring, furniture and fittings in the Living Planet Centre.
We weren't just strict about the environmental credentials of their manufacturers and the sustainability of the materials, but also about things like VOCs (volatile organic compounds) or other damaging emissions they may release during use.
The flooring panels in the building – 'raised access systems' supplied by Mero-Schmidlin – mainly contain FSC-certified chipboard or sustainably-sourced gypsum (calcium sulphate).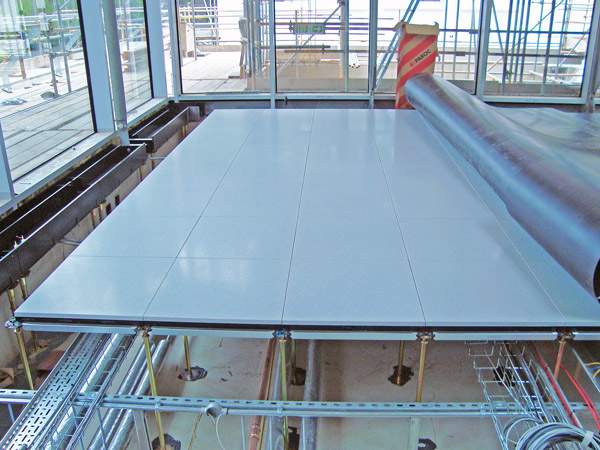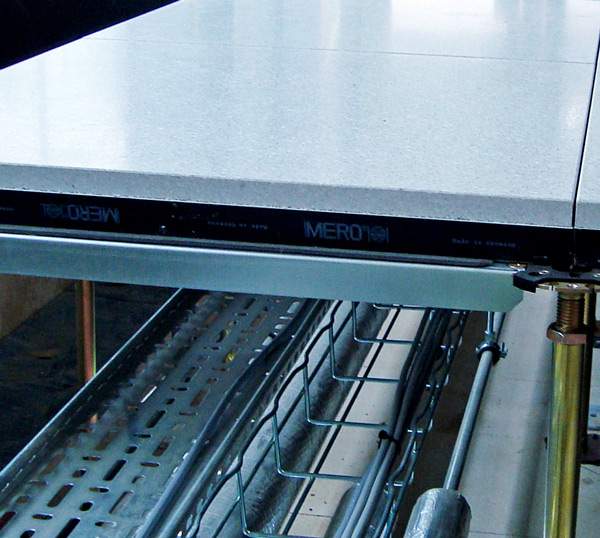 The floor coverings vary depending on what best suited each area. For the entrance/reception zone and staircases, hard-wearing composite ceramic tiles were chosen – namely Strata MarrazzoCem tiles, which contain 75% recycled natural stone chips (marble and quartz).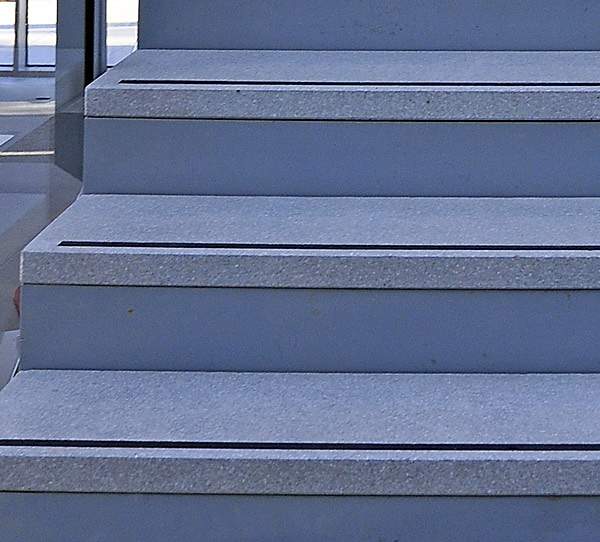 The Biosfera carpet tiles are made from 100% recycled yarn – and were donated as a gift from manufacturers Interface. The material itself comes from industrial waste sources, like old fishing nets and fluff from used carpeting.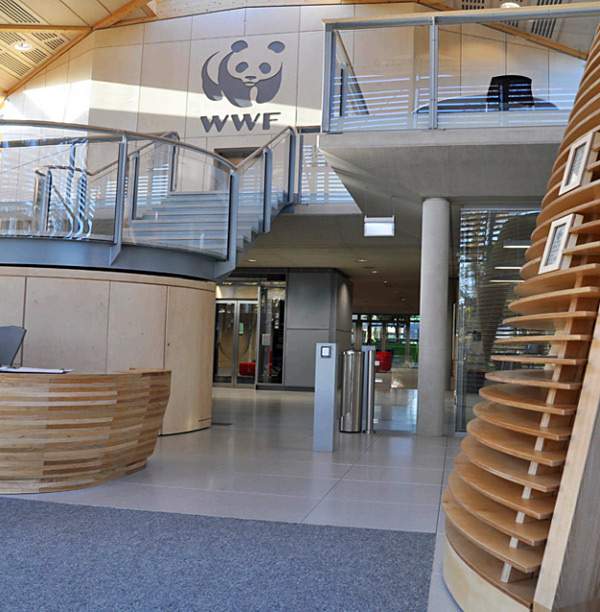 The carpets were installed using the glue-less 'Tac Tiles' system, avoiding the VOCs from adhesives, and can be recycled at the end of their useful life.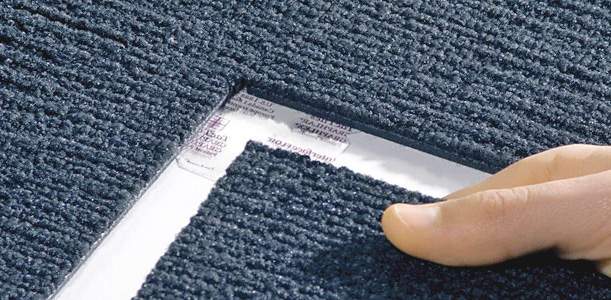 Where possible, furniture items were FSC-credibly certified with FSC Chain of Custody and all the furniture we bought was assessed to be from credibly certified sources (based on evidence provided and checks we carried out).
We chose Scandinavian furniture supplier Kinnarps (pronounced as 'Shinnarps' in Swedish) to provide our desks, tables, chairs, high-backed sofas, etc. We knew they had a track record of providing high-quality sustainable products and we liked their bright, modern look and comfortable designs.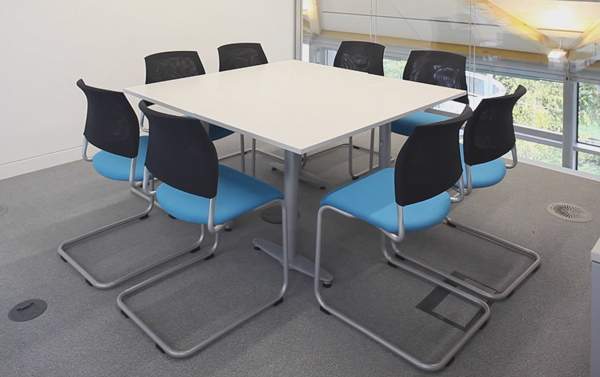 Kinnarps also gave us generous discounts on the furniture and were very helpful with advice and options to help us achieve the look we wanted – smart but simple and functional.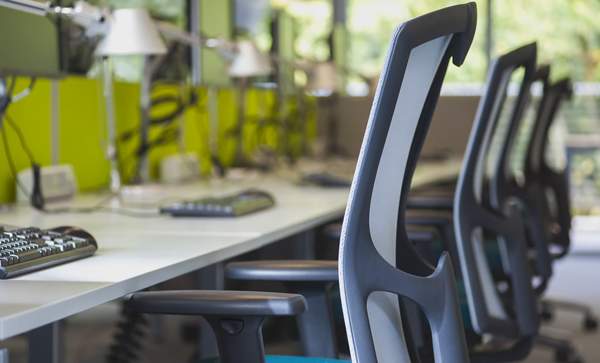 TECHNOLOGY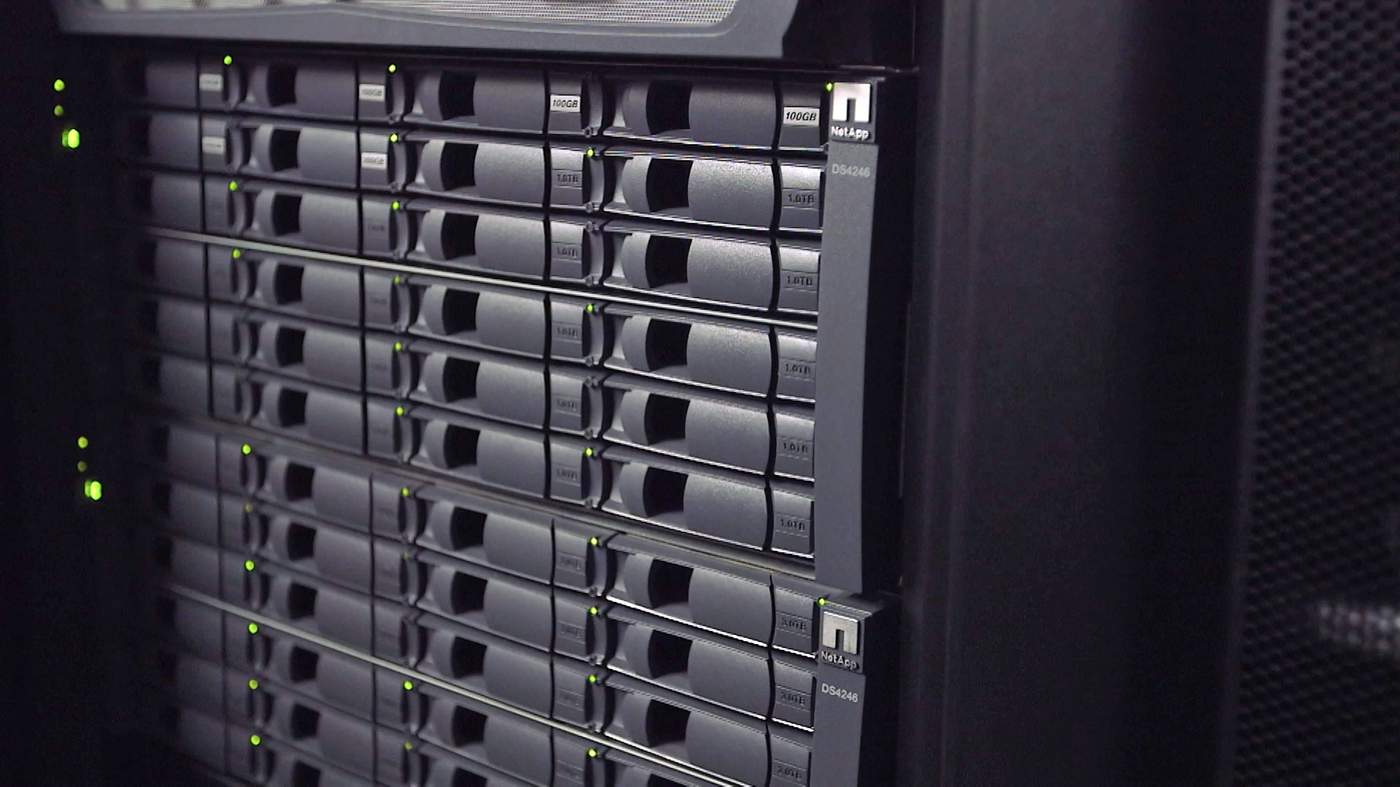 ENERGY – WHERE WE GET OURS AND HOW WE USE IT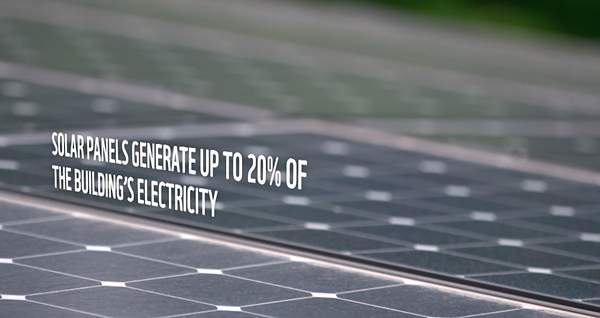 Our central aims for the Living Planet Centre included minimising the amount of energy we'd use and replacing carbon-intensive fossil fuels with renewable energy sources wherever possible.
We planned to do this in two main ways:
1) The building's power supply would be all-electric, with no in-house gas or oil boiler systems. We'd use alternative, renewable sources of energy wherever possible, including solar PV (photovoltaic) panels, ground source heat pumps, earth ducts, etc.
2) We'd use energy more efficiently – reducing the amount we need to consume, improving thermal insulation and making better use of natural light, heat and ventilation.
Bearing in mind the Living Planet Centre was going to be a bigger building than our previous Panda House had been, and it would include new energy-consuming features like the visitor experience, auditorium and Learning Zone, this was never going to be easy.
So here's how we've done it:
Solar power from the roof
We've put more than 400 solar PV panels (410 to be exact) along the roof of the building. We were originally thinking of integrating the PV panels into the glass on the roof, but the plans changed. Instead we opted to have standard Sunpower E-series panels (each 1560mm x 800mm, or 1.24m2) installed on the solid roof areas by EvoEnergy.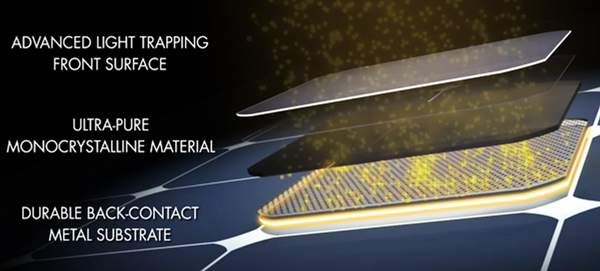 We have a couple of 'inverters' in-house to convert the DC energy from the solar panels into the AC electricity used at the power sockets.
If we have solar power to spare we can also feed some back to the local electricity grid – earning ourselves a bit of extra income to offset other costs in the process.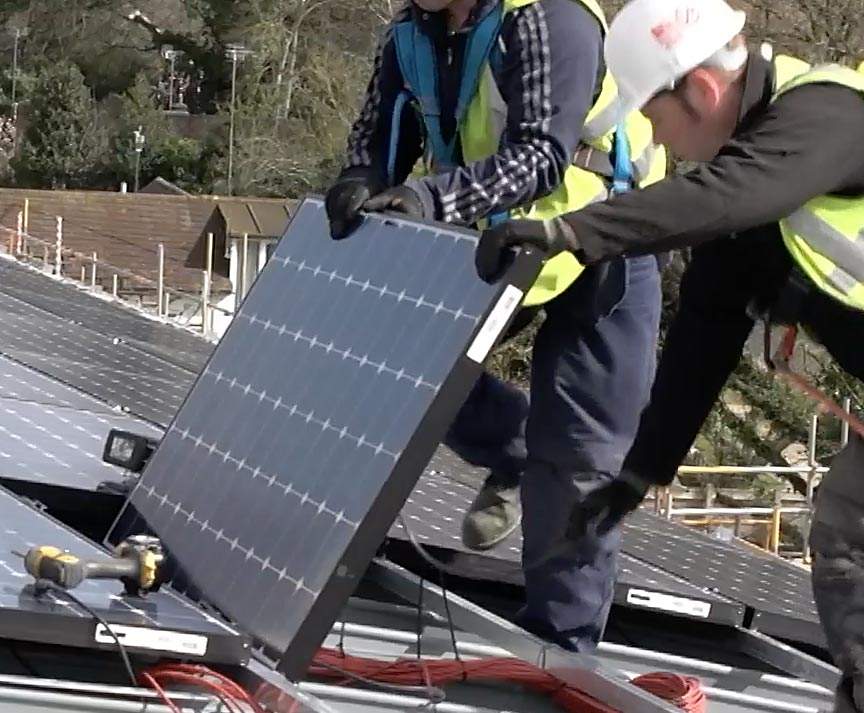 Our solar panels supply electricity for our lighting, as well as for the pumps and fans that circulate the warm and cool air around the building, and for opening and closing the windows and blinds, etc. In total they provided about 15% of the building's 'base load' usage in our first year.
Combined with power from Woking
For the additional 'plug load' – the power used by plugging in computers, servers and any other electrical devices – we draw the extra electricity we need from Thameswey Energy's local 'combined heat and power' (CHP) plant in Woking.
Woking Borough Council (which part-owns Thameswey Energy) has a climate change strategy in place to reduce its CO2 emissions, and its CHP scheme is part of that.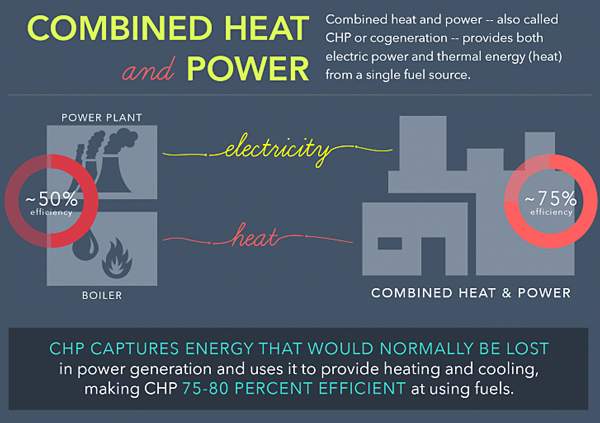 CHP is a very efficient way to produce both heat and electricity. It's true it does use natural gas (a fossil fuel, albeit one of the cleanest) – but whereas in a conventional gas turbine around 60% of the fuel burnt is wasted as unused heat, a CHP unit reduces the wastage to as little as 10%.
And because the energy is generated locally, there are also fewer of the losses associated with electricity transmission from large power stations.
Heating from underground – ground source heat pumps
Even with our energy-efficiency measures, effective insulation and 'passive' heating system (see 'earth ducts' and 'Energain' earlier), when the weather is extreme it can take a lot more energy to heat or cool a building the size of the Living Planet Centre.
Our very clever ground source heat pump (GSHP) system takes advantage of the year-round consistent temperature under the surface of the ground – in the same way as the earth ducts do.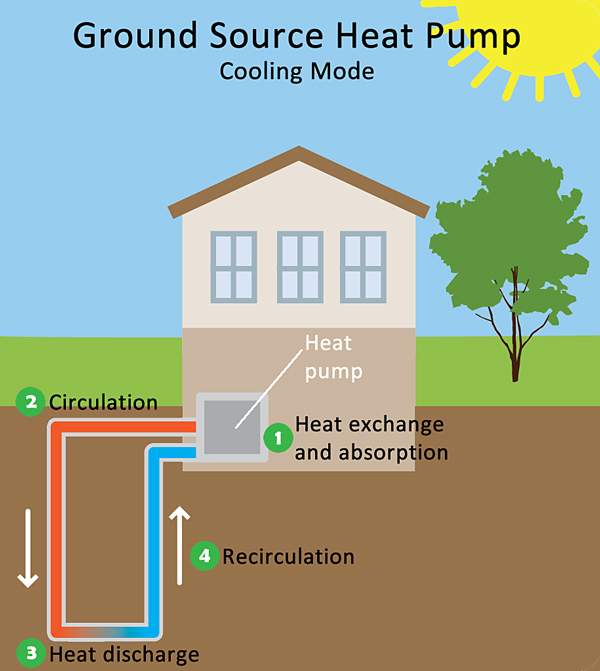 GSHP infographic © www.epa.gov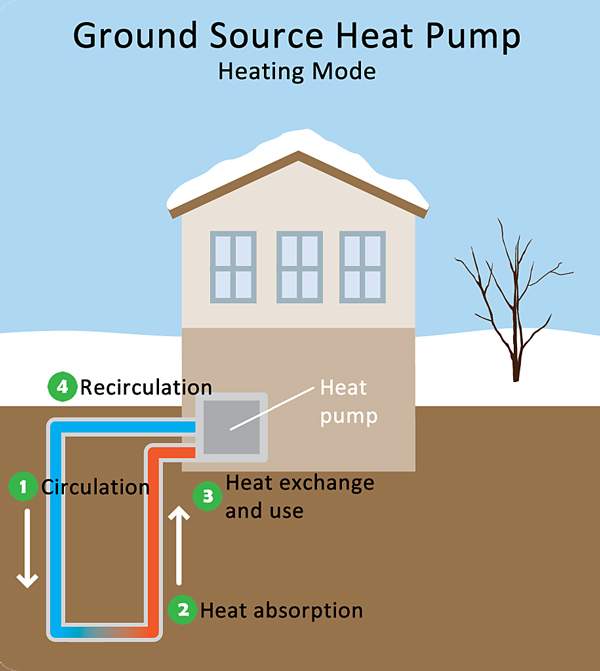 GSHP infographic © www.epa.gov
But whereas the earth ducts use that constant underground 12°C to heat or cool air-filled tubes directly, the GSHP system uses a series of thinner (150mm/6in), fluid-filled polyethylene pipes in 20 boreholes going 100m into the ground.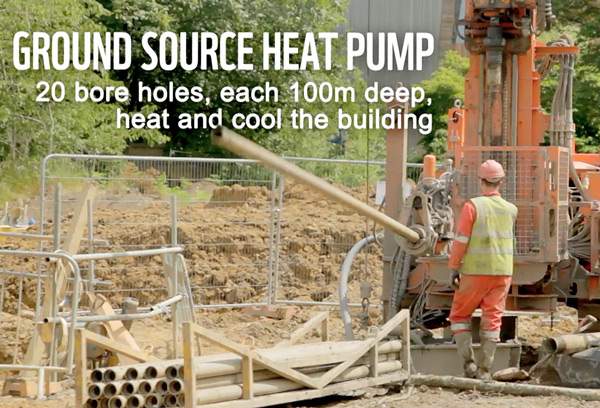 And here's the clever science bit. The liquid in those pipes – mainly water with some antifreeze – works as a 'heat-transfer fluid'. When the fluid is cold, heat energy from the ground is transferred into it through the pipes (grouted with bentonite to improve heat transfer even more).
The fluid then passes through a 'heat exchanger', which compresses it, and that raises the temperature even more. The heat generated is removed by our 'air-handling units' and is used to warm the air in the Living Planet Centre. The cooled fluid goes back underground and the whole process repeats.
The air-handling units contain 'thermal wheels', heat-conducting metal rotors that can extract over 80% of heat energy from exhaust air and use it to warm colder fresh air.
The pump equipment itself uses a bit of electricity, but an efficient ground source heat pump can still generate up to four times as much energy as it consumes.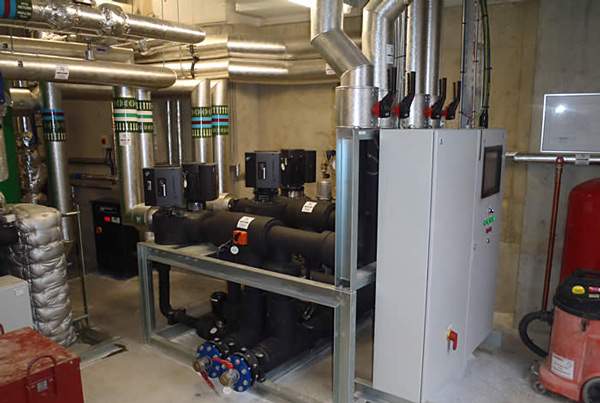 In the summertime, the same 12°C temperature underground cools the fluid in the pipes – so the whole process works in reverse, helping to reduce the heat inside the building.
By the way, if you're wondering if 'ground source heat' is the same as 'geothermal energy', technically it's not – find out the difference between ground source and geothermal heat here...
Even though you might hear the terms 'ground source heat' and 'geothermal' used interchangeably sometimes, 'geothermal' energy usually means tapping into volcanically heated rocks or water very deep below the Earth's surface (or nearer the surface in places like Iceland).
But 'ground source heat' (which can also be called 'shallow geothermal') is a result of sunlight being absorbed into the ground (usually in the top 200 metres), and is more readily available. So it's really more a type of solar power.
Energy monitoring
A computer-based building management system has been installed, supplied by Trend, to help monitor, control and optimise technical building services (heating, ventilation, lighting, etc) and the energy consumed by devices used in the Living Planet Centre. This can be done either on-site or remotely.
Sub-metering has been installed to make it easier to keep an eye on high-energy-use areas within the building.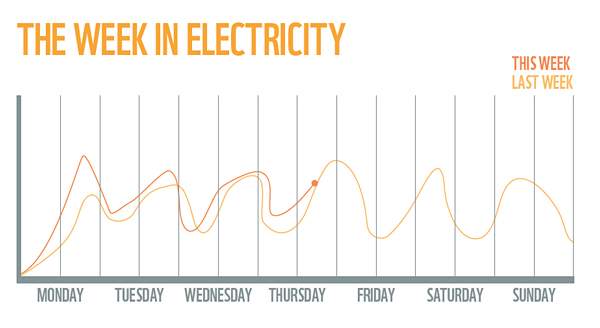 Energy Performance Certificate rating
Energy Performance Certificates (EPCs) were introduced by the UK government in response to the EU Energy Performance of Buildings directive.
The certificates look similar to the energy labels on new cars or electrical appliances like fridges – it uses the same kind of scale for energy efficiency, from A (best/lowest CO2 emissions) to G (worst).
EPCs are based on actual energy use, and are designed to increase transparency and encourage improvement in the energy performance of buildings.
The Living Planet Centre has received an 'A'-rated Energy Performance Certificate.
ICT – INFORMATION AND COMMUNICATIONS TECHNOLOGY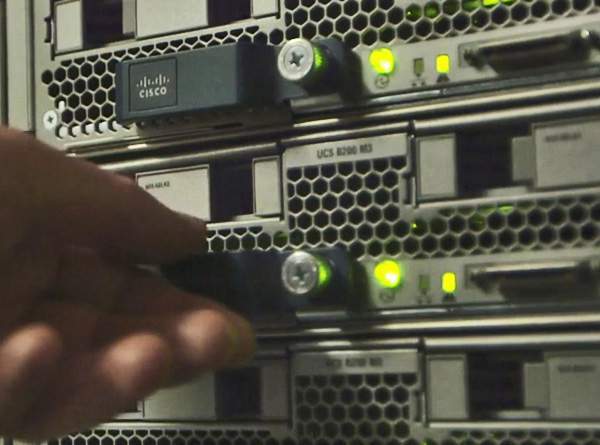 For us, moving into the Living Planet Centre meant a chance to work in new and better ways – but it also meant we needed to upgrade most of our technologies. Our old IT (information technology) and communications systems were already stretched at Panda House.
But of course new, state-of-the-art ICT systems aren't cheap. So we were very fortunate to be able to team up with computer networking giants Cisco and their expert implementation partners Dimension Data.
Our aim from the start was to help everyone at the Living Planet Centre to work more productively and efficiently. Cisco and Dimension Data have helped make this possible.
Cisco generously donated refurbished hardware, including ethernet and firewall equipment, that they'd recently finished using at the London 2012 Olympics and Paralympics (where they delivered the communications network infrastructure). They also provided big discounts on servers for our datacentre.
Dimension Data's advice and support was also central in getting all our systems operating effectively from day one, as well as training our own people to get the best from the new technologies.
Clear desks, borderless networks, smart working
We knew we wanted an integrated wireless system, in keeping with the 'clear-desk' ethos of the Living Planet Centre. There are also big health and safety benefits in having desktop power and USB sockets, which minimises loose cabling and trailing wires.
We don't use desktop PCs or landline phones on desks any more. We've provided laptops, but we also welcome a bring-your-own-device culture. Apart from anything else, it helps reduce the amount of hardware WWF-UK has to own and manage.
We couldn't do this at our old office. It's all been made possible by Cisco's 'unified communications system' – now that everyone's using Jabber voice software on a variety of devices, complete with personal headsets (wired or Bluetooth).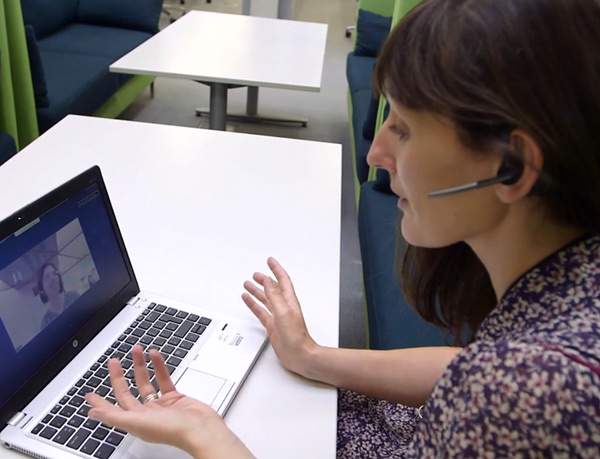 Jabber can also be used for instant messaging or to tell team members where you are in the building, if you're in a meeting or on a call.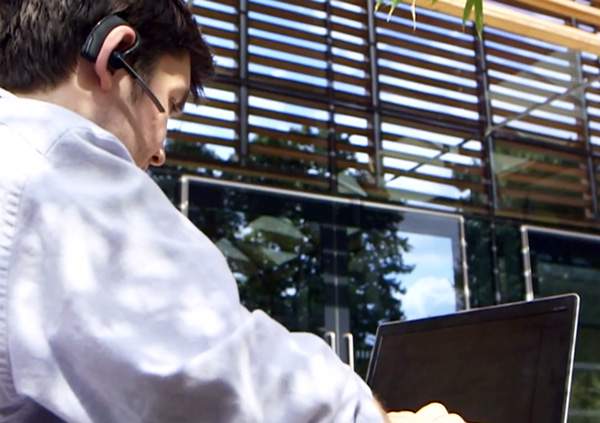 Our aim was that everyone at WWF-UK should be able to work together quickly, easily and securely from wherever they are in the building, and beyond. Cisco's 'borderless network technology' helps us do just that.
The improved online collaboration extends to better document management, which lets dispersed teams work together on 'live' documents, with better version control and more security for confidential files.
And it's all achieved in a smart, clutter-free way, with all the technology hardware and wiring subtly hidden out of sight.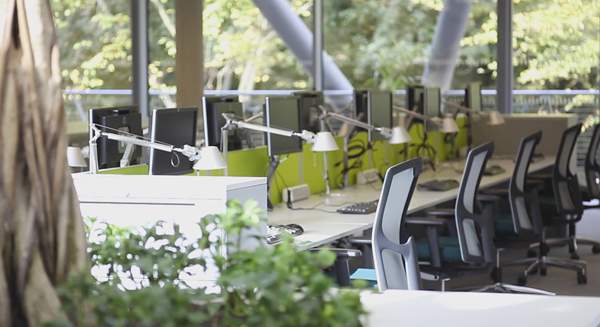 Another significant change we made when we moved here was to drastically reduce the number of printers we have. We had 16 in our old office – we've cut that to just four at the Living Planet Centre. Not everyone finds it easy, but it's a deliberate statement about cutting down resource use and waste – and there's been a notable reduction in printing levels as a result.
Efficient meetings – real and virtual
Our new home has much better meeting rooms (complete with interactive smartboards) and also meeting management, with an online booking system and smart 'security fob' entry.
We've also increased and improved our video conferencing facilities – both top-end video meetings and low-cost webcam chats – to help minimise the need for long-distance travel, especially by plane.
Audio-visuals
Sound and video systems around the building – including the display screens in the public reception area, in the auditorium, Learning Zone, boardroom and main office areas – were installed by Marquee AV.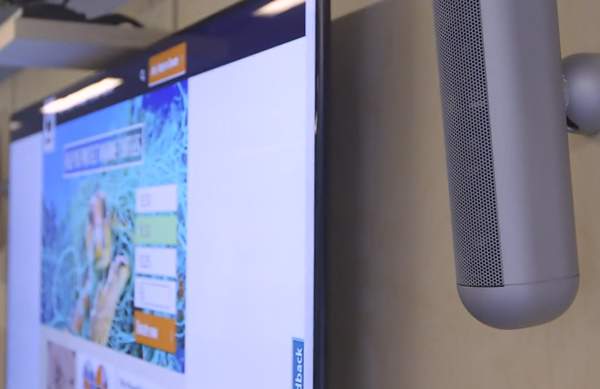 Equipment used included Tannoy passive array loudspeakers, Audica sound systems, Lab.gruppen amplifiers, Audio-Technica radio microphones, Christie projectors, Yamaha audio mixers, Symetrix digital processing and Tandberg video conferencing equipment. We also have induction-loop and infrared-assisted hearing systems.
Forward-looking ICT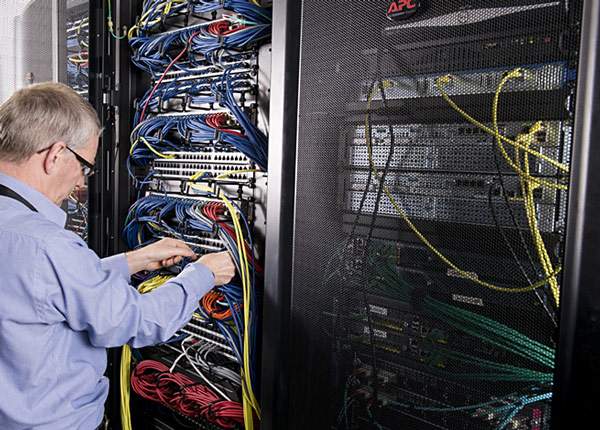 Inside the Living Planet Centre's IT server room – the room is kept cool by the ground source pump system, and the heat generated by the server equipment is used to help warm the rest of the building
Even our server room/datacentre is green and energy-conscious. Often rooms full of IT equipment need special cooling, but at the Living Planet Centre it's just kept cool with the same low-energy cooling system used throughout the building. (Though we admit we do have a backup cooler unit in case of a power cut.)
After their initial input, Cisco have continued to work with us to deliver sustainable technology, both in the UK and across the WWF global network – helping to shape our ICT strategy over the coming years.
The hardware recycling aspect is particularly important to us. We want to show other IT departments in organisations around the world what can be done, and that it's possible to deliver forward-looking, sustainable ICT.
LIFE AT THE LIVING PLANET CENTRE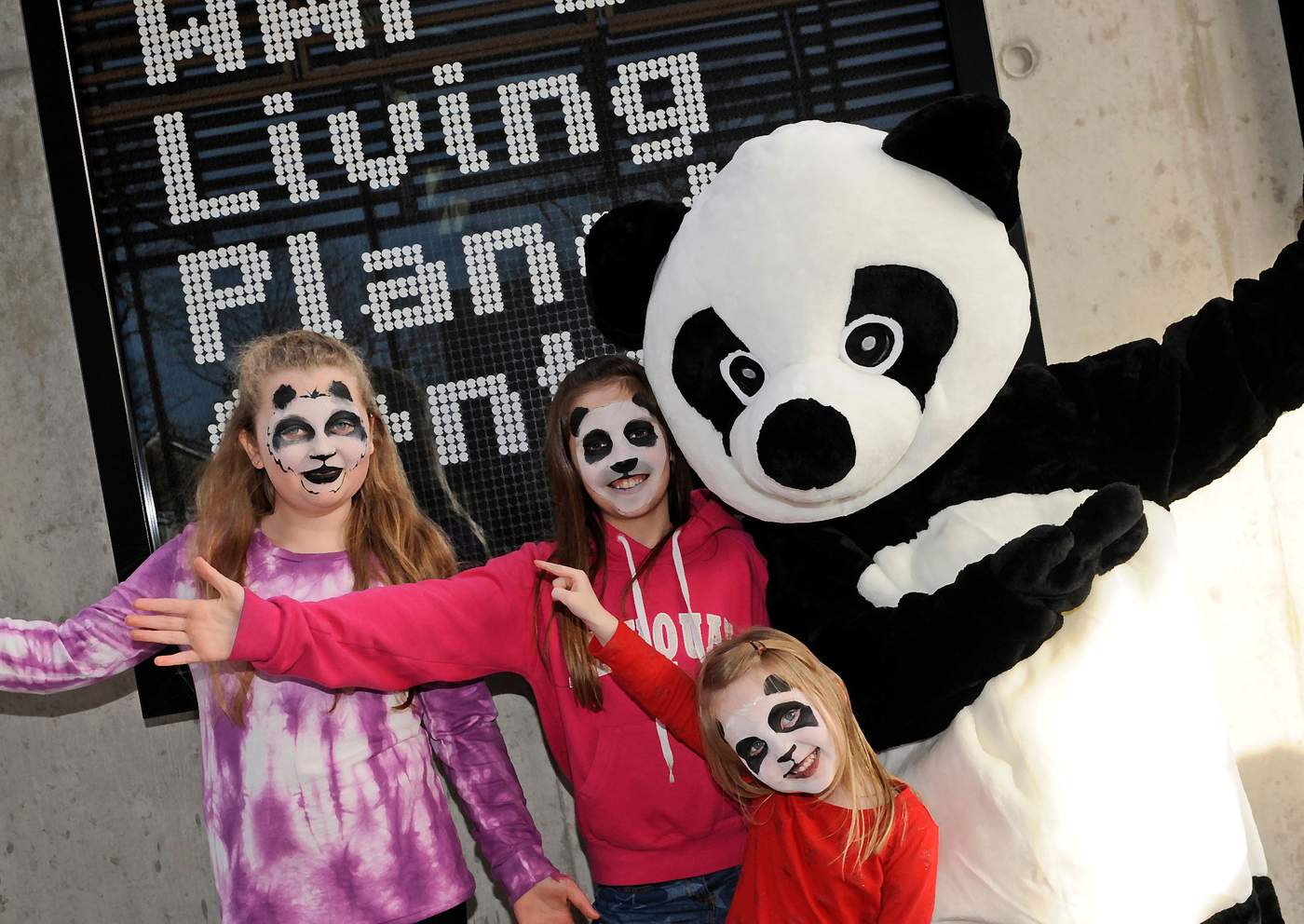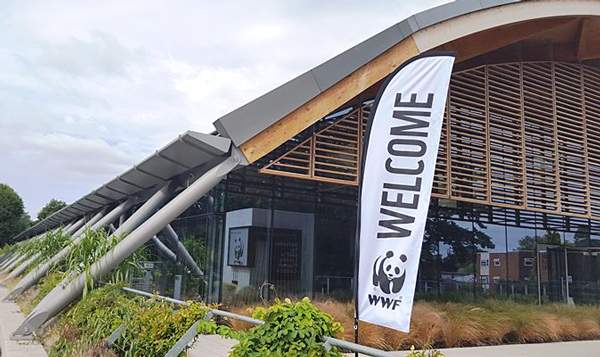 WWF-UK's Living Planet Centre is attracting an average of 25,000 visitors per year – which meets the target we'd aimed for.
By comparison, at our old building, Panda House in Godalming, fewer than 4,000 people used to visit per year – mostly conservation colleagues from around the world.
People come to the Living Planet Centre for all kinds of reasons – not just to see what a showcase exemplar green building looks like, but for school trips, family outings, specialist talks, business meetings… and of course to work.
Let's look in more detail at the day-to-day use of the Living Planet Centre…
1. Welcoming the public
2. Schools and youth group visits
3. Connecting with business and the community
4. WWF-UK at work
Welcoming the public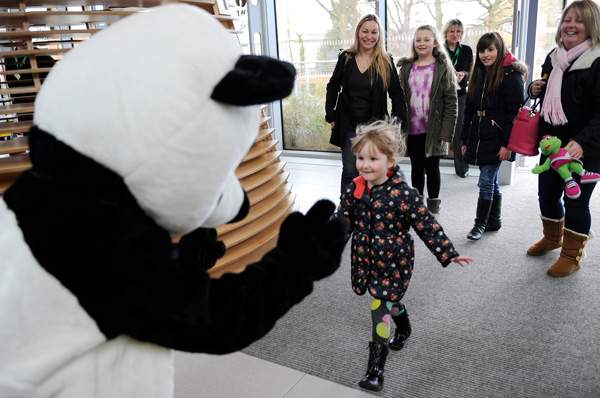 Our 'WWF Experience' – the four themed zones at the entrance area of the Living Planet Centre, which bring to life key aspects of our global work – is open to the public from 9am-5pm Monday-Friday (except public holidays).
Anyone can drop in and explore the WWF Experience – it's free. And it has proved hugely popular.
Here's how one local mum, Kerry J (who's also a blogger/photographer), described her WWF Experience visit with her eight-year-old daughter:
"It's small but perfectly and beautifully put together – a collection of amazingly crafted 'pods', each one covering a different part of our planet. You can just go and browse, or do a great little trail and claim your prize at the end. We did the trail and really enjoyed it.
"There is tons of interactivity, a visual feast for the eyes everywhere and lots of things to look at/through/touch. It's a great example of using modern technology to teach and learn in a positive way. My daughter was talking about it for days afterwards!"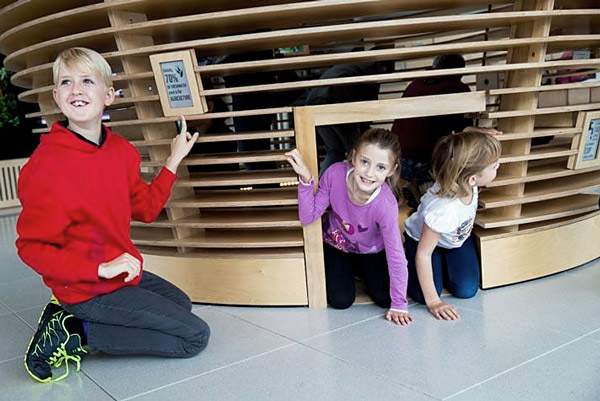 As well as the WWF Experience, we also run various open days and family-focused community events at the Living Planet Centre – including hands-on activities and workshops during school holidays. (We also work with local gallery The Lightbox to deliver joint family workshops.)
And we use our 150-seat auditorium for public film screenings, seminars, presentations and conferences.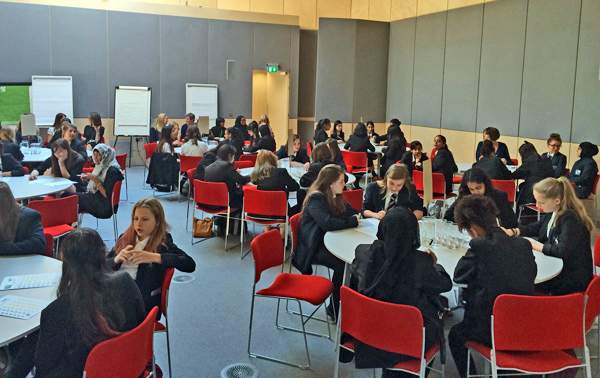 Here's a taste of the kind of public events we've hosted so far at the Living Planet Centre:
Go wild! – creating your own wild animal mask (tigers, chimps, frogs, crocodiles, you name it) using fibre pens and tissue paper.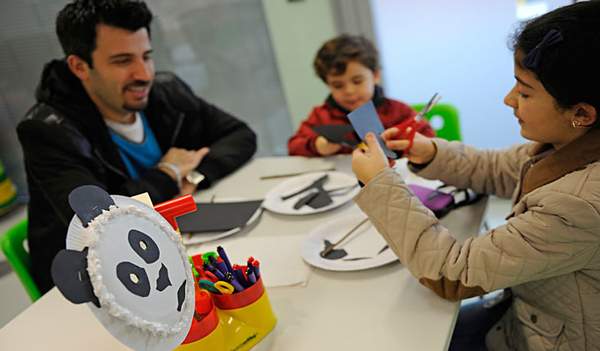 Explore beneath the ocean – making fun floating jellyfish mobiles and colourful spiky seahorses on sticks.
Fairtrade Fortnight – we've helped celebrate Fairtrade Fortnight with Woking Fairtrade Action Network, featuring a giant, 13-metre-long banana split!
Earth Hour – celebrating the big annual WWF lights-out event in March, including acoustic concerts with performances from local and national acts. People can learn how to make their own sustainable tealight holders, or origami stars, or find out more about the night sky.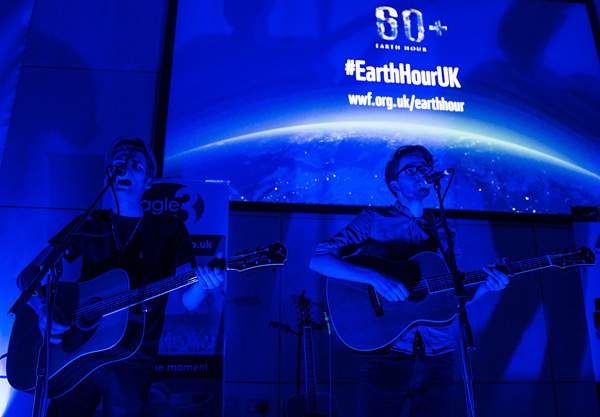 VOCE (Voices of Cambridge Ensemble) choir – uplifting choral performance in partnership with The Lightbox.
'Project Wild Thing' film screening – part of a film-led movement to get more children (and families) outdoors and reconnecting with nature.
Woking Food and Drink Festival – helping promote sustainable and healthy eating as part of this large Woking Borough Council event: a great opportunity to work with other local organisations, including The Lightbox and Woking Fairtrade.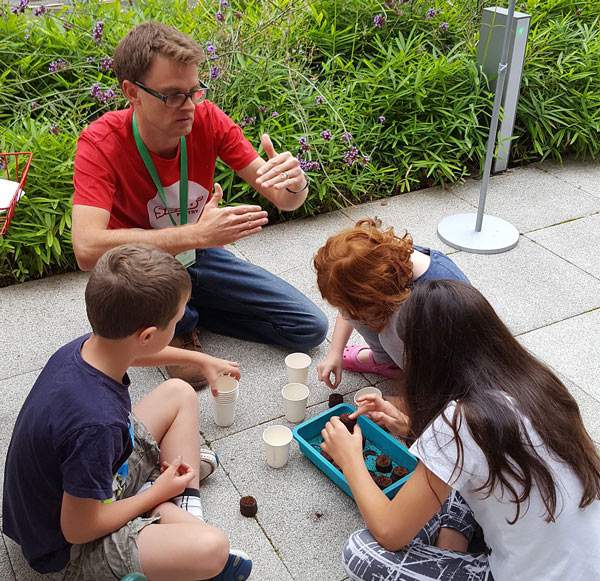 Heritage Open Days – national annual public celebration of heritage and architecture.
The Big Draw – as part of this annual national art event our visitors helped us create an amazing Amazon-inspired mural for the Learning Zone and across the Bedser Bridge over the canal.
Christmas lights switch-on – we welcomed local schoolchildren to a special carol-singing evening to help us celebrate Christmas.
Christmas crafts – making pom-pom and pine-cone penguin decorations, and sharing ideas for a planet-friendly Christmas.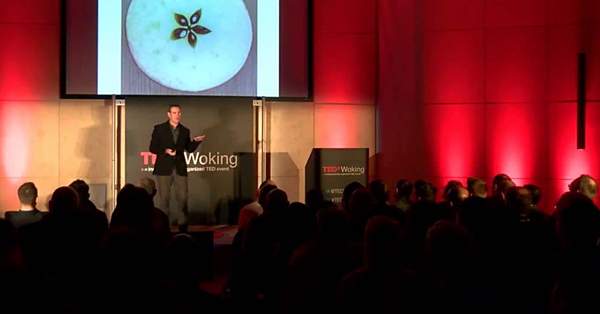 TEDx Woking – we were hosts for a day of talks and discussions, part of the high-profile, independently-organised global TEDx events.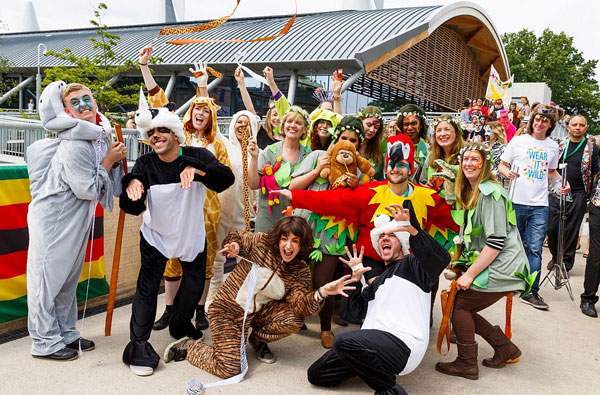 BUILDING TOURS AND VISITS
The whole building is an educational resource. We invite politicians, business people, school governors, teachers, students, environmentalists, architects and the general public to come in for a tour of the Living Planet Centre and learn about its design and innovative use of materials.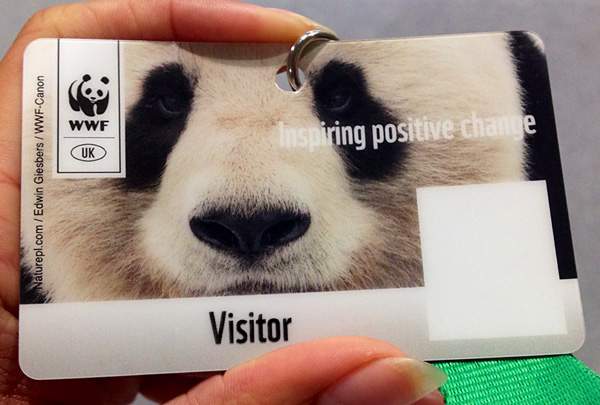 Anyone can book a 'behind the scenes' tour of the Living Planet Centre. We've been offering public tours every other Friday, for individuals and groups, but we also welcome groups on bespoke tours throughout the week.
There was initially a little concern among some people working in the building that we might find the public tours a bit intrusive, or notice them adversely affecting our work.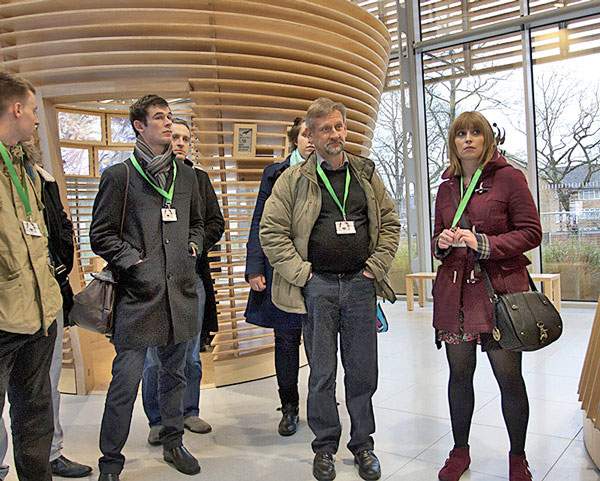 But on the contrary – in our recent workplace survey, only 3.8% said they found the tours intrusive. Several people acknowledged that it's inspiring to see visitors so interested in our building and our work!
In our first year we took more than 1,100 people on tours of the building and had visits from over 50 school and youth groups, bringing in another 1,600 people.
Just a few of the comments from the Living Planet Centre visitors' book so far:
"A wonderful, uplifting, inspiring, informative experience. What a bonus for Woking. I shall love to bring my family and friends here. Thank you."
"We really enjoyed our visit… the interactive areas really let you see about our beautiful planet. We look forward to visiting again and will be donating. Many thanks!"
"It was fantastic. I liked how the music and videos worked together. I especially enjoyed learning about all the different animals in the wildlife exhibit zone, as it helps me with my college homework about our impact on the environment."
"An awesome place to visit."
"Such a great experience, I am sure that we would visit again… our brains are filled with facts!"
"This is one of the best things I have ever done."
"What a fabulous place, really good for all ages. I will be telling the children's school to come."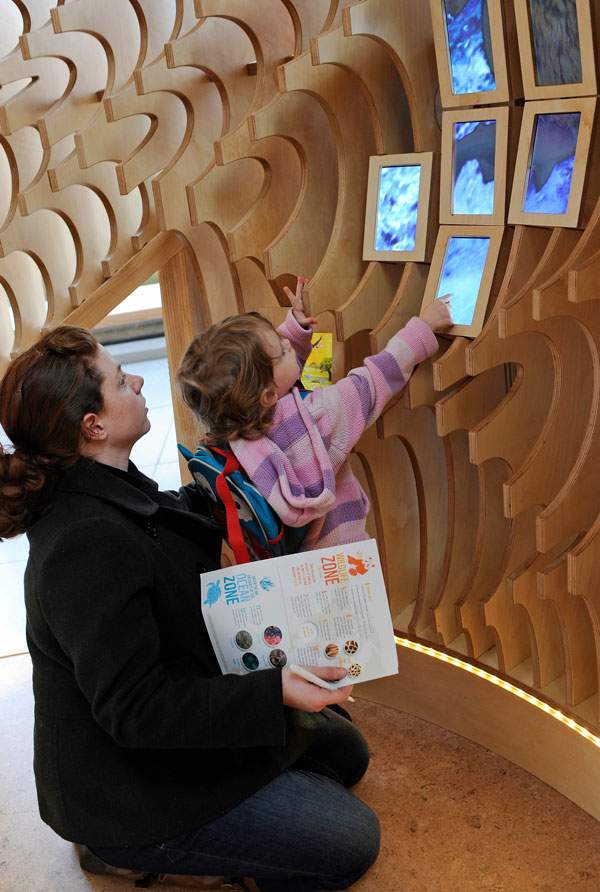 It's also a great venue for connecting with our existing supporters and members – for example we've held:
• 'Team Panda' training days – bringing together our challenge event fundraisers and offering advice on nutrition and training.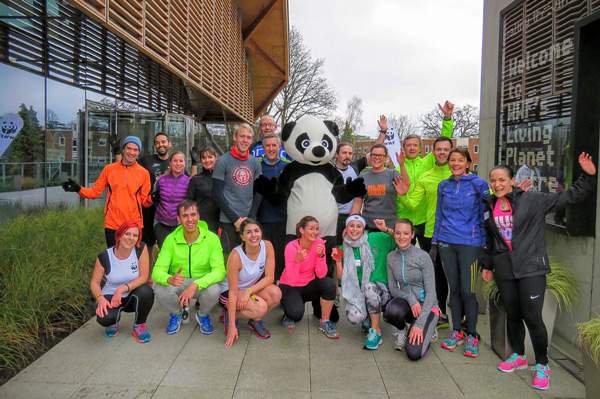 • 'Conservation Champions' dinner – for some of our most generous regular supporters.
• 'Legacy' events – for people considering leaving gifts to WWF-UK.
SCHOOLS AND YOUTH GROUP VISITS
We think it's vital that we help young people to investigate the natural world, build their understanding of environmental issues and explore what they can do to make a difference.
So an education facility was always a key part of our vision for the Living Planet Centre, and our purpose-built Learning Zone, with its state-of-the-art facilities, really brings this to life.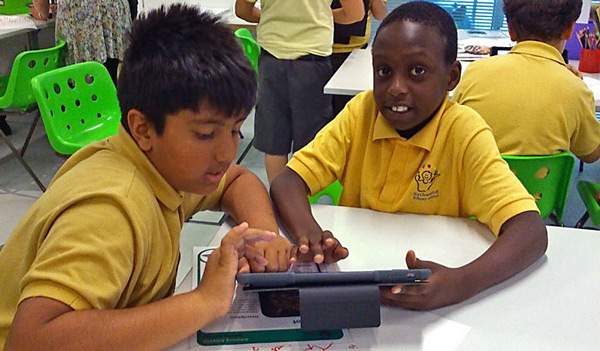 Although we've been working with schools on environmental and sustainability issues for over 30 years, this is the first time we've been able to welcome them to our 'home'. We've opened our doors to youth groups and families too.
Our learning and creative workshops (tailored for various ages from 5-14) offer a unique, engaging and inspiring experience. They're also a great way to help teachers deliver the curriculum, and youth leaders to support their members in achieving their badges and challenges.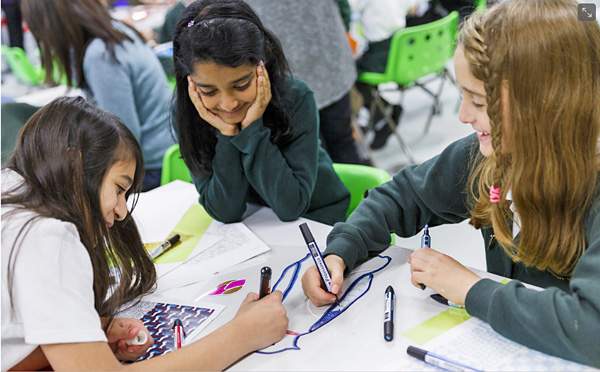 The Learning Zone itself is like a generous-sized classroom. It's about 90 square metres – so it's comfortable for up to 35 children, plus their teachers or group leaders. It's kitted out with smartboards, tables, art tools, sinks, and storage space for coats, bags, etc.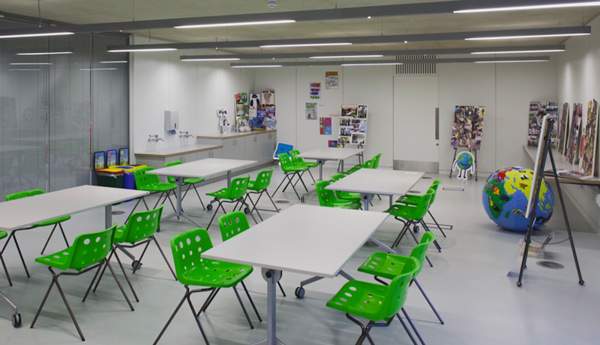 We've also invested in 16 iPads and apps for the children to use. Easy-to-operate cameras, video and voice recording tools add to the fun, creativity and learning.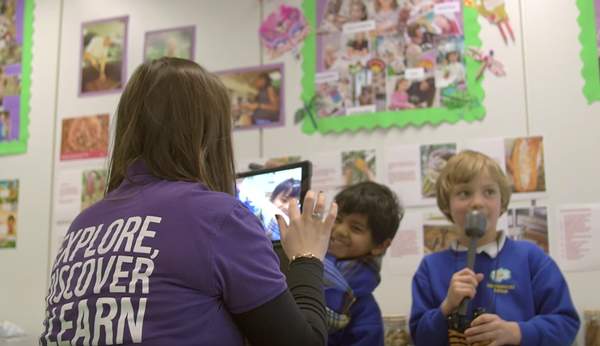 We have a wildlife-attracting wetland area on site too, just outside next to the canal, where we can expand the hands-on learning activities.
We're working closely with schools and youth groups from the local area – because it's our community, after all – but we're also looking more widely around Surrey and out to Berkshire and Hampshire. For instance there are almost 3,000 schools within an hour's travel of the Living Planet Centre. Some arrive by public transport, several local schools even walk.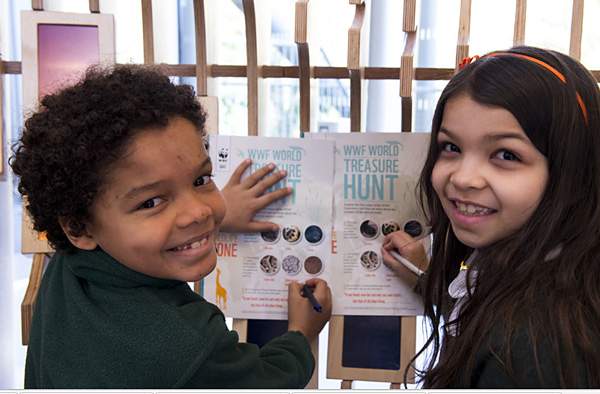 Our curriculum-linked schools workshops in the Learning Zone started in February 2014 and cover themes such as:
• Amazing Amazon – with an exciting eBook-making session led by award-winning author Christiane Dorion.
• Tropical Chocolate – a two-hour workshop giving children the chance to discover the products of the rainforest and to make their own delicious chocolate truffles, as well as designing their own environmentally-friendly packaging.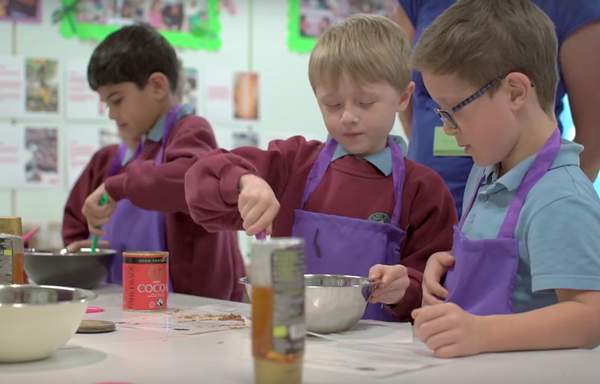 • Meet the 'Green Ambassadors' – pupils create their own visitors' guide to the Living Planet Centre through the eyes of their favourite Green Ambassadors character.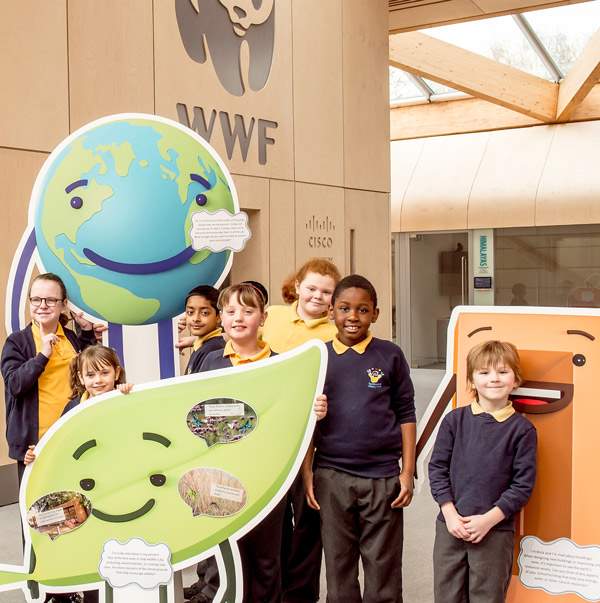 • Penguins and polar bears – invites pupils to become polar explorers and discover a world where temperatures fall far below freezing.
We also host sessions aimed at educators, such as 'train the trainer' events and feedback sessions for youth leaders. The Surrey Eco-Schools summit/workshop was attended by lots of key educationalists and teachers from the Surrey area. The Woking Schools Learning Partnership makes use of the Living Planet Centre regularly for educational training sessions.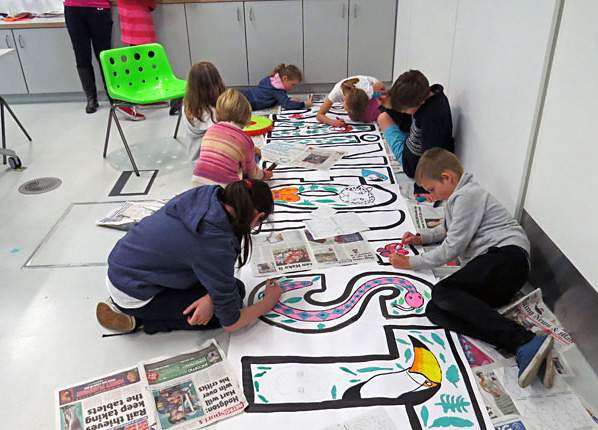 We offer a range of engaging workshops for youth groups too, focusing on key species, topical environmental issues and WWF-UK's campaigns.
CONNECTING WITH BUSINESS AND THE COMMUNITY
The Living Planet Centre makes it easier for us to make connections – whether it's with our fellow NGOs and environmental groups or corporate partners.
In our first year alone we hosted more than 50 business meetings, workshops, team away-days and events, involving groups like RIBA (Royal Institute of British Architects), the Forestry Commission, Tearfund, the Green Building Council, Plan International, Chartered Institute of Building, Kingfisher, Sky, Dimension Data, Capgemini, PricewaterhouseCoopers and SABMiller.
Examples of other business-oriented events we've staged include:
Forest Priority campaign meeting – an opportunity to meet with representatives from a range of small-to-medium enterprises (SMEs) to discuss implementation of new environmental legislation.
FIRME workshop – where colleagues from across the WWF network discussed financial plans for improving the health of our seas.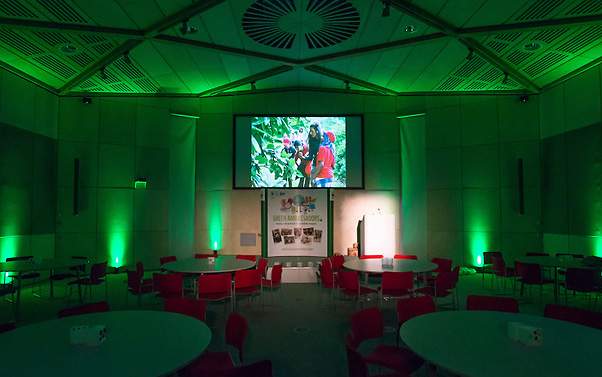 Our auditorium is used for all kinds of events and ceremonies – for instance this was the setup for the Green Ambassadors Awards
Businesses and groups can also hire parts of the Living Planet Centre for their own events – for instance the 150-seat auditorium, the balcony area for receptions, the 20-seat boardroom, or smaller meeting rooms.
Being just 25 minutes on the train from London, offering flexible options and good technical facilities, the Living Planet Centre is an ideal venue for all kinds of events.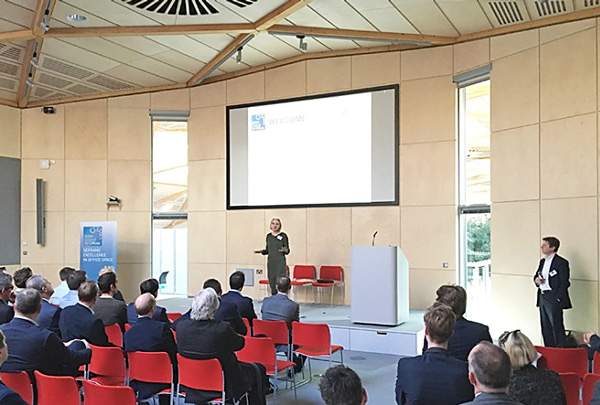 And we've welcomed local organisations like the Horsell Common Preservation Society, Woking Asian Business Forum, Surrey Ramblers Group, the Woking Chamber of Commerce and Surrey County Council.
A few of our construction partners and suppliers, like Cisco, Kinnarps and Willmott Dixon, use the building regularly for events and meetings.
It all helps us spread awareness about our work to a wider audience, as well as raising revenue from hire fees.
WWF at work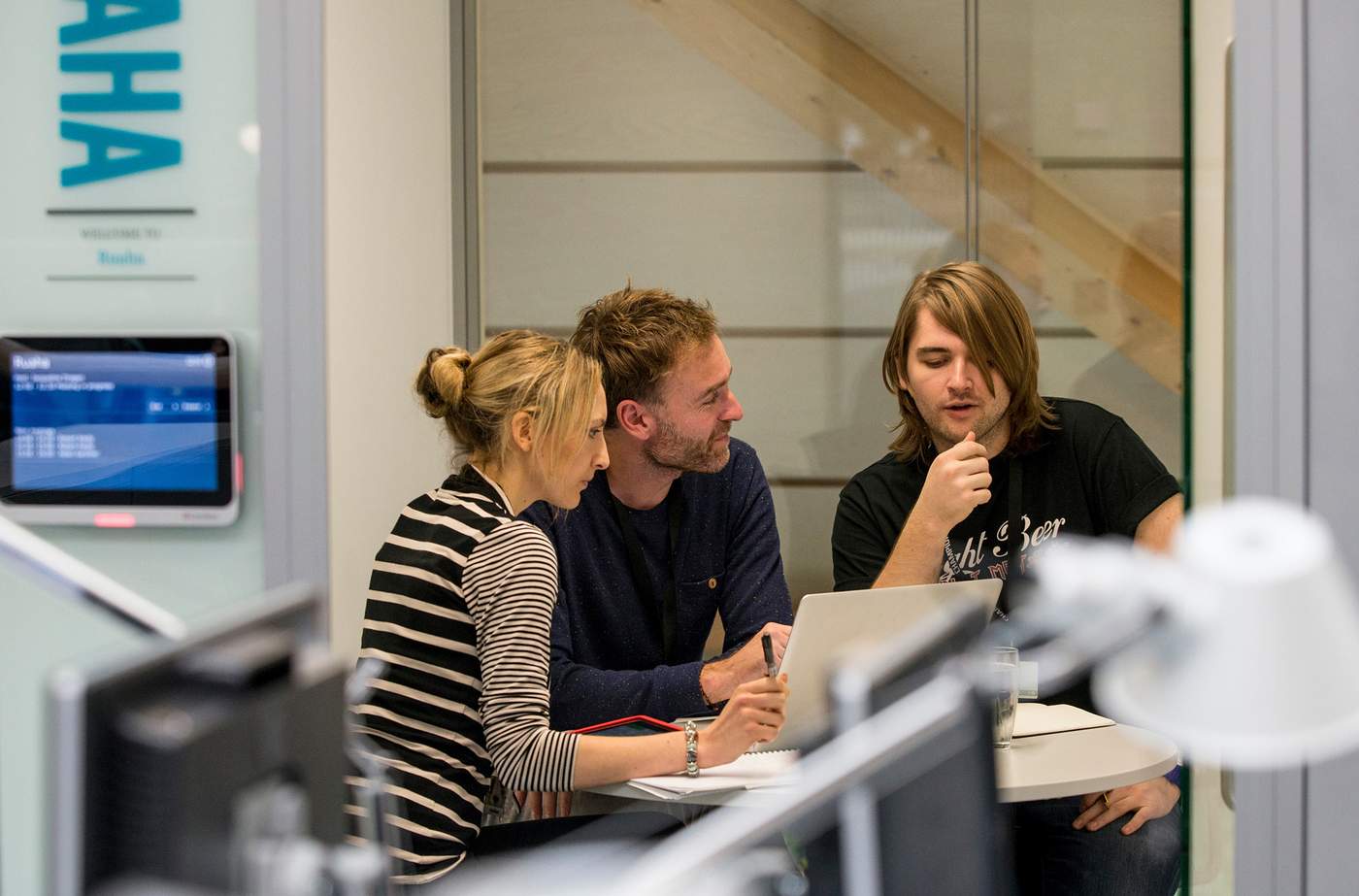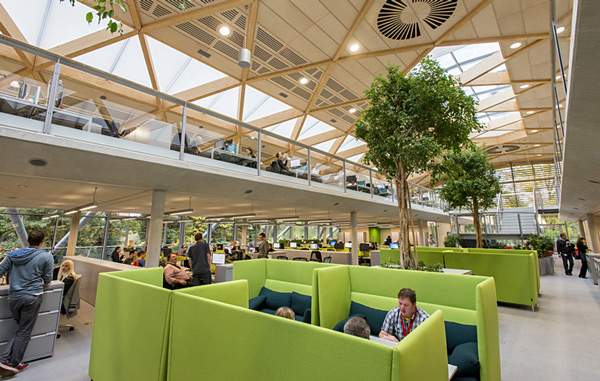 We wanted our new forward-looking building to come with a new forward-looking work culture too.
The aim was always to be able to work more efficiently and effectively. We don't just want to do things in the same old ways, only with upgraded tools.
The changes have actually been quite far-reaching and have taken some getting used to.
For instance, we've all been encouraged to alter how we work:
• from using email to more instant messaging
• from being based at one desk to being mobile and sharing spaces
• from being paper-dependent to using more electronic information and storage
• from having a cluttered desk to a clear desk
• from travelling to meetings to using more audio/video conferencing.
It also extends to new approaches to management and teamwork – including the right kind of flexible working, where people can connect with each other easily whenever they need to.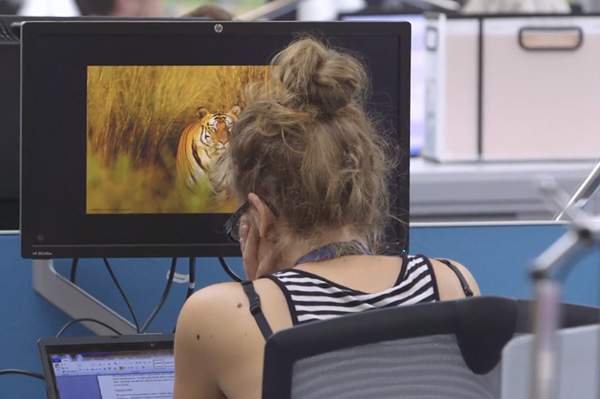 The wireless network also helps people collaborate and stay connected anywhere and everywhere in and around the building.
Everyone in the office is encouraged to be more active and move around more often than we used to, not to stay sitting in one place all the time.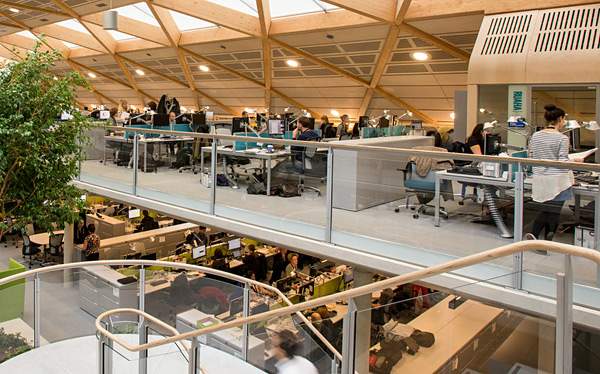 It's good for us, physically and psychologically, to walk around and talk to different people. That includes at lunchtimes and breaks – which we're all encouraged to take!
TRAVELLING TO WORK
We did a lot of preparation work on travel plans before the move to Woking, including surveys, workshops and other research into various transport options.
We commissioned the University of Bath to monitor our travel methods. Research suggests that a big move like the one we were undergoing is an ideal time for people to change behaviour patterns and working habits – including the way we commute.
And it turned out to be the case for us. People were positively encouraged to cycle to work at the Living Planet Centre, or at least use public transport wherever possible, rather than drive.
In the event, train use went up dramatically, from around 20% before the move to 56% afterwards. And car use dropped from 55% to 23%.
The change was helped by providing secure, covered storage for 30 bicycles, plus five showers and a clothes-drying room.
MANAGING ELECTRICITY, WATER AND WASTE
Figures show that our consumption of electricity is better (lower) than both 'typical practice' and 'good practice' benchmarks from the Better Buildings Partnership.
We have an environmental performance council that regularly reviews our energy use and sets targets for improvement.
Overall, the Living Planet Centre produces nearly 25% less carbon emissions per square metre than our old Panda House building.
As for our figures on recycling and waste:
• We send 0% of our office waste to landfill.
• About 15% of our waste (by weight) can't be recycled or composted so it's sent to an energy-from-waste site where waste is burned to generate electricity and/or heat.
• Compost waste from the Living Planet Centre is taken away for anaerobic digestion, an industrial-scale process that produces biogas that can be used as fuel. What's left can be used as fertiliser.
• Office-generated waste is separated into compostables/recyclables/non-recyclables and is monitored and measured through monthly collections.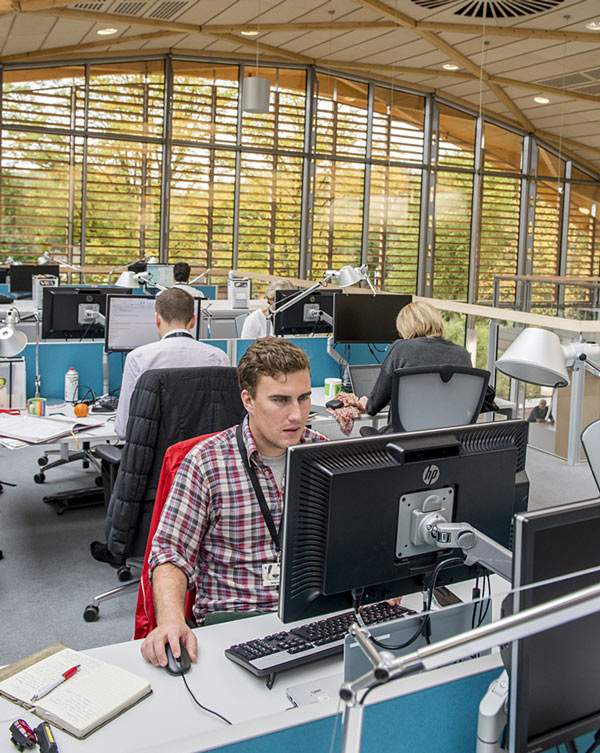 OFFICE STORAGE
Before we moved to the new building we had 1,400 linear metres of stored files (over 4 linear metres per person). We allocated 2.2 linear metres per person for the Living Planet Centre, and that's proved ample.
We have a 'digital office' strategy to support this. It means we no longer need double-height storage cupboards, which makes the office more open and the sightlines clearer.
WATER USE
Water use in the Living Planet Centre is now being monitored. Our current water consumption is broken down as:
• Mains water – 75 m3/month
• Rainwater – 76 m3/month
• Greywater (from sinks etc) – 2.5 m3/month
By way of comparison, our average water consumption at Panda House for the last five years we were there (2008-2013) was 1,633 m3 per year – which works out at around 136 m3 per month, entirely from mains water.
We anticipate that rainwater use will increase further and our mains water consumption will decrease even more, now that we've resolved some initial problems with the drainage systems (for example the tanks that collect rainwater were leaking, so we've put new lining in them).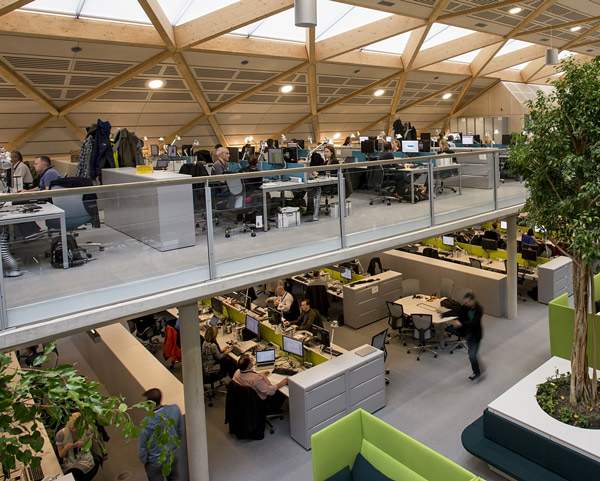 VISIBLE IMPACTS
To demonstrate the efficiency of the Living Planet Centre (to the public and to ourselves) and show our actual levels of consumption, we've added low-energy screens around the building that show how and where we're using electricity in the office, and how much of it is coming from the solar panels on our roof.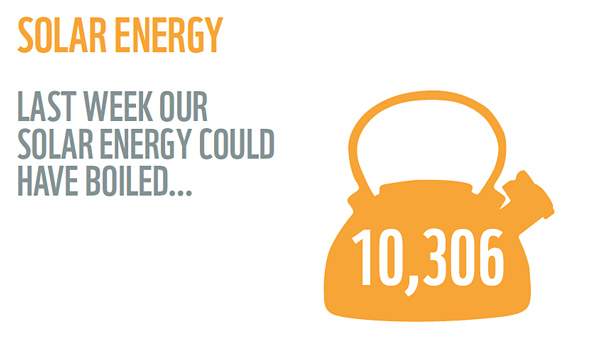 They also show how much mains water we're saving by using rainwater and recycled greywater, and the composition of our waste. (It saves around 1,000 bathtubs of mains water per month!)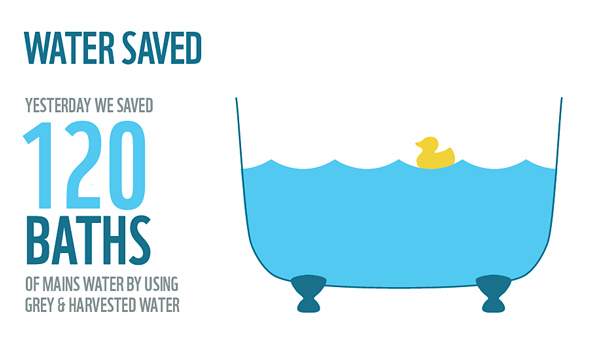 We have 40 meters measuring electricity use in different parts of the building, as well as water meters to measure how much greywater and rainwater we're using.
It's great to be able to make this data available to everyone in an interesting way, rather than having technical graphs and statistics. We've created a powerful tool that's easy to understand – and we hope will inspire people to reduce their environmental impacts.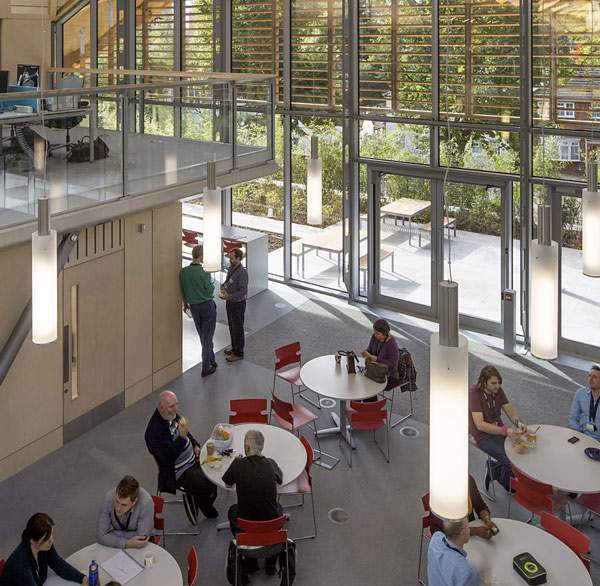 LIVING PLANET CENTRE WORKPLACE SURVEY
After we'd been in the building for a year we did another workplace survey, to assess the wellbeing, satisfaction and general mood of everyone working in the Living Planet Centre. And to see how things had changed since the last survey in Panda House.
We can't deny we had a few teething problems, as in any new building. Occasional technical glitches, odd issues with the heating in certain areas – and a few people still struggling a little with the general hot-desking idea.
But on the whole, the feeling is overwhelmingly positive – as our latest survey showed.
Here are just a few sample comments:
"The whole prestigious environment I am sure impacts everyone's psyche: you feel you're part of something special and you want to achieve something."
"I find the environment makes me feel part of a professional organisation while at the same time allowing me to exit the 'buzz' and get real quiet time for tasks that need it."
"I'm sure many hate to admit it, but having the printers, bathrooms and bins concentrated in one area allows us to get up from our desk and walk a little – great to give us a much-deserved break from sitting down."
"I think the hot-desking system works well for my team, we are usually able to all sit in the same area and close to our filing. The IT systems are great and I now rarely use any paper. I like that my laptop moves seamlessly from wireless to wired connection."
"I particularly like the informal meeting areas as they're more 'friendly' and, I find, more productive!"
"Lovely bright spacious environment which is very conducive to knowledge-sharing and collaboration."
"The woodland vista allows for daydreaming – very important!"
"I love the natural light and the bird sounds!" (the people who enjoy spotting birds here have spotted 47 species so far).
"I'm really proud to work in such an amazing building. It really makes me feel we are setting an example to other businesses and organisations."
TIMELINE...
Chronological summary of significant events in the story of the Living Planet Centre...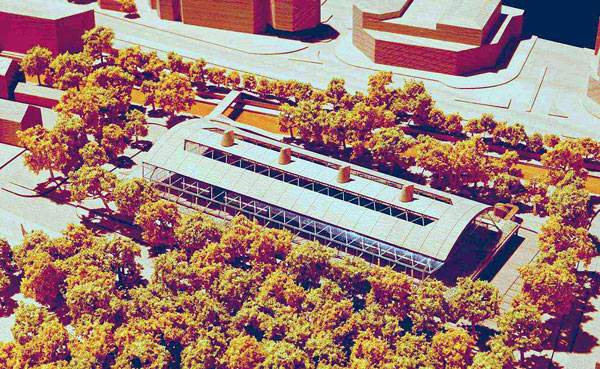 Mid 2006 – we're offered £5m by the Rufford Foundation to create a new green building to replace Panda House.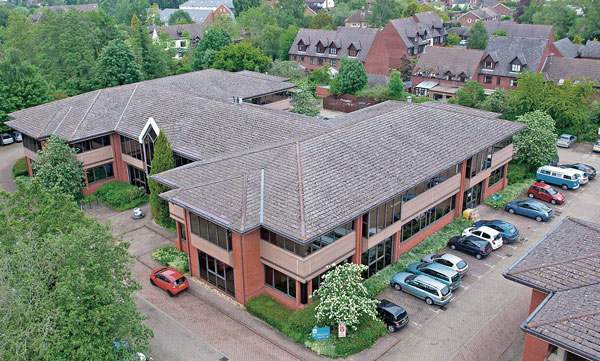 |
Late 2006 – the first 'feasibility study' is carried out, and we put the case for a new green HQ to WWF-UK trustees.
Mid 2007 – our trustees agree a six-year 'outline plan'.
Early 2008 – WWF-UK's five-year Strategic Plan (2008-2013) promises: "We will build a new state-of-the-art green headquarters".
|
July 2008 – we appoint Hopkins Architects as architect for our new building following a competitive process.
|
Sep 2008 – we make our first proposals to Woking Borough Council about building on the Brewery Road brownfield site.
|
Oct 2008 – pre-design workplace survey is carried out (by Hopkins and AMA Alexi Marmot Associates) at our old premises in Godalming.
|
Nov 2008 – we hold consultations with Woking community to get feedback on our proposed development. This also helps feed into Hopkins' initial designs.
Throughout 2009 – discussions continue with Woking Council, while we look at alternatives including Surrey Research Park and sites in London.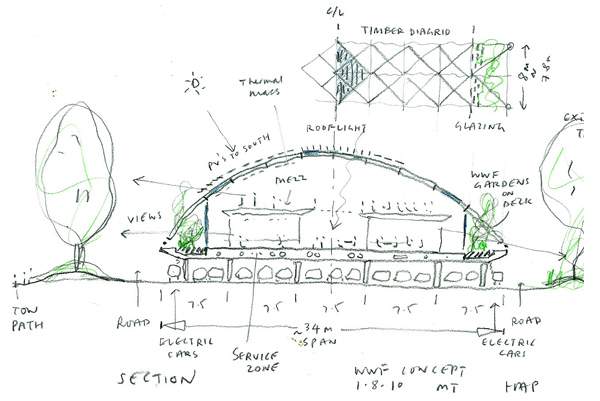 Mid 2010 – detailed plans for a sustainable 'Living Planet Centre' take shape.
|
Sep 2010 – a comprehensive ecological survey is done on the Brewery Road canalside site. It confirms the presence of bats, but no water voles.
|
Oct 2010 – we present more detailed plans for the site during further public meetings with Woking residents and businesses.
|
Dec 2010 – we submit formal plans for the Living Planet Centre to Woking Borough Council.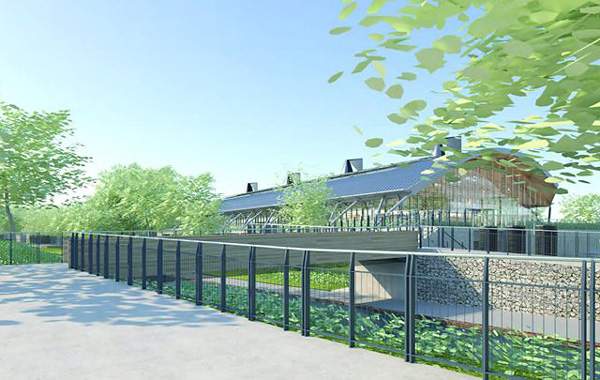 Jan 2011 – another open meeting allows Woking residents to ask about and discuss Living Planet Centre plans with us.
|
Feb 2011 – planning consent is granted by Woking Borough Council.
|
Spring/summer 2011 – potential contractors and suppliers are approached and vetted for their green credentials.
|
June 2011 – we officially launch our capital appeal to raise funds specially for the new building.
|
Oct 2011 – planned new footbridge over the canal redesigned to be lower, after more than 1,800 Woking residents sign a petition claiming that the one proposed would be too high.
|
Dec 2011 – we appoint Willmott Dixon as our preferred main building contractor for the Living Planet Centre.
|
Feb 2012 – Willmott Dixon move onto the Brewery Road site.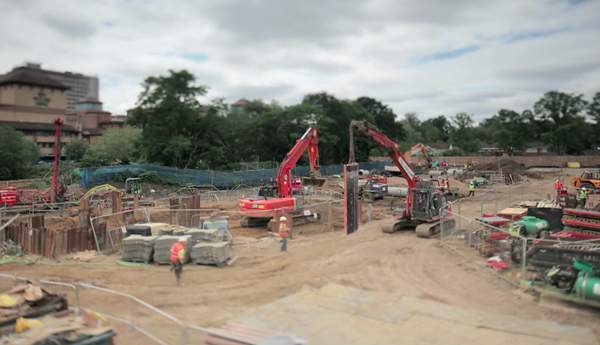 |
Mar 2012 – more ecological surveying is done on-site.
|
Apr 2012 – official 'ground-breaking' ceremony at the Living Planet Centre site. Further open sessions are held for Woking residents, with Willmott Dixon and us answering questions.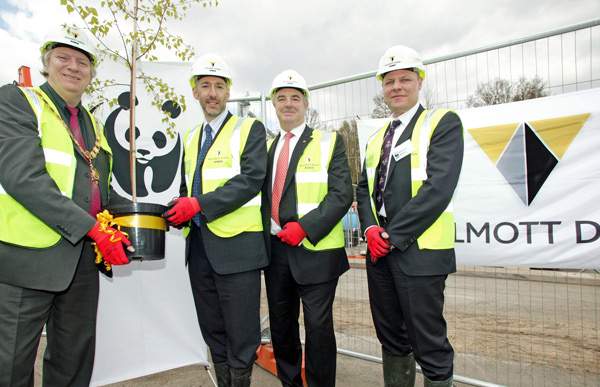 |
May 2012 – the old footbridge over the canal is removed so work can begin on a new one.
|
Summer 2012 – below-ground and foundation work on the Living Planet Centre is completed.
|
Sep 2012 – work on the superstructure and podium level flooring continues.
|
Nov 2012 – our Panda House lease expires… but as the Living Planet Centre isn't finished yet, we ask for a year-long extension.
|
Dec 2012 – 'topping-out' ceremony to celebrate the roof structure going on the building. We pour wine, oil, corn and salt into the foundations (symbolising fertility, wisdom, prosperity and hospitality).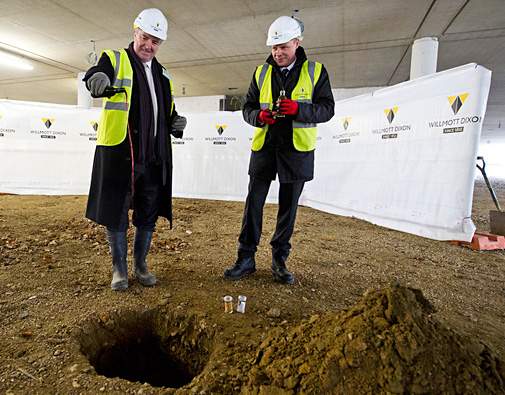 Jan 2013 – the council's new pedestrian footbridge (to be called the Bedser Bridge after local Horsell cricketing hero twins Eric and Sir Alec Bedser) is lowered into place over the canal.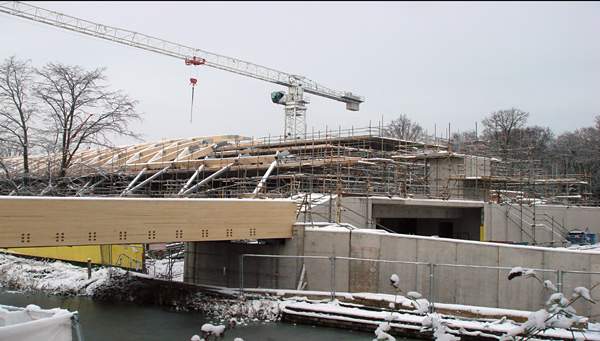 |
Apr 2013 – windows are installed in the building.
|
May 2013 – Grand Designs presenter (and WWF-UK ambassador) Kevin McCloud is impressed by a visit to the Living Planet Centre site.
|
June 2013 – wind cowls are installed on the roof.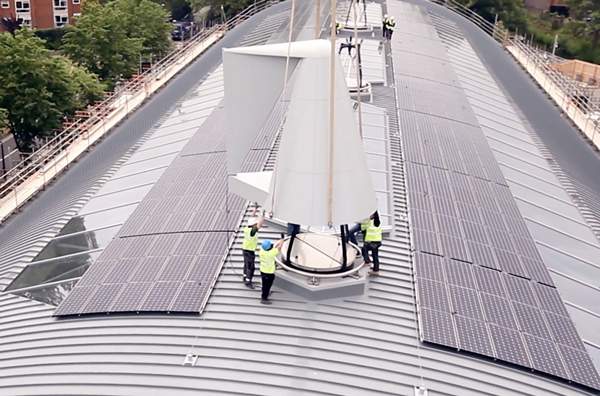 |
Summer 2013 – internal walls are erected, external landscaping developed and the WWF Experience zones are finalised.
|
Oct 2013 – all WWF-UK operations and people relocate from Panda House to the Living Planet Centre.
|
1 Nov 2013 – the Living Planet Centre is officially opened in a ceremony led by Sir David Attenborough.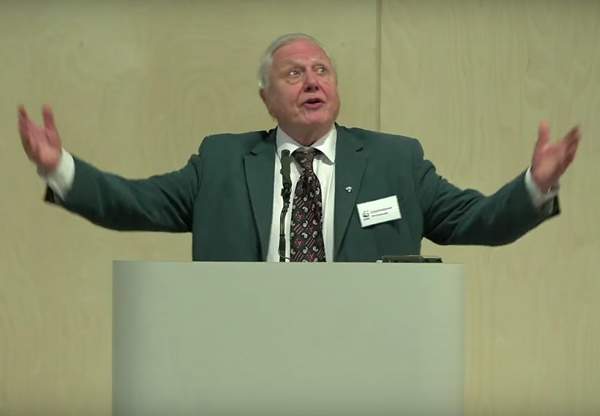 |
mid Nov 2013 – first school groups visit the Learning Zone for a Green Ambassadors summit.
|
Dec 2013 – we welcome the first external corporate users for an event in the auditorium.
|
Jan 2014 – we open the Living Planet Centre doors to the public for visits and tours.
|
Mar 2014 – the Living Planet Centre achieves BREEAM Outstanding status and is confirmed as an FSC-certified project.
AWARDS FOR THE LIVING PLANET CENTRE
As well as achieving the BREEAM 'Outstanding' accreditation, the Living Planet Centre has been awarded the following official accolades:
• ICE London Civil Engineering Awards (May 2014): highly commended in 'Designed in London' category.
• LABC (Local Authority Building Control) South East Regional Awards (June 2014): winner 'Best Public Service Building' – Woking Borough Council Building Control department nominated Willmott Dixon site team and the WWF project.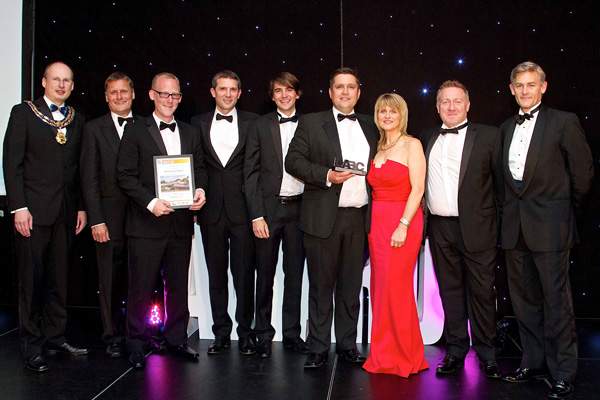 • Concrete Society Awards (October 2014): winner 'Best Overall Project'.
• IStructE Award (Institution of Structural Engineers, November 2014): winner in 'Education or Healthcare Structure' category – for excellence in the structural design of buildings and structures that either facilitate learning (such as schools, colleges and visitor centres) or support healthcare (such as hospitals, care homes and clinics).
• IStructE Award (Institution of Structural Engineers, November 2014): highly commended in 'Sustainability' category – presented to projects where outstanding commitment to sustainability and respect for the environment is integral to the structural design.
• Wood Awards (November 2014): highly commended in the 'Commercial and Public Access' category.
• Lux Awards (November 2014): winner 'Office and Workplace Lighting Project of the Year'. Judges said: "The commitment to sustainability behind this lighting project should serve as a model for others".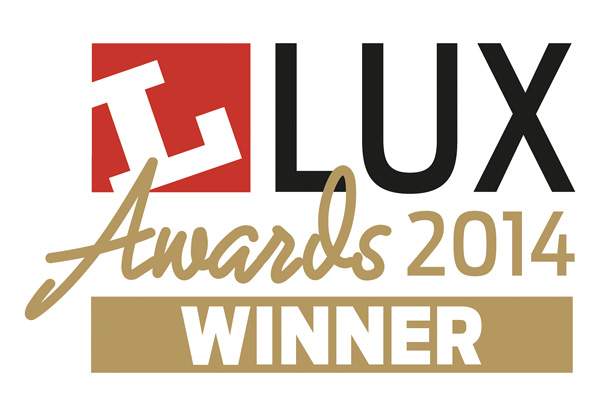 • BREEAM Awards (March 2015): runner-up in 'Mixed Use and Other' category.
• Civic Trust Awards (March 2015): winner – given to projects that make an outstanding contribution to the quality and appearance of the environment, and a positive social, cultural, environmental or economic benefit to the local community.
• Sustainable City Awards (March 2015): highly commended in 'Health & Wellbeing' category.
• RIBA Awards (April 2015): winner of South East Regional award and Sustainability award from the Royal Institute of British Architects.
• British Council for Offices (BCO) London and South East Awards (April 2015): 'Corporate Workplace' and 'Innovation' winner.
• RIBA Awards (June 2015): National Award by the Royal Institute of British Architects in recognition of architectural excellence.
• British Council of Offices (BCO) National Awards (October 2015): Innovation Award.
• CIBSE Building Performance Awards (February 2016): winner of Lighting for Building Performance – awarded to the Living Planet Centre and Atelier Ten for high quality, innovative, energy-efficient lighting design.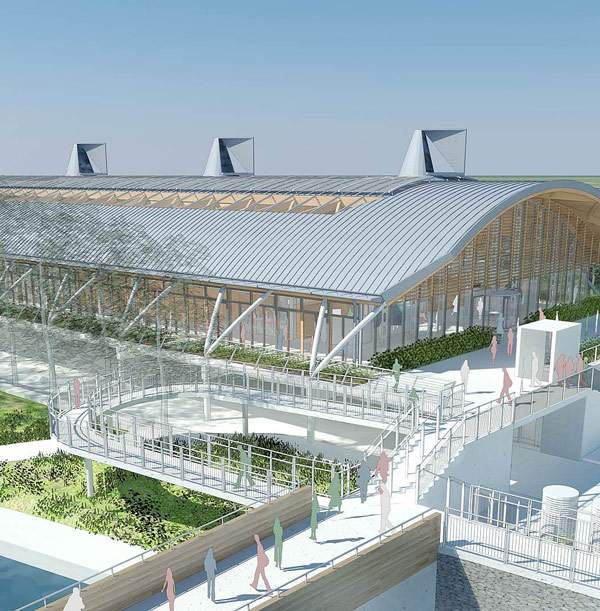 THANKS AND ACKNOWLEDGEMENTS
We sincerely want to thank everyone who has helped make WWF-UK's Living Planet Centre such a wonderful building, visitor attraction and workplace. It's almost impossible to namecheck absolutely everybody who's been involved, from the earliest inspiration right up to its day-to-day operations. But here are a few we can't forget…
DONORS
A huge thank-you to everyone who donated to the project, with cash or in kind (materials, equipment, services). Building the Living Planet Centre wouldn't have been possible without the generous support of:
Principal Donor
The Rufford Foundation
Platinum Patrons
The late Sir Adrian and Lady Holman
Cisco
The Johansson family
Kinnarps
The Ingram Trust
The Ernest Kleinwort Charitable Trust
The late David Sutton Smith
Gold Patrons
Ed Smith
Shears Foundation
Stelios Philanthropic Foundation
Silver Patrons
Garfield Weston Foundation
Interface
Dimension Data
Bronze Patrons
Michiel Bakker
Roger Hooper
Carol Kemm
The Kirby Laing Foundation
The Martin Laing Foundation
Valentin von Massow
DESIGN, PLANNING AND CONSTRUCTION
Particular thanks must go to Hopkins Architects, Atelier Ten and Willmott Dixon, but we're grateful to all those who've contributed to the development and operation of the Living Planet Centre. Including:
AECOM – ecological surveying/reporting
Alistair Finn – project management
AMA Alexi Marmot Associates – workplace consultants/space planners
Atelier Ten – environmental design consultant (Patrick Bellew, Jonathan Gittins, Rudi Duncan-Bosu)
Cole Jarman – acoustic consultants
Doherty Baines – project management
Expedition Engineering – structural and civil engineers (John Gerrard)
Farrer – legal advice
Gardiner & Theobald – quantity surveyor and cost consultant (Alastair Wolstenholme)
Grant Associates – landscape architects (Andrew Grant, Danny Nagle)
HCD – construction, design and management co-ordinator
Hopkins Architects – architects (Mike Taylor, Pam Bate, Steven Clarke Paul Hunt, Adam Swain-Fossey, Ed Farndale)
Jason Bruges Studio – WWF Experience designers (Jason Bruges, Richard Roberts, Sam Hoey)
JEB Project Management Services – project management and client representation (John Burton)
King Sturge – property and planning consultant
Sturgis Carbon Profiling – specialist carbon emissions assessors (Simon Sturgis)
Willmott Dixon – main building contractor (John Waterman, Roger Forsdyke, Richard Bartlett, Barry Williams, Ian Edwards, Lee Butler).
MATERIALS AND SERVICES SUPPLIERS
Special thanks to Cisco, Dimension Data, Kinnarps and Interface, and to all our suppliers and installers:
Aether – balustrade lighting
Aquality – greywater recycling/rainwater harvesting
Armitage Shanks – toilets, sinks
Artemide – task lamps
Arup – fire engineer
Baileys Fabrication – architectural steel work
Boon Edam – revolving door
Bouygues – facilities management (maintenance, security etc)
British Gypsum – drylining suppliers
Cemex – concrete
Cisco – IT infrastructure
Constructional Timber – diagrid roof and joinery
DES – electrical installers
Dimension Data – IT consultants
DM & C Ash – dry lining installers
DuPont – Energain thermal mass panels
EvoEnergy – solar panel fitters
Fischer Contracts – carpeting installers
Fläkt Woods – wind cowls (with ASGB)
Formwise – toilet cubicles
Forster – fire-resistant walls
Groenholland UK – ground source heat pumps
Gunnebo – internal security gates
Hanson – concrete suppliers
iGuzzini – external lighting
Interface – carpeting suppliers
JPJ Installations – glazed systems for roof and walls
Kawneer – curtain walling, glass doors and windows
Kingspan – insulation
Kinnarps – furniture suppliers (Marc Bird, Brian Quin)
Knauf – insulation
Kvadrat – acoustic fabrics
Levolux – sunshades and blackout blinds
Marquee AV – audio-visual systems
Marshalls Kerbs – car park kerbs
Matwell – entrance carpet
Mayer Brown – traffic engineer/transport consultants
Mayr Meinhof Kaufmann – timber supplier
Mero-Schmidlin – insulation/raised access floor installers
NH Etheridge – joinery
Nora – rubber flooring
Phi Lighting – lights and light fittings
Pilkington – glass for windows and roof
Planet Partitions – glass partitions
RigiSystems – aluminium/zinc roof
Roseville – decorating services
Southern Industrial Roofing – roof installers
Strata – terrazzo flooring
Sunpower – solar PV panel makers
Timbmet – glulam supplier
Toureen Mangan – groundworks
Vicaima – doors
Vision Ventilation – earth ducts and wind cowls
Whelan & Grant – concrete frame subcontractor
Thanks also to Woking Borough Council and to The Lightbox. And to everyone involved in the project in any way, for their support in making WWF-UK's Living Planet Centre such a success, and a building we're all very proud of.
PHOTOGRAPHY
Our thanks to all the photographers and videomakers whose images of the Living Planet Centre appear in these pages and elsewhere – including:
Richard Stonehouse
Morley von Sternberg
Ash Knotek
Tristan Fewings
Grahame Larter
Gary Britton
James McCauley
Tim Whitby
Sam Hoey
Jenni Pystyne
Janie Airey
Alan Williams
Nick Hamer
Tinderflint
Greg Armfield
Kate Foreshew
Oana Mondoc
David Southern
Allison Jackson
Bianca Tuckwell
Paul Scott (Front Elevation)
Paul Vincent (Atelier Ten)
Emily Tan
André Masters