Engaging people
A lightbulb moment
for climate action
© ISTOCK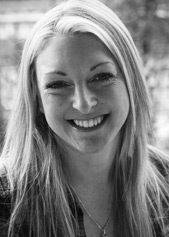 Charlotte Bagg,
events manager
Earth Hour is a real highlight of my year. There's always a growing buzz of excitement as the big day approaches and the huge number of strands to the event come together. It's a privilege to play a part in this unmissable opportunity each year for millions of us to join together across the world. The event is a huge demonstration of how much we all care about the future of our brilliant planet.
So I was thrilled that this year it was bigger than ever before. Individuals, schools, businesses and many more across a record-breaking 178 countries and territories joined in – switching off their lights and coming up with wonderful ways to celebrate. In the UK, these included a street party in Somerset, a fancy-dress bike ride in London, and stargazing walks organised by the Forestry Commission.
It's rather overwhelming to hear just how many people in the UK join in – this year nearly seven million of you either went to an event or switched off your lights. And more than 4,000 UK schools and over 850 youth groups signed up.
Our wonderful celebrity supporters helped to build up the excitement levels before the hour, and during it too! Our global ambassador, the world number one tennis player Andy Murray, shared a message of support, as did footballers including Aaron Ramsey. The composer Ludovico Einaudi dedicated a song to Earth Hour during his concert at Nottingham's Royal Concert Hall, and performed it by candlelight. And we were thrilled when Tim Peake tweeted his support from the International Space Station.
We teamed up with celebrity chefs including Raymond Blanc and Tom Aikens, too. They offered exclusive sustainable recipes to try out during the ever-popular option of a candlelit dinner during the hour.
And our partners at Sky also produced the rather beautiful advert you can watch here, to encourage their 21 million customers across Europe to take part in Earth Hour.
Hundreds of iconic landmarks across the world helped to create a memorable spectacle by plunging into darkness for the hour – from the Eiffel Tower to Sydney Opera House. In the UK, the switch-offs included Big Ben, Brighton Pier, Edinburgh Castle and the Wales Millennium Centre.
Earth Hour even poignantly featured on the cover of the final print edition of The Independent on Sunday newspaper.
My huge thanks to everyone who took part and supported the event. I hope you'll join us again this year for the 10th anniversary of Earth Hour!
Sign up and switch off on 25 March at 8.30pm