Engaging people
Going the distance
for our planet
© TRISTAN FEWINGS / WWF-UK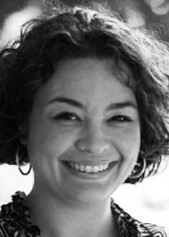 Fruzsina Kozma,
events team
Being part of Team Panda is a true addiction. I get a real sense of that when team members get in touch wanting to take part in a second, third… or even 12th event for us. They'll invariably say something like: "Once a panda, always a panda!"
For our part, we try our best to make sure everyone experiences that Team Panda spirit from the moment they sign up. Once their journey begins, we're with them every step of the way.
It's been a remarkable year for Team Panda. More than 300 of you chose to run, cycle, swim, canoe, walk or conquer muddy obstacle courses while raising funds for us. By my rough estimate, these amazing pandas have covered approximately 15,000 miles (more than half of circumference of the planet!) in organised challenges alone – such as RideLondon, the Brighton Marathon and the Royal Parks Half Marathon. Add to that the thousands of miles they put into their training – not to mention the miles achieved by our unique fundraisers who come up with their own challenges. The result is truly awe-inspiring – you raised nearly £350,000 in 2016!
Did you know you'd have to run almost 100 marathons to cross the US? The only reason I know this is because Rob Pope, a vet from Liverpool, has embarked on precisely this enormous journey. He decided to run across America in the footsteps of Forrest Gump to raise awareness of our vital tiger conservation work – and to raise money to support it. He'll be on the road for a while, but he's already crossed the 2,000-mile mark!
Another incredible endurance runner who's supported us this year is Sarah Rollins. She took on what she called her '40-40-40' challenge: celebrating the run-up to her 40th birthday by, well… running up to it! She covered an amazing 40km every day for the 40 days before her birthday.
Sarah tells us her son encouraged her to support WWF – to make the world a better place for nature. "There's little in this world that's more important than nature," she says. "And I will continue to support WWF for all my life, to help make the world a better place for my son."
We were thrilled to welcome Sarah to the Living Planet Centre when she finished one of her 40 'near-marathons'. Getting the chance to meet such inspiring people is what makes my work so rewarding.
Some of our 2017 events are already fully subscribed, which shows just how many of you are keen to do something extraordinary for the planet. Thank you!
I can't wait to meet the new team members and welcome those coming back for more. We'll do all we can to help you achieve your fundraising targets, and to reach that glorious finishing line!