CELEBRATIONS


AND CHALLENGES
It's my great privilege to introduce this inspiring review, which gives a flavour of the stunning successes we and our incredible supporters have achieved during the past year.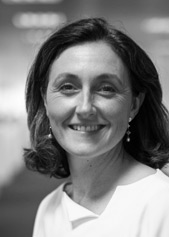 "Now, more than ever, there's an urgent need to build on the emerging momentum for change"
Tanya Steele,
chief executive
After a few short weeks as the new chief executive here at WWF-UK, it's very encouraging to be able to reflect on 12 months of breakthroughs. In particular I would like to pay tribute to the considerable accomplishments of my predecessor, David Nussbaum, whose dedication during his nine years at the helm has ensured the organisation is a truly effective force in the world of conservation, and is in robust financial health.
Turning to breakthroughs, it is so very heartening to hear that wild tiger numbers are finally rebounding thanks to a long-term international effort that we spearheaded. That our determination to help secure an agreement that caps emissions from international aviation has resulted in a vital world first. And that our campaigning against Belize's plans to search for oil in a treasured World Heritage site was followed swiftly by an about turn from its government.
But I remain acutely aware that for every cause for celebration, every corner turned, every step forward, there remain many huge challenges we must now rise to. A stark reminder for me was reading the latest of WWF's regular updates on the state of our planet and its natural wonders – the Living Planet Report 2016.
Its findings are shocking. Its forecasts are even bleaker. If humanity continues to plunder and pollute nature as it is currently doing, then by 2020 populations of the world's wildlife will have declined by two-thirds since 1970.
The report maps many other pressures on the environment, and outlines some of the many drivers behind the devastation.
In its entirety, this struck me as the great untold story of our time. It convinced me that now, more than ever, there is an urgent need to build on the emerging momentum for change, and to bring our influence and expertise to bear – to rally the world to limit climate change and safeguard our planet's precious biodiversity.
We were honoured that our ambassador Sir David Attenborough and Professor Johan Rockström helped us to start sharing this story with a wider audience in our inaugural Living Planet Lecture. Their engaging reflection on the subject of mankind's impact on the planet – and our potential to drive solutions, not only cause problems – makes for compelling viewing. Please do take time to watch it.
It's that potential to change things for the better which leaves us full of hope. This is an exciting time to take the reins at a much-loved organisation – one that knows there are solutions to the biggest environmental challenges, and one that is at the forefront of inspiring the necessary changes.
You'll see in these pages that thanks to the boundless generosity and commitment of our many and long-standing supporters we continue to build an impressive bedrock of success.
But we need to do more. I already see the ambition to do so. But it'll take a step change in the level of support behind us if we're to truly build a future where people and nature thrive. I hope you'll join us.